How to have Public Sex without getting caught!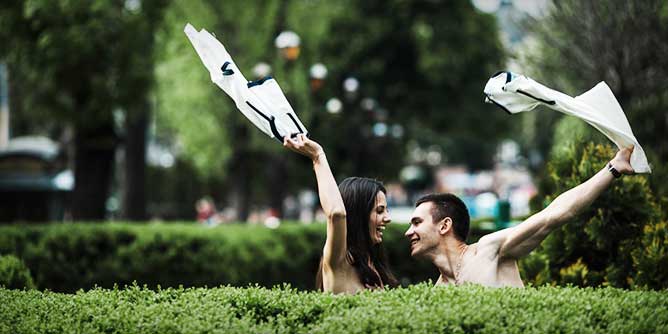 Public sex is a common fantasy and one that can add a whole lot of flavour to your sex life.
Unfortunately it's illegal in Australia and pretty much everywhere around the world.
In fact recently two Aussie tourists were caught having sex on a park bench near Florence's famous Ponte Vecchio bridge. Shocked passers-by gathered around them but the pair were unfazed and only stopped when police officers arrived on the scene. Italy is a popular destination for romantic holidays but public sex will definitely get you arrested.
Of course, that's not to say you can't have sex in public at all. You've just got to be smart about it. Here are our suggestions for getting back to nature or exploring your inner exhibitionist without ending up behind bars.
Your Home
We're not talking about stripping off and doing the do on your front nature strip but open the doors, open the blinds and get a taste of public sex without the risk. Obviously you need to show respect towards your neighbours and their domestic situation. The idea of getting caught might be a turn on but it's not worth traumatising some poor person who really doesn't want to see you bumping uglies through their kitchen window. But a quickie up against the wall leading out to your balcony mid week while kids are at school and neighbours are at work will certainly give you a taste for naughty ventures. Even better if you have a private roof deck which can hide you from the world below.
At a controlled venue
Fulfil all your sexual fantasies without a police officer in sight at a venue where everyone involved is there for the same reason. In most states this will mean either a venue licensed for adult fun (sex on premises Swingers Club) or a party at a private residence. Of course if you live in Victoria the laws are a little different and some parties, such as Saints & Sinners Ball, hold their parties in clubs where pink bits and sexual activity are permitted.
Remember that just because you're headed to a sex party doesn't mean you have to have sex with people there - you can simply enjoy being watched, watching others, or knowing that someone could walk in on you and your partner any second. For nervous newbies we suggest reading the article written by our lifestyle expert Chantelle about attending your first swingers party.
Alternatively, host a sex party in your own home. You decide the rules and the guests, and you get the comforts of home without any of the privacy issues.
On the web
As much as we thank the Internet gods every day for helping us find sexy adults all around Australia, there's even more to be thankful for.
Putting your sex life on tape, or streaming it live, is a seriously provocative act that will have you embracing your inner porn star. For tips on how to totally nail this artform, check out our guide to making your own sex tape. Of course, it's important to remember that anything you upload onto the internet is there forever - so making a sex tape is something you should think long and hard about before going forward.
And of course, our members need no encouragement when it comes to the Adult Match Maker Webcam Chat Room. If you like the idea of being watched then logon and let your exhibitionism run wild!
A private space
If nothing but a fresh breeze and the feel of the sun on your back will do, you can still take it outside. Think about private spaces you know are perfectly safe from prying eyes, such as your back garden, or on the deck of a private boat (far from the eyes of any nearby boaties).
Don't have one of your own? Take a look at holiday homes you can rent that don't have any neighbours close enough to check out what's happening in the spa or the gazebo. Or perhaps hire a hotel suite, throw those curtains open, and indulge in a little exhibitionism. After all, it's often not so much about the location but the fact that someone might see you. We recommend you check if the windows are tinted and consider who might be in adjoining buildings.
Remember the Christchurch co-workers whose steamy sexual office encounter was watched, and filmed, by onlookers at a nearby pub. Although not strictly "outdoor" the well lit windows served up some entertainment that pub patrons were not expecting. So scope out your locations thoughtfully and consider buildings which oversee your location as well as those adjacent.
Of course if money isn't an issue, you can always holiday on your own deserted island, a swingers resort, hire a luxury yacht or google exotic holiday locations around the world where the laws are more relaxed but on Aussie soil it's just not on.
There's only one way getting arrested for public sex can be a bad thing, and that's if the officer clicking your handcuffs in place is actually a real police officer. Keep it kinky while keeping it legal and you can do it as often as you like, because the only thing better than public sex, is regular public sex.
So we want to know, have you ever had sex in public?
Copyright © 2020 Adult Match Maker It is illegal to use any or all of this article without the expressed, written permission from Adult Match Maker and the author. If you wish to use it you must publish the article in its entirety and include the original author, plus links, so that it is clear where the content originated. Failure to do so will result in legal action being taken.