Saints & Sinners Ball - Australia's raunchiest party!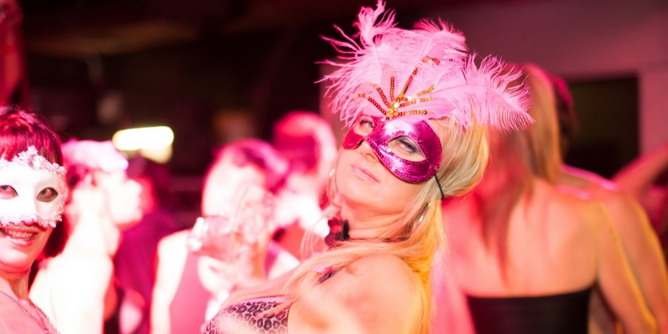 A Nightclub Party With A Sexy Difference You Need To See To Believe
Imagine a three-level nightclub with flashy lights, music and dancing, full service bar and an open rooftop. So what? I hear you say. There's plenty of them around the place, nothin' spesh.
Well, that's true. But now imagine the club full of people in corsets and lingerie and half naked. Imagine kissing and touching and sex and BDSM performances. Imagine a club full of happy, horny, excited and delicious people all enjoying themselves and respecting each other and coming together (no pun intended) to share in the erotic, sensual and sexy delight that is Australia's only full sex nightclub swingers party. That, my friends, is Saints and Sinners and it really is a party that needs to be seen and experienced to fully appreciate just how spectacular it can be.
I get asked a lot of questions about the ball by people who have never been and so I have collated some of the more common ones here to give a bit of an insight into the what, when, who, why, where and hows of probably the best party Australia has ever seen.
Can Anyone Go?
Apart from one restriction, yes. If you are over 18 you are welcome to attend the party. The one restriction is NO SINGLE GUYS. This is for the simple reason of keeping numbers more equal and stopping the inevitable sausage fest that can happen when single males are allowed to go to events like this. I have often had single guys remark to me that this is unfair and discriminatory. My answer usually is, suck it up, Buttercup. Sorry, but from my experience (as well as the experience from other party goers and the organisers) single males in an environment such as this do not behave well and, as this is a party built on the foundations of respect and consent, the more you can do to minimise sleaze and maximise enjoyment the better. There are parties around that allow single males, so find one of them.
What Do I Wear?
In this case, less is definitely more. The rules state that you must be in erotic wear with a side note stating that if you would wear the outfit to a normal nightclub it is unacceptable to wear to Saints and Sinners. Erotic wear is everything from corsets and fishnet stockings, to bare-cheeked chaps, to body-stockings, to complete nudity... And trust me, you will see all this and more at the event. Guys often have a tricky time working out what to wear but, if in doubt, a pair of fresh, tight mini boxer shorts and a bare chest will be more than perfect. Every ball has its own theme (past ones have included Sci Fi, Masquerade, Jungle Fever and Luminosity) and dressing to fit in with the theme is a great way of getting involved and taking the stress out of "what am I gonna wear!?"
Am I Too Fat, Too Thin, Too Old, Too Hairy?
No. No you are not. Saints is a celebration of sexuality and every person in the world has the right and reason to be and feel sexy. At the balls you will see every body type, every age group and every nationality all wrapped up in confident, body-loving awesomeness.
Do I Have To Have Sex?
Again no. You do not. The great thing about Saints is you can be as involved as you want to be. There is no pressure at all. If someone asks to play with you and you don't want to all you have to say is "No, thank you." and they will not bother you any more. Similarly, if you want to play with someone and they do not want to you must respect their answer and find someone else to enjoy.
What Are The Highlights?
Apart from the overall atmosphere of the event, there are some things you should definitely check out when you go to Saints and Sinners. The live stage shows are always fantastic. Male and female strippers, burlesque-type shows, best dressed competitions hosted by the always gorgeous Polly Filla (One of Melbourne's most fabulous drag queens), and there are heaps of prize give-aways and audience participation. Then there's the BDSM stage where you can watch or join in with spankings, whippings, cuffs and stocks. There's the Grope-Box which is a large wooden box with curtained holes in it where you can reach in and feel what is happening inside or you can stand in and wait for the searching hands to find you. The basement, where a DJ spins sexy-arsed beats, is where heaps of the down n dirty action happens with booths and beanbags and bodies all writhing together in uninhibited glory and the professional roving photographers and camera operators will record your evening of pleasure and debauchery. Don't worry though, if you don't want them to film or photograph you, just hold your hand up or say "No, thanks" and, in the same vein of respect and consent, they will make sure you're not captured on film.
All in all Saints and Sinners is an event that every open-minded, swinging and sexy couple and single female should experience at least once in their lifetime. But I can almost guarantee you, go once, and you will be waiting with baited breath and squirming eagerness for the next one to come around.
For more information on Saints & Sinners next scheduled party CLICK HERE
If you join their Sinner's Club you get access to discounted tickets, photos and videos from the events and all the inside goss.
While you're waiting for the next ball to come around, check out this fantastic YouTube clip of the night to get a real sense of the party atmosphere and the gorgeous sexiness and sultriness that is Saints and Sinner Ball Melbourne.
Happy Sinning, my friends!
xxEva
Copyright © 2020 Eva Sless It is illegal to use any or all of this article without the expressed, written permission from Adult Match Maker and the author. If you wish to use it you must publish the article in its entirety and include the original author, plus links, so that it is clear where the content originated. Failure to do so will result in legal action being taken.