7 Ways To Get Kinky In Public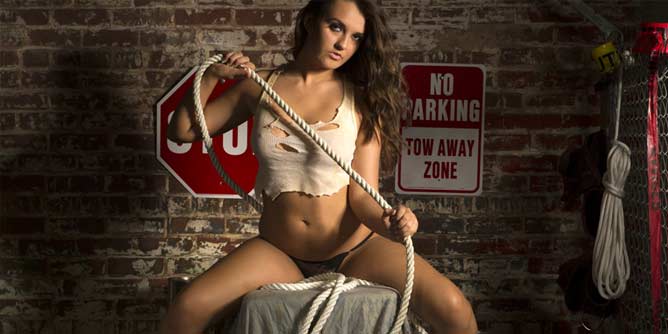 This topic has been known to spark some debate and contention in the BDSM and sex-positive communities; both scenes exist with consent as a core principle. So when playing in public, how do we negotiate 'consent' with whoever may see us? Some argue there is no practical way to play consensually in public space, while others believe it's their right, for example, to take a leashed human-pup for a walk to the park - they're not hurting anyone or doing anything illegal, so why not? Rather than pretend there is a clear answer, the main thing to know is many areas of public kink come close to crossing legal lines, mostly to do with indecency and obscenity offences. For many, some of the taboo and thrill of the public kink is in challenging society's mores, and in doing so, the laws society creates to uphold these standards are potentially challenged too. In this case, 'play safe' also means, avoid the Po-Po.
1. Underwear and Underbare
Ah, the sexy possibilities we wear under our clothes. There's almost no simpler way to kink things up in public, than that inner knowledge that there's something saucy beneath our everyday exterior.
Women's underwear is universally accepted as a specifically sexualised item of clothing, comfort only becoming a consideration in the recent past. Bras and knickers are two of the most fetishised clothing items in existence, and this is hardly surprising.
The general aesthetic is appealing, the wearing creates varying degrees of discomfort, and for half the population (the male ones) it is still a taboo. Wearing naughty knickers under your regular daywear can not only give you an internal thrill, but serve as a sexcellent surprise for your partner. Give them a glimpse of what awaits them, and use these sneak-peaks to tease and taunt.
And if lovely undies are your commonplace, change things up with some Commando action - you can use the same tantalising actions, and slow reveals, just with a little more care. Flashing your junk in public - even if only aiming to be seen by consenting parties - is still considered indecent exposure, and is illegal.
2. Secret Sensations
Underwear or not, there's plenty of other things we can do under our clothes to kink things up in public. Be it solo or partnered, sensation play is an extremely versatile style of play that sets the senses on a wild exploration of sensory overstimulation and/or deprivation. From quick challenges, like wearing a butt plug during your lunch break, to more committed kinks, like wearing a rope harness as underwear next time you head to the movies, taking sensation play public is as easy as getting a sensory thrill while amongst other people. There are so many toys and accessories to help with this, it's hard to know where to start. But… cock rings, body clamps, Ben Wa balls, vibrating underwear, buttplugs, love beads, latex tape, chastity devices and/or genital harnesses should get you going. And while it's fairly intuitive to go straight to touch, don't forget the other senses. Listen to some sexy spoken erotica, or your Sexy Tunes playlist while on a peak-hour train. And if closely confined bodies are a thing, don't forget to breathe deep and long, and inhale those people.
3. Remote Toys
Cordless technology has really done us a favour when it comes to remote sex toys. Now, not only can we enjoy them in the comfort of our own home, but take them out for some sexy public mischief. These days there are remote toys for men and women, so regardless of your relationship combo, or even if you're solo, there's fun to be had.
Now before taking these toys out, be sure to know how much sound they make. Depending on the application of the toy, the volume will vary - 'bullets' and other insertable toys are generally going to be quieter than a clit stimulator or cock-ring of the motorised variety. The quieter toys are going to be more versatile in terms of where you're comfortable using them - they're perfect for a raunchy and romantic dinner, shopping excursions, public transport play, or the movies. If vibe sounds aren't going to an issue - getting off at a gig, wandering around a festival, fucking about at the footy - the noisier toys won't be a problem.
To kink things up even more consider some conditions that can be applied to toy activation. These can be random eg. every time you see someone wearing red the toy is buzzed for a period of time… Or they can be behavioural eg. as a reward for good manners.
4. Public Power Exchange
You don't have to be in one of these stricter dynamics to play with some of the concepts. Many PE relationships have a standard of dress, accessories and etiquette that both parties negotiate and adhere to. Often the collar is a clearest indicator of submission or service, however there are now 'Day Collars' (and cuffs) being made to reflect more mainstream jewellery; for some, less is definitely more. For a kinky outing with a Power Exchange flavour, try instructing your partner how to dress for the occasion, and give them some basic rules or boundaries for that time. eg. will speak only when spoken to, will eat whatever's ordered, will address the Dom/me with the appropriate title. Do be sure to chat prior to the outing to cover any health and safety measures - food allergies, acceptable levels of deference, titles, contingency plans for bumping into colleagues.
5. Photography
If you're into public stuff, it's generally pretty safe to say you have voyeuristic and/or exhibitionistic tendencies, so take advantage of them with a whole other range of 'happy snaps'. Publicly, you can play as both sender and receiver, and simultaneously if your multi-tasking is up to it. When you can, take some time to shoot some well-lit shots; and no, you don't need anything fancy, just be mindful of how the light and shadows play on your body, and USE it. Also take the time to crop your pics so the composition is focused where YOU want it. Pretty Pic Collection in order, and consenting partner ready for surprises, start sending! This is a good one for cheering up a lover while they wait for an appointment, or spicing up the more mundane excursions like StuporMarket missions.
Alternatively, you can also take some pics on these everyday adventures. While in public, look for opportunities to snap some sexy pics of yourself or your partner - upskirt yourself (it's only creepy when it's non consensual), get out some flesh, or capture some public shenanigans that reflect your fetish. If you're feeling confident enough to share with a wider audience, remember you can post pics in your public gallery on AMM, or create a private gallery and get added to a few Hotlists. And if you want full public social media exposure, try Twitter. It doesn't require a real name, and it does NOT censor. Be as explicit as you like and watch the Followers flow.
6. Dogging
Originally dogging (follow someone closely - 'hound') was an activity for voyeurs, whereby people would spy on common parking places to watch couples having sex. In 2003 a UK news report on dogging found a consensual and organised community of public sex enthusiasts was emerging thanks to online networking. Groups of people were meeting in public spaces - parks, cemeteries, parking lots, toilet blocks - to both engage in and watch sex. This sounds a bit like swinging, which is often only thought of as a public scene, and dogging certainly can incorporate swinging, but swinging is not dependent on public access like dogging is. Part of the thrill for doggers is the knowledge that the very location itself is taboo, and they can potentially be caught at any time.
7. Play Welcome In Public
Legalities are a consideration for most public players, and the vast majority obviously use decent judgement, cos it's not often we hear of people being caught doing something that goes on everyday.
If your kink crosses legal lines, why not consider doing it in a permitted space? There are plenty of events on offer to get YOUR fetish on in a space created specifically for those purposes. If your kinky streak includes some BDSM, you'll find most capital cities have some sort of social 'dungeon space' with equipment set up, and regular play events. Not all these spaces have permits for sex-on-premises, so if that's something you want to do in a nightclub or party scenario, look out for Swingers events near you. The bigger events are held several times a year, and can attract up to 1000 people. These can be a great place to start; for many, a nightclub is a relatively familiar environment; it's an environment big enough to observe without being intrusive, and with so much action everywhere, you can be as 'seen' as you choose. If nightclub action isn't your thing, there are smaller private parties running regularly in most capital cities and regional centres. You won't see pretty posters or adverts for these events, but you will find some listed online, so have a regular look at the AMM Events Calendar to see what you can find.
Copyright © 2020 MisKnickers It is illegal to use any or all of this article without the expressed, written permission from Adult Match Maker and the author. If you wish to use it you must publish the article in its entirety and include the original author, plus links, so that it is clear where the content originated. Failure to do so will result in legal action being taken.