Bio
Myola Woods is an Author, Certified Sexological Bodyworker, Somatic Sex Educator, International Intimacy & Relationship Coach and Winner of the Altitude Awards, Rising Star - Brave Award 2018.
Myola is a pioneer with courage who bravely speaks about the things that make most of us uncomfortable… Myola will gently lead you out of your comfort zone and into the zone of personal growth and higher self awareness. She specialises in teaching individuals and couples the art of connection, creating and cultivating the choice of arousal, to deepen intimacy, sensation and pleasure … even if it has been a very long time!
As a Sexual being, mother of 4 teenagers and pleasure enthusiast, Myola appreciates the time constraints, daily and social pressures, that can play havoc on our erotic lives. Myola teaches ways to explore and enhance your love making in everyday life. Using techniques and practices that can turn you, and your life, ON.
Take your intimate life from ordinary to extraordinary! Have the orgasms you have read and dreamed about….. YOU deserve them!
So, if you have had enough of mediocre, ready for change and desiring intimacy, connection and arousal, STOP wishing and hoping and START Now by contacting Myola.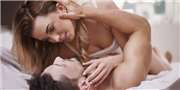 Touch is incredibly important, we underestimate the value and the need for touch – good touch, quality touch. Myola Woods shares her tips to ensure great touch with everyone you are intimate with - sex or no sex.