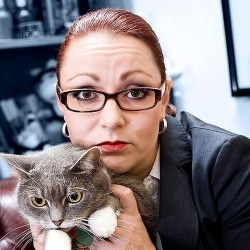 Bio
Originally a stand-up comic, Emma's solo show "Fuck, A Love Story" was born of a desire to better understand the nature of sex and why we do it, over and over again (besides the obvious!) and how attitudes and morals have changed and also why some haven't. To do this she explored her colourful and at times embarrassing but almost always amusing past.
After a successful Melbourne International Comedy Festival run with "Fuck, A Love Story" Emma concentrated on her character "Ask Mistress M" YouTube "sexpert" who gave frank and honest advice on all things sexual. She did this using her powers of wit and research, sometimes even using real live books instead of Google.
A natural progression from delving into other people's problems for entertainment and fun led her to wanting to do it professionally, so she completed a Bachelor of Psychology (Hons) and a Master of Social Work.
So she is no longer writing for the Uni magazines but is here instead and occasionally on her blog Sex Ed with Sachsse.