Our first visit to a Swingers Resort was the sexiest holiday ever!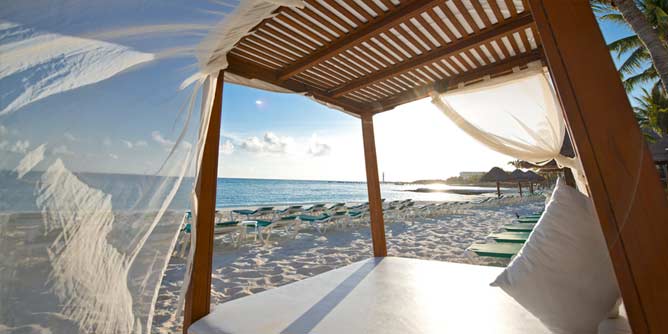 Have you wondered what happens at a swingers resort, and maybe wondered if it was something you would enjoy? Every couple who enjoys this type of holiday has experienced that first time walking into the resort. For most couples their first time at a swingers resort is a challenging and scary experience - for about the first 10 minutes. Let us explain by telling you about our first swingers resort experience.
About 6 years ago, we decided that we were going to have 7 nights at one of the largest swingers resorts in Mexico. We had been married about 19 years and we were looking to add some spice to our relationship. We came to the conclusion that we were going to push some boundaries. We were not interested in swinging, that was a boundary which was too far to be pushed at this stage. We just wanted to do something which was sexy and would help us reconnect in a strong way. Keep in mind that we had never been naked in front of anyone else since we started dating. This was a very big step for us.
The booking was made about 4 months before the trip. It was exciting and very sexy researching and discussing what we thought would happen. Then we realised that there were "Theme Nights". After much confusion and research, we worked out what was expected and had a wonderful time purchasing various sexy outfits.
In the weeks leading up to the holiday, we had a number of conversations about what we expected, what we hoped for and what our boundaries were. The clear articulation of our boundaries was definitely the smartest move we made.
The holiday finally arrived. We endured the dubious joy of long haul flights to the States and flew down to Cancun. The experience of walking into the foyer of the resort was surreal. Looking back on what was going through both our minds, it's a wonder we didn't turn tail and run. We think every first timer goes through this process. The images that you are fat, your suntan isn't right, the fear that other people will ridicule you, the fear that you will be required to have sex with people where you are not interested. Basically every insecurity we had ever harboured came out with a vengeance.
We signed in and had our welcome champers. It was about 2pm, so the receptionist suggested we have lunch before we go to our room as the lunch service was about to finish. We walked to the dining room, fully clothed, sat and enjoyed our lunch. Everybody inside the dining area was clothed, everyone outside was naked. Having lunch was probably an error, because it was more time for the brain to run through all the potential disasters which awaited us once we were sans clothing. We finished our meal and left the restaurant to find our room.
As we left the restaurant, we were greeted by the sight of a naked woman running towards us. She was holding two fingers (pointer and middle fingers) over her nipples. At the time, it struck both of us as odd that she would cover her nipples, but not her pubic area, if she was trying to cover up. She stopped about a meter in front of us, looked us up and down and said, "First time here?". We answered yes (we really must have looked like rabbits in a spotlight). The woman smiled and in a very commanding voice stated, "Get naked, get in the pool. I will see you there in 5 minutes."
Her actions were friendly, welcoming and broke the tension for us. We dropped our bags in our room. We got into our swimmers for the walk to the pool and headed out. Pulling off the swimmers at the pool in front of everyone was intimidating. Of course, no one looked and no one cared. 5 minutes later, plastic glass of whiskey in hand, we were totally and utterly relaxed. We both felt completely natural and were being welcomed by people who remain our friends to this day. The people around us ranged from early 30s to their 60s, some in their 70's. There was every conceivable body shape. Nobody judged and everybody was respectful.
We still look back on that week as the sexiest holiday of our lives. Nobody made inappropriate advances or comments. We did not feel pressured in any way. It was an amazing experience and a very powerful way to reconnect as a couple. We had not been this turned on by each other since our honeymoon.
Our advice is simple. If you have not been to a swingers resort, give it a go. Make it about you as a couple. Make sure you discuss what you are hoping for and clearly define your boundaries. It is sexy, it is naughty and it is so much fun. If the only thing stopping you is body image and fear of how other people may react to your body, put that out of your mind. EVERYBODY is beautiful when they are naked!!!! Nobody will care, everybody will be encouraging and respectful. Have a look at our website, www.aineevents.com. If you take the risk, you will surprise yourself at how much you enjoy it.
One last thing. The lady who covered her nipples and ordered us into the pool. Turns out she wasn't covering up. She was covering he nipples to keep them warm because they ache when she is wet, out of the pool and running to the toilet.
Have a swinging day!
Copyright © 2020 Adult Match Maker It is illegal to use any or all of this article without the expressed, written permission from Adult Match Maker and the author. If you wish to use it you must publish the article in its entirety and include the original author, plus links, so that it is clear where the content originated. Failure to do so will result in legal action being taken.