Is Swinging the Answer to Relationship Monotony?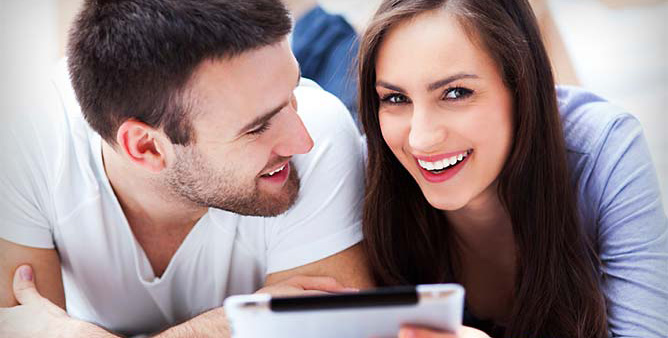 Well let's look at your relationship in a bit greater detail (not too great, I promise) and see if this whole swinging thing could be the answer or if it's just masking some other issues you want to pretend you're an ostrich on!
As much as we'd love to stick our head in the sand at times and go for the shiny object, in this case swinging, it could very well be the abundant oasis of adventure you want it to be or it could be a mirage masking real trouble in paradise.
If you have the fundamental elements in your relationship which mean it's fairly secure, healthy and flexible (and I don't mean in a having-sex-in-pretzel-position kind of way), but your sex life is a little on the dull side or perhaps in a routine… a monotonous routine… then you're on the right track!
The fundamental elements are:
Can you communicate?
And I mean really communicate! Can you both be extremely real and honest with each other, sharing what you want to try, how you feel about it (both good and not good), as well as be able to openly say "I'm not ok with that" or "babe, can I try . If you can be so honest and also be willing to openly listen and hear your partner without jumping to defend or deflect triggering as world war III, you can tick this box!
Do you respect each other?
This means there is an element of compassion and understanding for when your partner is struggling with something you've said or done, because it could happen that in the middle of threesome central, your partner falls into fear or jealousy and calls time out or says they can't do it… Do you respect where they're at; their feelings, mental struggles and your relationship enough to go "ok, what do you need from me?" and be willing to go home and work through it together if that's what it takes? If yes, tick this box too!
Love!
Of course, this probably should have been first but still, it's here. Is your partner your significant other? Are they your number one? Do they feel completely loved by you and you by them? You need to be able to make sure the other partner can feel your love for them as you should from them. Sometimes this is just a matter of knowing each others "love language" (an awesome book to read is "The 5 Love Languages" by Gary Chapman for more information).
Trust, this is a big one
Does your partner stick to their agreements? Are they reliable and dependable? Do you trust your partner when you're feeling vulnerable, i.e. in an argument they don't say or do things out of spite or to be purposely hurtful? How you fight says a lot about your level of maturity and if you are going to get the oasis and paradise ending, you want a decent level or emotional maturity and relationship skills already.
A fairly healthy self-esteem
You don't have to be oozing self love and confidence but if the self-esteem is too low it causes issues such as jealousy and insecurity (even when there is proof of love and being the significant other), and emotional overreactions which equals no fun for anyone. So if you are pretty even and think you're a bit of alright, then let's carry on, shall we?
If you pretty much have those covered off and are just looking for that next level or a way to turbo boost your libidos, quenching your thirst for something more adventurous and exciting? Then you have definitely come to the right place because there is very little monotony in the Lifestyle space unless you get caught in just one corner of it.
It's like going from a bucket of ice-cream in your own freezer (which may have a couple of flavours) to an ice creamery with dozens of flavours to choose from! Not only that but there are themes of flavours! It's like you have three walls of a hundred flavours, no more just vanilla, strawberry or chocolate to choose from.
So you have the swinging scene which is a wall of its own with all your threesomes, foursomes and moresomes, then you can add a kink flavour to that which opens up another wall of its own flavours with all its implements, different fetishes and lots of levels to choose from starting with just a little bit of mild kink to full on extreme for those who dare, and a thousand ideas in between to choose from.
For those who want something more spiritual and sensual, there is the tantric wall with its energy and connection techniques, it's completely sensual nature but it's mind blowing orgasmic potential with just one partner or multiple (there is a lot to learn and explore here, trust me).
And then for something even more fun, there is a mix of all three, swinging with a kink and tantric blend! There is something for everyone to explore so then it's just up to you to decide which doors you want to open and which playgrounds you want to explore because the options are endless making this a very effective monotony killer… Are you ready?
Copyright © 2020 Chantelle Austin It is illegal to use any or all of this article without the expressed, written permission from Adult Match Maker and the author. If you wish to use it you must publish the article in its entirety and include the original author, plus links, so that it is clear where the content originated. Failure to do so will result in legal action being taken.