Our Sexpert's Encycl-O-pedia of Orgasms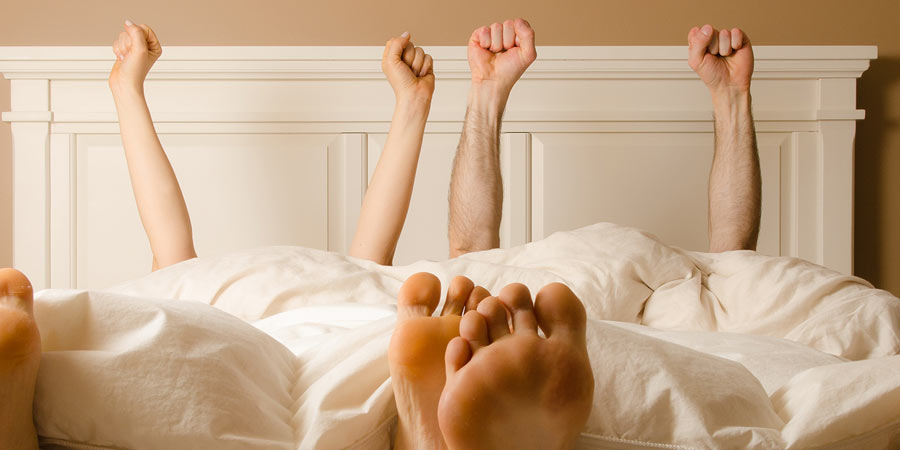 Depending which blog or article you read, or which "sexpert" you listen to there are apparently anything from 4 to 15 different types of orgasm a woman can have (don't worry, guys, we won't leave you out). Now without denigrating my fellow sexperts, I would have to say that anyone who limits orgasms purely to the groin area is short-changing you on information and should probably be taken with a grain of salt, because orgasms and climaxes can happen all over the body, from many different stimuli, and should never be ignored or discredited just because you personally have never experienced them. I mean, when you think about it, even the basic everyday female orgasm was denied as a thing for hundreds of years because the men in charge didn't care enough to talk about and research them, so don't be like "those guys", and take a quick moment to learn about the amazing world of climaxes and how different they can be depending where or how it is achieved.
Clitoral
The most common and most spoken about orgasm is the one that is achieved by stimulating the exposed part of the clitoris (remember back to our Cliteracy101 article… The whole organ is far bigger and goes far deeper than you think). Depending on the individual, there are a number of ways it can be played with in order to achieve climax. The best way to find this out is to play with yours until you work out what it likes best, or to ask the clitoris owner you're playing with what they like. Like all sex, what works for one may not work for another, so communication and experimentation is key.
Vaginal
The inside of the vagina can be a treasure trove of new sensations and ways to climax, from the G-spot (on the front wall of the vagina about halfway up) to the A-spot (higher than the G-spot, on the wall of the vagina just below the cervix, and can be stimulated by pushing forwards or backwards) and even the cervix has been known to illicit curled toes and moans of pleasure from some women. These spots usually rely more on pressure than stroking to get the best sensations out of them, so get playing and see what you can find. A good way to experiment with the A-spot is to use a G-spot vibrator, but turn the curve the other way around.
U-Spot
This is achieving orgasm by stimulating around the outside of the female urethra. As the underneath parts of the clitoris surround this area it can be quite a pleasurable experiment in new sensations. While many women find it a little uncomfortable with the "am I gonna pee" sensation, others don't mind or embrace that feeling as just another way to enjoy sexual pleasure.
Rule Of Thumb
Being able to achieve a vaginal orgasm from just vaginal stimulation is, for the most part, pretty rare in women. Regardless of what you read in ridiculous romance novels, just the act of a penis (or other) entering the vagina is not enough for women to be seeing rainbows and unicorns… Especially the first time they ever have penetrative sex (yes I'm looking at you Fifty Shades). It's not impossible, no, but it is extremely unlikely. This is for a whole bunch of reasons, technique and skill level being one, lack of understanding and knowledge and prior experimentation being another, but, from research that began all the way back in the 1920s and has recently had a resurgence in thinking, its actually got far more to do with an unchangeable physical attribute than anything else. That attribute is known as the "rule of thumb" and looks at the distance between a woman's vagina and the exposed part of her clitoris. The closer the two the easier it will be for her to experience an internal orgasm from penetration alone. The kicker, however, is that only a very small percentage of women have the "ideal distance" and so regardless of how much you play and experiment, it just might not happen at all.
Anal - Women
Whether internally or externally, there are some incredible sensations and enjoyment to be had from stimulating this area. While anal orgasms for women aren't as common as they are in men, they are definitely possible and it is another way that the A-spot (see above) can be manipulated.
Anal - Men
Oh the magical prostate. The little pleasure walnut at the back of the male butt that can illicit such pleasure and enjoyment if only they would relax and understand that butt sex doesn't make you gay. Thank goodness there is far more talk and open discussion about the wonders of the prostate these days because so many more men are opening up and discovering the hidden, mind-blowing sensations that await. I will also add that one of the best ways to play with, and strengthen those butt orgasms is to play with prostate toys that, similar to women, help you train that pelvic floor. The stronger those muscles, the better the orgasm.
Penis
While we all know of the blow n go nature of penises, did you know that depending on where on the penis you touch and play can depend on the type of orgasm that's had? And did you also know that you can learn to orgasm without ejaculation? This is often done with prostate massage, but can be achieved with the penis too in certain practices like Tantra and other mindful sex techniques. The frenulum (the seam where the head meets the shaft) for example is one of the most sensitive parts of the penis and can be stimulated to orgasm even without an erection. This is great news for men who have erectile issues due to medical or physical reasons, and there are even certain sex toys out there now designed specifically for this purpose.
Perineum
While it is rare for the perineum to elicit orgasms just on its own there are quite a number of anecdotal stories I have read about men being able to do this with a little bit of pressure or vibration and a whole lot of lube to keep the area slippery. It is, however, one of the more common secondary places that men (and women) love having stimulated while their primary orgasm source (penis, clitoris, vagina) is being played with.
Nipples
Similar to the perineum, while definitely sensation filled, nipple orgasms are a rare, but actual thing that can happen for some people. Mostly for women, but not impossible in men, the reported orgasms are said to be like that of a clitoral orgasm but in the top half of your body rather than the bottom. It can be an odd feeling because you're definitely not used to those sort of sensations in those areas… But it can be absolutely incredible.
Kissing
Yes, some people can actually reach orgasm just by kissing their partner. Like the two above it's not as common as the direct genital stimulation orgasms, and is far more possible with a lot of experience in mindful sex practices that focus on breathing and syncing bodies etc, but it is possible.
Combinations
Like described above with nipples and perineum, these orgasms are the ones that you achieve by stimulating multiple areas at once, and can create even more intense sensations. Combining the G-spot and the clitoris, or the prostate and the frenulum, nipples and vagina, or experimenting around a bunch of them can lead to some of the most amazing, mind-blowing orgasms you've ever experienced or given to another person. Shouts and screams. Squirts and squeals. Laughter or tears (the good kind). And eye-opening realisations of what your body can be capable of… It's all worth the journey and the time it may take to learn your way around them.
Zonal
While we have tried to be as thorough as we can in our research and descriptions, we know that every body and every person reacts differently to things and that there's no way we could cover every single bit and bob that gets people over that climax hump, but we did want to make special mention to something that doesn't really have a name, but several other publications and sexperts have referred to as "Zonal" or "Zone" orgasms. These are the ones that some people can achieve by having completely non sexual areas touched. For example, from reading over a number of different blogs and websites, people have reported being able to orgasm from having their knees touched, their hair played with, their armpits tickled, their shoulders massaged… All sorts of not-particularly-sexual touch! And let's not forget the amazing orgasmic sensations and climaxes many people achieve from spanking and other BDSM practises. While yes it is extremely rare, it's not unheard of and doesn't make you some sort of weirdo or freak. Just differently sensitive and a little bit unique.
I would also like to mention that, while amazing, orgasms are not the be all and end all of sex. Satisfaction and climax do not have to go together and sometimes, the more we stress about not having one, the harder it is to get over that hump. If you really feel like there is a problem with your sexual enjoyment and sensations it can be a great idea to go and talk to a health professional that specialises in sexual health and pleasure. Don't be afraid or ashamed of seeking help, whether it's with extra stuff like sex toys or sensation gels, or more professional help from a sex therapist. Experiment, play, learn, and grow. Your body will thank you for it.
Copyright © 2020 Eva Sless It is illegal to use any or all of this article without the expressed, written permission from Adult Match Maker and the author. If you wish to use it you must publish the article in its entirety and include the original author, plus links, so that it is clear where the content originated. Failure to do so will result in legal action being taken.