What Men Should Know About Vaginas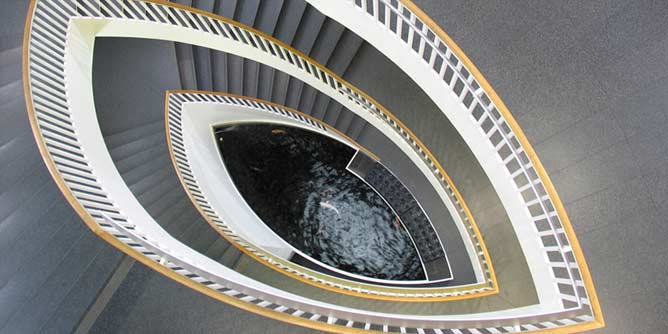 If you're a heterosexual man chances are you're a bit curious about vaginas, you know, that elusive honey-pot at the end of the rainbow that will make all your dreams come true.
While the world is definitely starting to celebrate and educate more about them, there are still a few things about the humble vagina that aren't as widely known or as talked about as they should be, and we feel it is important for the sexual enjoyment of everyone that these things are mentioned.
So pull up a seat, lads, and get your notebooks out. Here is a much needed lesson in the things you may not have known about vaginas, but that will help you enjoy and play with them even better once you know.
That's Not My Name
We're all a bit guilty of it, even me and it's my job to know and educate about these things, but I am guessing that most of you (and yes not just the men), when you're talking about vaginas, are probably actually meaning the vulva. While it may not seem to be too big a deal, in the interest of body positivity and education I really think it IS important in the fight against shame and negativity towards women and their bodies to use the proper names for all our bits.
The "vagina" itself is actually only one part. The hole and tunnel that babies come out of. That's it. The other bits have their own names and I think it's really important we start using their proper terms.
The vulva is the outside bit, the full lips where the pubic hair grows that houses all the other glorious folds and flaps. Those inner lips are called the labia, the outside one is the labia majora and the inner the labia minora. The sensitive pleasure spot at the top is the clitoris which, just like an iceberg, is actually far larger than the little bit you see. The whole thing is shaped like a kind of puffy wishbone and extends all the way down the vulva and can illicit all sorts of amazing sensations throughout the whole area. And then there's the little hole where the pee comes out and that, like on guys, is called the urethra.
Each bit has it's own function and it's own name so start using them and appreciating their individuality.
Length and Depth
If you've read our Big Dicks Unzipped article then you'll be aware of this fact, but did you know that vaginas are really only around four inches deep? They can expand and elongate a little more once they're aroused, but for the most part, they really aren't that long which is why so many women actually want nothing to do with those "big ten inch studs" and are far more satisfied with penises that come in the seven inch and under length. This is mostly because of the cervix. That's the bit at the very top of the vaginal tunnel that stops things like tampons etc moving into the body and inside the uterus. You may not have had kids, but I'm sure on telly or whatever you've heard the phrase "the cervix is dilating" which is basically the term used when the cervix opens up to let a baby out. Otherwise it's a pretty closed little spot and can be incredibly sensitive to the touch, meaning a big, long penis pushing against it can cause a lot of discomfort and pain. Yes, some women enjoy this sensation, and some women don't, but if you're wondering why women aren't flocking to your very long penis, this could definitely have something to do with it.
Lubrication
The vagina is brilliant in that it will usually create it's own slippery wet lubrication to aid in the comfort and pleasure of sexual intercourse, but it is super important to understand a few things.
Firstly, just because a woman isn't wet doesn't mean she is not enjoying herself. For so many reasons including stress, menstrual cycle and age, a woman may not produce as much natural lubrication as she may want or need and this is where the addition of packaged lube is vital. There are some incredibly natural feeling ones on the market at the moment and it can also often be a case of once her body starts feeling the lubrication of store-bought lube, it can help to arouse the more natural state too.
And secondly, just because a woman is "wet" doesn't necessarily mean she is aroused. It just means the vagina is working. It cleans itself by the use of discharge and lubrication and it also can just automatically do it if it feels like it may need it. In some truly awful rape cases the defence has literally used the presence of lubrication during an assault as "proof" it wasn't rape because she was 'obviously aroused and therefore enjoying it". No. This is NOT true and is a terrible defence and is slowly being phased out along with the idea that a short skirt is to blame.
Women Get Erections Too
Yes, believe it or not the clitoris works in the same way a penis does. In fact, in the beginning, at conception, ALL penises are actually clitorises so the real way to say it would be that penises work in the same way clits do… But I digress.
When aroused the genital area fills with blood, creating heightened sensation and more sensitivity, and the little nub (as well as the rest of it) swells and grows and gets hard and is far more reactive to the touch than normal. The outer lips swell and get plump as well, and the whole inner area of labia and vagina glow pink and feel warm to the touch. One phrase that the internet has adopted to explain this is a lady-boner (for cis women), and it's rather fitting, even if not everyone particularly likes the term.
Orgasms Might Not Happen And That Is Okay
Now don't get me wrong, I am not dismissing orgasms as unimportant, and I absolutely understand that not reaching climax can be a source of great frustration and low self esteem and a whole bunch of other mental health issues and in those situations I most definitely think their worries can be valid and absolutely support people seeking help, but I am not talking about those kinds of situations. The thing is many many women (around 85% of us) cannot successfully reach orgasm from penetration alone. It's not that our sexual partners aren't good at what they do, it's just the physical way our bodies are made. The majority of women need clitoral stimulation to orgasm. Whether that is direct stimulation, a combination of internal and external touch, a particular rhythm or style, it doesn't matter. The fact is it just isn't going to happen without it, and for a lot of us, that's actually okay! Not every sex session has to end in that mutual bang of fireworks. Sometimes just the intimacy and closeness to you, and the fact that you're enjoying us, and the moment, is enough for that particular session. Yes, of course an orgasm is a wonderful end and a lovely nod to your sexual prowess, but it really isn't the be all and end all and if, at the end of it all, she hasn't come but she's telling you it's okay and she doesn't mind, chances are she really is okay with it and you don't have to feel like you didn't do it right. In saying that, however, it really is important to make sure your partner is enjoying herself. It's not a race to the finish, and coming first and rolling off without a care in the world to her pleasure is not cool and definitely makes you a shit lay.
So yes, vaginas (and vulvas and labia and clitorises) are amazing parts of the body and we should celebrate and understand and love them because not only are the women attached to them worthy of the education and knowledge surrounding their bodies, but also those who enjoy playing with them will become the best lovers in town with a healthy dose of education under their belts. So get vagina geeky and learn as much as you can about these incredible organs for the mutual satisfaction and benefit of everyone who owns one or wants to play with one.
Copyright © 2020 Eva Sless It is illegal to use any or all of this article without the expressed, written permission from Adult Match Maker and the author. If you wish to use it you must publish the article in its entirety and include the original author, plus links, so that it is clear where the content originated. Failure to do so will result in legal action being taken.