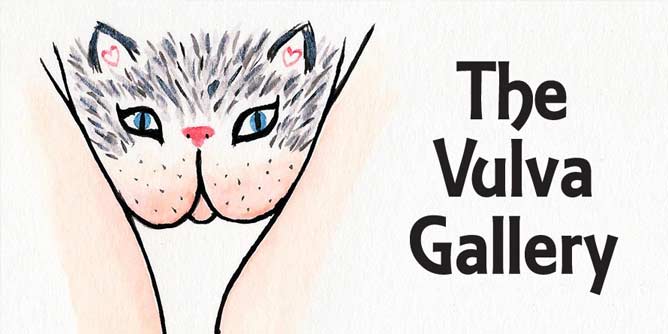 Photo from the "The Vulva Gallery" used with permission from the very talented Hilde Atalanta
Hilde Atalanta is both an artist and an advocate for body positivity. Well, in particular one specific part of the female anatomy – the vulva. Her motto is "Love your vulva, because all vulvas are beautiful just the way they are."
In August 2016 Hilde started a project she called The Vulva Gallery in response to the enormous increase in labiaplasty amongst young women. The Vulva Gallery is a collection of images celebrating the vulva in all its glorious diversity. Hilde believes "No vulva-owning individual should have to undergo this [labiaplasty] just because they want their vulva to look like the ones they see on the internet (for example in porn), or like what they think other people expect them to look." And with over 45k followers on Instagram the Gallery has certainly created a buzz with Hilde's beautiful images which portray vulvas of all shapes, sizes and colours.
"Your vulva is as beautiful as anyone else's. There is so much natural variation in how labia look: they can be long, tiny, thick, wavy, flappy, asymmetrical, curvy - and there is only one like you. Stop comparing yourself with others. Appreciate the natural body you have, because you are beautiful in your own unique way. Let's celebrate our diversity, instead of comparing and pointing at each other's flaws. We are beautiful. We are awesome! Love yourself, and love your vulva, just the way it is."
Eva Sless discussed it in her blog post for us last year – A Labia Tale – and reminded us that because female pink bits are tucked away women don't often see other women's genitals and that means porn is sometimes their only reference point leading to many women worrying about if they are "normal".
Hilde told us "The only way to change the way (young) individuals experience their bodies, is to educate them and show them that diversity is beautiful. This is why I started making The Vulva Gallery." Hilde is the primary artist for the gallery and it's her beautiful images you will find on Instagram.
And it's not just the images which captivate, it's her wonderful notes on each image which encourage the acceptance of body diversity.
Why does Hilde use the term "vulva" rather than "vagina"? The vulva consists of the external part of the female genital organs. The vulva includes the mons pubis, labia majora, labia minora, clitoris, bulb of vestibule, vulval vestibule, urinary meatus, greater and lesser vestibular glands, the vaginal opening, the pudendal cleft, sebaceous glands, the urogenital triangle (anterior part of the perineum), and pubic hair.
Hilde hopes that the gallery concept will contribute to the way people view body diversity and especially vulva diversity. You can also read stories and touching messages from people all around the world on The Vulva Gallery website.
Copyright © 2020 Adult Match Maker It is illegal to use any or all of this article without the expressed, written permission from Adult Match Maker and the author. If you wish to use it you must publish the article in its entirety and include the original author, plus links, so that it is clear where the content originated. Failure to do so will result in legal action being taken.