12 Sexy Days of Christmas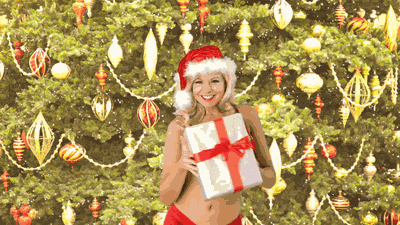 Christmas is here! Over the years I have gone from a very "Bah Humbug" type person to someone who buys eggnog on December 1st and wears a Santa hat til New Years. I love it. Although I'm not a massive fan of the whole consumerism stuff (in our house Christmas focuses on family and food), I am a huge fan of the sparkling lights and tinsel and, yes, the cheesy fluffiness of it all. I love a good, sentimental Christmas movie (Although I will go to my grave defending Die Hard as being the best Christmas movie ever, fight me), and there's a standing ban in my house on me playing "Last Christmas" by Wham! more than once a day… And I also like the cheesiness of the inevitable Christmas Lists that get thrown about in magazines and websites, as long as, like the awesome Emma pointed out in her recent article, they aren't just crap… So, with that in mind, I bring you my cheesy Christmas list and some tips and hints to spice up your silly season.
On the First Day of Christmas my lover gave to me a sex toy for us to share!
Seriously, one of the world's best selling sex toys is a the We-Vibe, a toy for hetero couples to use together when having sex. It can connect to an app on your smartphone and be controlled from anywhere in the world, and is the perfect accessory for sexy holiday times with your partner. Then there are strapless strap-ons for lesbian couples and vibrating wearable penis sleeves for gay couples and a bunch of other items to share! Go shopping together and find something awesome for you both!
On the Second Day of Christmas my lover gave to me a massage with scented oils
Christmas time is a time of running around and stressing over silly things like what to buy Aunt Polly and battling horrible shopping centre traffic. Relax and calm yourself and your partner with a gorgeous sensual massage with an aromatherapy oil available at most adult shops.
On the Third Day of Christmas my lover gave to me a ticket to the Saints & Sinners NYE Ball
OMG have you ever wanted to go to a super rocking three-level nightclub full of sexy swingers? The Melbourne Saints & Sinners Ball is the biggest and best swingers event in Australia and their NYE ball is no exception. With sexy people, awesome music and a rooftop view of the midnight fireworks, it's an awesome event and a great gift idea for you and your lover.
On the Fourth Day of Christmas my lover gave to me a day of skinny dipping in the sun.
Almost every state in Australia (bar Queensland) has a nudist beach and there is something awesomely liberating and freeing about frolicking in the waves in your birthday suit. If you happen to live somewhere that this isn't possible at a beach, see if you can find a secluded river or stream to get your kit off and dip in. (be aware of the general public in these instances though, you don't wanna spend your Christmas answering an indecent exposure charge)
On the Fifth Day of Christmas my lover gave to me the threesome I've always wanted.
Has your boyfriend always wanted to see you with another woman? Has your wife ever expressed a desire for two men? Whatever the combination, gift your partner their fantasy for Christmas! Check out the profiles on Adult Match Maker and find someone that ticks all you and your partner's boxes
On the Sixth Day of Christmas my lover gave to me some fun and sexy lingerie.
Dressing up for your partner and buying them sexy things to wear is a great way to add some spice and sparkle to your Christmas fun. Why not find some sexy but silly Christmas lingerie with fluffy trim and reindeer ears? If nothing else you'll have a great time giggling at tinsel boobs or snowman cock.
On the Seventh Day of Christmas my lover gave to me a day of yes and pampering.
A day of yes. These can be super fun! Basically you let your partner dictate the day, and (within obvious reason) you have to say yes to everything. It can be a fun way to experiment with new things and step outside your comfort zone with a trusted partner… And it can also be a day where you can do absolutely nothing and make them do it all. Like it doesn't even have to be sexy! Need those dishes done? Want the fence painted? Who knows what odd jobs you (they) could get done!
On the Eighth Day of Christmas my lover gave to me a book of erotic poetry
Get some Anais Nin or Marquis De Sade and read out the gorgeous eroticism or sadistic BDSM (The S, sadism, is actually named for the Marquis) played out on the pages. Hey, it doesn't even need to be literary classics like that. Some of our members are very talented when it comes to writing erotica so you can also check out our Member Stories. And Penthouse Forum letters can be a super fun bedtime story or just the funny little erotic novellas you find at Adult Shops. Sometimes they're totally cringe-worthy too which is brilliant for a good laugh with your lover.
On the Ninth Day of Christmas my lover gave to me a sexy holiday
What better way to get away from the rat race and the Christmas stresses than heading off on a luxurious holiday full of sexy people wanting to play! There is one swingers resort in Australia run by Aine Events, as well as full takeover lifestyle cruises and shagaholic camping weekends and it's just a matter of packing the essentials and getting into beach-bum holiday mode. Trust me, you'll never look at holidays the same way again!
On the Tenth Day of Christmas my lover gave to me a gift voucher for an adult shopping spree.
Imagine having a chunk of money to spend in an adult shop on whatever you wanted! Most adult shops offer gift vouchers and have a huge variety of things to enjoy, not just sex toys! There's costumes and lingerie and massage oils and books and shoes and games and BDSM gear and just about anything sexy you can think of. Oh my!
On the Eleventh Day of Christmas my lover gave to me a delicious sensory experience.
A blindfold, some strawberries and cream… Fizzy wine… Chocolate and caramel… Grapes and mango… Or whatever your lover's favourite foods and tastes are. Tease them with the taste against their lips… Whisper erotic words as you feed them… Create a deliciously erotic experience just using your fingertips and their mouth… By the time the blindfold comes off (if it does) they'll be ready to have a feast of you!
On the Twelfth Day of Christmas my lover gave to me the best gift ever
Be the gift you know they want! Get rid of the kids, lock the cat in the laundry and switch off your phone and then wrap yourself up in a big red bow (cheap off-cut material from a sewing shop is perfect!). And then wait for your partner to come home and unwrap you! Have a combination of all the above gifts waiting to be enjoyed and explored and have the best Christmas ever!
Merry Christmas, lovers!
From Eva and all of us at Adult Match Maker!
Footnote: While writing this I found out that the 12 days of Christmas actually starts on Christmas day and goes til January, rather than the days leading up to Christmas like I've always thought... So, if you want, you can wait til then to try these out... But something tells me you'll be like me and will have half of them finished in, like, the first few days!
Copyright © 2020 Adult Match Maker It is illegal to use any or all of this article without the expressed, written permission from Adult Match Maker and the author. If you wish to use it you must publish the article in its entirety and include the original author, plus links, so that it is clear where the content originated. Failure to do so will result in legal action being taken.