No pesky tan lines! 6 of the World's Best Nude Beaches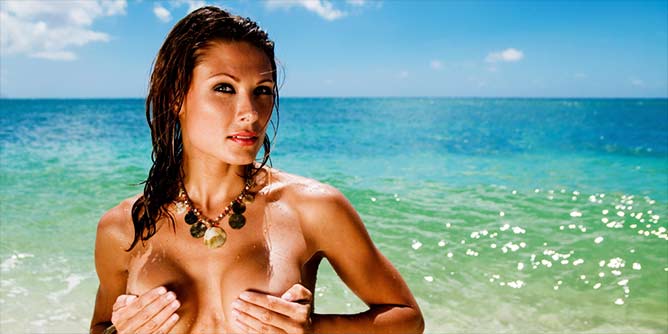 How good is Summer! Lazy days and sultry nights. The anticipation of holidays and the fresh start of a new year. It's probably one of our most favourite times of the year.
Icy poles and long evenings and, one of the best summer activities around, swimming at the beach! There's something so inherently relaxing about the smell of salt and coconut sun cream. Even the screech of seagulls can add to that air of languid relaxation. And there's one thing that can make it all even more relaxing, even more indulgent - and that's getting your kit off and going skinny dipping!
Have you ever done it? It's truly liberating. The sun warming your skin all over, the cool freshness of water enveloping you. It's getting back to nature at it's source, and we all need a little of that now and then.
This summer holiday season, we at AMM have decided to give you a tour of some of the best nude beaches around the world; from our very own Australian doorstep, to some of the most beautiful and secluded spots around the world.
So grab a fancy cocktail in a coconut shell (don't forget the umbrella), put your feet up in the shade, and start planning your next summer holiday!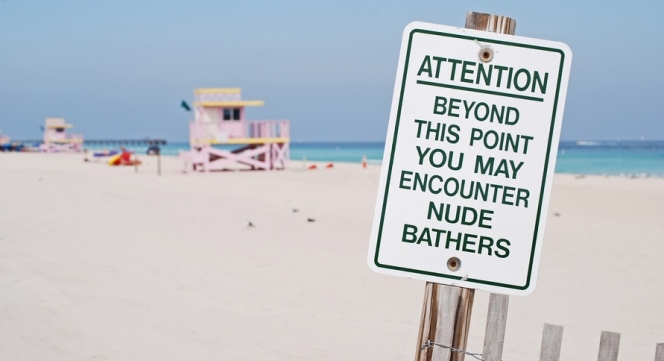 Maslin Beach South Australia
This was Australia's very first officially legal nude beach back in 1975. There is 1.5kms of gorgeous sand and water in which to frolic in your birthday suits, and the towering white cliffs behind give it a secluded feel and a private air. Since 1983 it has hosted the Nude Olympics (although due to complaints from the actual Olympic committee it has now been renamed the Pilwarren Maslin Beach Nude Games) with all sorts of fun events including naked three legged races, naked tug-o-wars and the prestigious "Best Bum" competition. Bring your sun cream, bring a hat, and get sporting!
Lady Bay Beach New South Wales, Australia
Although Maslin Beach was the first Australian nude beach to gain legal status, Lady Bay likes to remind everyone that it was the first naked beach with people bathing nude there well before it gained legal status in 1976. Snuggled in a rocky cove, the blue water laps at the yellow sand, and it's only the distant view across the water to Sydney's iconic skyline that reminds you you're actually not that far from the busiest metropolis in Australia. Because of it's iconic status, it's a regular hotspot for nudists and voyeurs alike, so just be aware you may become a "tourist attraction" in your own right.
Wreck Beach Vancouver, Canada
With 7.8kms of beach to enjoy, this internationally acclaimed nude beach, just 15 minutes from central Vancouver, is North America's largest nude beach. It was even nominated to be recognised as one of Canada's Seven Wonders! Generating around $60 million a year in tourist dollars this is a popular beach for not only tourists, but for locals and their families as well. In fact, with attitudes to nudity so loose and relaxed, it is the busiest beach in Canada during the summer, getting up to 14,000 visitors a day! So if it's seclusion and privacy you're after this may not be the beach for you, but if you're a group or family who love to enjoy the freedom and liberation that nudity can bring, then pop this on your holiday list!
Plage De Tahiti Saint Tropez, France
Plage De Tahiti in St Tropez France was put on the map by 60s starlet Bridget Bardot in the movie "And God Created Woman", and since then has continued to be a popular nudist beach for both tourists and celebrities alike. Located at the northern part of Pampelonne Beach, the white sand and clear water beckons you, and is regularly named as one of the top nude beaches in Europe.
Because of it's celebrity-heavy patronage it's a good idea to leave your camera at home (getting beaten up by bodyguards or sued by a celebrity isn't particularly conducive to a relaxing summer holiday). So if you're after an indulgent holiday where you can get naked among some of the world's top celebrities, this is the place for you.
Red Beach Crete, Greece
So called because of it's amazing red sand and towering cliff faces, Red Beach in Crete was named the second best nudist beach in the world by Fox News (just behind Little Beach in Maui). Secluded away from foot traffic, the easiest way to get there is by boat (or a 25 minute hike from Matala), it is a place where nudists can swim and socialise without the fear of prying eyes and voyeurs who just want a perve. With an amazing world class marine cave to explore, and the surreal Martian-like landscape, this is a gorgeous and also interesting place to visit, swim, hike and canoe. All in the buff!
Little Beach Maui, Hawaii
Although not technically legal, Maui's Little Beach has been a nudist hotspot for decades with law enforcement basically turning a blind eye and allowing people to enjoy themselves. Coming in first place in the Fox News best nude beaches award this gorgeous stretch of beach is classic Hawaii. With drum circles and fire dancing in the evenings and top notch surfing and boogie-boarding in the waves, it's only a short walk from Big Beach and over an ancient lava flow to naked Hawaiian heaven. Be warned there is very little shade, so an umbrella and a bucket of sun cream should be on your bring list.
Remember, nudist beaches are not about sex, they are about freedom of expression, about freedom of body and about freedom of the constraints of clothes and other societal binds. They are not free-for-all perve spots and most certainly are not free-for-all swinger love ins, so be respectful and kind and, although you're showing it off, don't be an arse and ruin it for everyone else. And don't forget the sun cream!!
Copyright © 2020 Adult Match Maker It is illegal to use any or all of this article without the expressed, written permission from Adult Match Maker and the author. If you wish to use it you must publish the article in its entirety and include the original author, plus links, so that it is clear where the content originated. Failure to do so will result in legal action being taken.