The Ultimate Sexual Bucket List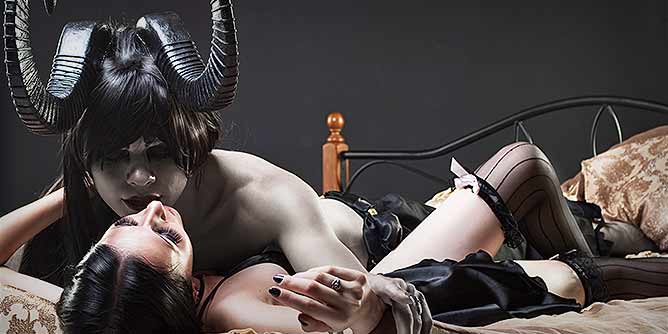 Ever since the movie with Morgan Freeman and Jack Nicholson people have been getting on the Bucket List bandwagon and I for one am happy to budge up and make room for others on this trend. I love them! Whether it's something awe-inspiring like climbing Everest or a silly personal goal like eating every single flavour of Tim Tam ever made, creating a list of things you want to do before you die is a great way to set future goals and work out what and where you want to be in life. Or just have some awesome fun that you probably normally wouldn't in your everyday life.
I reckon, though, everyone needs a few different lists. One for your career, one for your experiences of once-in-a-life-time things and, probably my favourite, one for your sex life.
Let's face it, sex is awesome. Expanding your mind and discovering new sexy things to do is even more awesome and I truly believe there are some sexy things everyone should try at least once in their life. Adult Match Maker's recent Sex Survey found that Aussies have an extensive list of sexual fantasies.
So here it is, my sexy bucket list suggestions that will open your eyes and your world to some of the most amazing sexual experiences you'll ever have.
Go to a Sex Club
Whether it's a swinger's party or a BDSM club or a live sex show, there's nothing more exciting than being in a room full of erotically charged people. Find an event in your area (the Adult Match Maker Events Section is the best place to start searching) and find one that suits your needs and curiosity. There are all sorts of different nights and parties to suit all tastes and experience levels (yes, there are even events that cater for single guys). Find a beginners night or ones that encourage first-timers if you're a bit nervous about being thrown in the deep end, and go experience something new!
Have a Same-Sex Experience
I kissed a girl and I liked it. In fact, I liked it so much I do it as often as I can and encourage everyone (yes, everyone, boys too) to see what it's like to indulge in the sensuality of a person who shares your gender. You don't have to even fuck them. It could just be a threesome or group play session. Be comfortable with your sexuality! It won't make you gay. It won't send you blind. It won't cause the world to end... But it may just cause you to open up a whole new world and dimension to your sex life.
Play Outside
Now I don't necessarily mean boning away in the middle of the street, I mean not only is that illegal but you do have to remember we live in a society and not everyone wants to see you bumping uglies in the marketplace, but there are ways and means of "getting off in public" that can be so subtly done no-one but you and your partner will ever know. Having your partner rub their hands between your legs while you sit in the back booth of an inner-city cafe, sneaking into the airplane loos to join the Mile-High Club, hiding behind the sand dunes at the beach. You won't believe the rush you get from the exciting risk of getting spotted and the intimate sharing of a secret that no-one else is aware of.
Play a Sex Game
You can buy specialised sex games at heaps of adult shops or you could make up your own version like strip monopoly or naked hide and seek. Play with food, and ropes and blindfolds. Getting sexy while playing and having fun is awesome. Laughing and sex go hand in hand and you find so many of your inhibitions go out the window. Give it a go!
Have a Faceless Sexual Experience
I don't mean necessarily literally, like in a dark room or wearing masks. Go out and have a one night stand. Pick up a person in a club or on an online site with the sole purpose of having a one-off experience. No strings. No names. No phone numbers. Just go for it. Liberate yourself!! (But remember to be safe!)
Go to a Sex Ed Class
Learn the art of Tantra or take a course in shibari rope tying. There are classes and workshops you can take on how to spank, how to learn how to squirt, the art of strip-tease, pole-dance, burlesque. I have seen information sessions on sex toys and anal sex. There are always new things to learn and taking a class run by a professional who knows their stuff is a great way to learn all about them.
There are so many new and exciting experiences out there to indulge in, and we only live one life, so get out there! You could even combine some of them. Like having a faceless experience in a BDSM club with a person of the same sex. Orgasmify your world with an experience like no other and start ticking things off your sexual bucket list!
Copyright © 2019 Eva Sless It is illegal to use any or all of this article without the expressed, written permission from Adult Match Maker and the author. If you wish to use it you must publish the article in its entirety and include the original author, plus links, so that it is clear where the content originated. Failure to do so will result in legal action being taken.