The Bottom Line on Anal Sex Taboos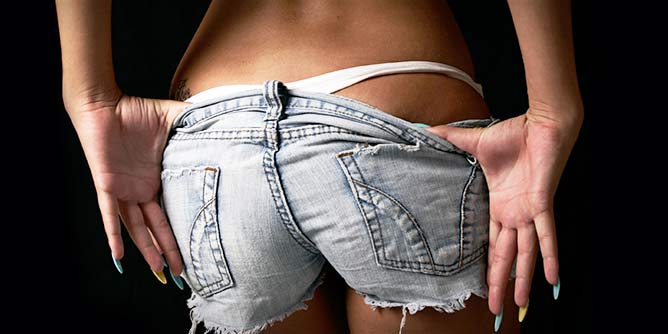 It's funny isn't it... In this modern world of sex sex sex, with half naked pop stars riding on giant wrecking balls, TV shows where people have actual sex in a box in front of a live studio audience, and a highly graphic story of BDSM becoming an international bestseller, that we still find it "taboo" and "naughty" to talk about anal sex. I find this particularly interesting because, according to the Adult Match Maker Under the Covers Sex Survey, in which over seven thousand people responded, fantasising about anal sex was almost right up the top. Ahead of porn, ahead of swinging and role play, and on absolute par with sex toys, and almost half of all women respondents admitted to enjoying it.
But, in spite of this, for some reason there just seems to be something inherently "bad" about it and talking about it, or admitting you do it and like it, is just not done.
Well screw that! Regardless of whether or not you have done it, want to do it, enjoy it or don't there is absolutely nothing weird or freaky or wrong about it at all. Okay, so it might not be everyone's cup of tea, but then neither is a cup of tea and you don't get people calling you a kinky weirdo if you prefer coffee.
Anal sex is just as normal, and can be just as enjoyable, as any sex act. It's about the individual's choice and personal preferences. Male or female, straight, gay, bi whatever. It has nothing to do with being gay. Nothing to do with being strange. Nothing to do with anything but the enjoyment of a sexual act that makes you feel good. And it really can feel good!
There are hundreds of nerve endings in the anus that can be aroused during anal sex. The tightness of the fit and the angle in which you're penetrated can also stimulate nerve endings and areas inside the vagina. The male prostate, which is located inside the anus, is a treasure trove of pleasure and sexual enjoyment for a guy and, yes I'll admit it, the whole taboo side of it, as much as it is unnecessary and unwarranted, can be a very powerful aphrodisiac indeed.
We've all heard the horror stories. The pain, the mess, the susceptibility of STIs and yes, these things aren't made up boogyman stories, they're true... But they aren't the be all and end all, and there are ways to prevent these things from ruining your experience.
Take it slow, like really really slow. Use lots of lube. Start small with fingers or toys. Work yourself up to full penetration. Play around with angles and positions. If one feels too tight or uncomfortable, try something else.
Empty your bowels beforehand and have a shower to clean around the entrance. A healthy person will rarely have poo left in the anal cavity after it's been expelled but, if you're really worried, you can douche the area to ease your mind.
Always wear a condom and remember, when swapping between anal and vaginal sex the condom must be changed. Getting bacteria from the anus into the vagina is a huge health risk and can cause all sorts of problems. And make sure any toys you use are cleaned with a proper toy cleaner.
There is so much more we could go into but my articles aren't a detailed "how to" guide, I just want to make your toes tingle and I love writing about these topics which just don't get talked about enough.
Honestly, it's time to take away the taboo, the embarrassment, the shame. If it's something you're into then go ahead! Do it! Enjoy it! Revel in it! Don't let anyone else dictate to you what is sexy or enjoyable. It's your sex life, your orgasm... No buts about it!
Copyright © 2020 Eva Sless It is illegal to use any or all of this article without the expressed, written permission from Adult Match Maker and the author. If you wish to use it you must publish the article in its entirety and include the original author, plus links, so that it is clear where the content originated. Failure to do so will result in legal action being taken.