A Day in the Life of a Pro Domme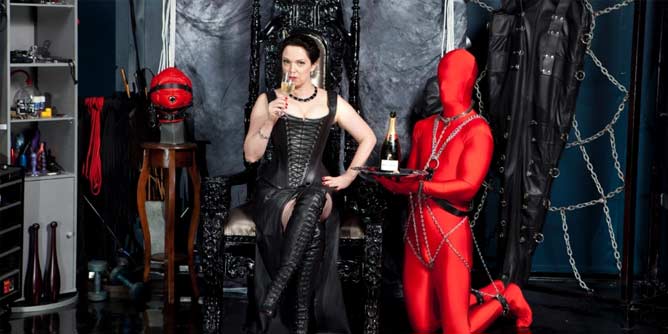 Welcome to our new blog series "Chicks in Charge" where we chat to women who have carved a successful niche in the adult industry.
Introducing Mistress Servalan, one of Australia's most respected, and successful Pro Dommes. Based in Sydney, she has dominated submissives on four continents, and has gained impeccable skills during her 20 years in the BDSM scene.
Q. How would you explain to people unfamiliar with the BDSM scene what you do for a living?
There are two ways to answer this - the actions "I tie people up, hit them with sticks or put them in pretty dresses" - and the emotions "I provide people with an opportunity to explore vulnerability, trust and fear in a safe and nonjudgemental space."
Q. Can you tell us some of the typical requests you receive from your regular clients.
I like to tell my clients that "everyone is different, and everyone is the same" - which means to me that everyone has desires they think are unusual and most people have some shame around exploring those.
I specialise in three key areas - bondage, corporal punishment (which means spanking, whipping, caning and similar) and crossdressing. Most sessions I conduct don't incorporate all of these but most would definitely have one or two of my favourite activities.
Because a majority of my sessions are with people I've played with before they don't come to see me with a list of requests - sometimes they will have an idea of something that they would like to explore, but quite often they're most interested in submitting to my desires and seeing where I take them within an established framework of trust and respect.
New clients often come to me with an idea of what they would like to experience - being encased in leather bondage for example, or taken into my School Room for a Headmistress Role play. But if they have never submitted before it's okay to say "I don't know" and leave the ideas up to me - I have plenty!
Q. How did you choose this as your career, or did it choose you?
A bit of both really - I had been working for a big PR agency and they were resigning a account due to a perceived conflict of interest with a very Big Fish account we had. This little fish was one of my key clients and my bosses were happy for me to take it over and ride off into the sunset - to be honest while I was an awesome strategist and writer the whole office life wasn't really for me and we had all worked that out!
At the same time I had been involved in the BDSM community in my personal life for several years - and just after I left the PR office the owner of Salon Kitty's Mistress Amanda Dwyer advertised for Mistresses on a BDSM mailing list I was a member of. Small business cash-flow being what it is I decided a side job would help while I was waiting for my invoices to get paid.
Fast forward a couple of years and the side-job had become the main job and then the only…
Q. You're one of the top women in your field, and you've obviously worked hard to achieve your success but do you think there are personality traits which are necessary to be successful as a Dominatrix?
One assumes that excellent communication skills and a good work ethic are necessary to succeed in any endeavour really - however humility is not something that most people would associate with a Dominatrix! I believe however that it's easy to get "Dommeitis" and get carried away with a false sense of your own importance after a year or so of slaves singing your praises. Humility gives you a sense of reality and also allows you to keep learning and growing in the profession. No one has every skill or understands every fetish - and being open to learn from others will keep your sessions fresh and stop you getting bored or burnt out.
Q. Do you have advice for someone keen to get into this field?
Realise that Professional Domination is a long game not a short one - it can take a couple of years to build your reputation and your client base enough to support yourself fully. Remember to make each session amazing because repeat clients are the lifeblood of any business but particularly ours. Be open to exploring different fetishes and experiences but also stay true to your boundaries and interests. Take everything you read from colleagues on the Internet with a grain of salt - particularly when it comes to how many gifts they receive, how busy they are and so on. Don't be discouraged by what you think other ladies are doing.
Q. What do you love most about what you do?
I love the play, the interaction but most of all that it gives me the opportunity to be amazing every day. In other careers the "Wow" moments are spread out with a lot of boring bits - for every important client presentation there are hours of behind the scenes slog… but in Professional Domination every session is a chance to blow someone's mind and create an incredible experience.
Q. Has there been a career highlight or an ah-ha moment?
I think the ah-ha moment came for me my first professional engagement… Mistress Amanda agreed to give me a trial as an apprentice Mistress... and my very first experience was attending one of the famous Salon Kitty's Mistress parties!
I turned up in the floor length latex gown - and immediately found a friend - as Mistress Serena took me under her wing. She asked a poor helpless sub if he took discipline - and in the face of the two of us he happily complied and was the recipient of my first professional caning! Lucky that was my original favourite activities I'd been doing in my personal life so I acquitted myself admirably ;) and proceeded to have one of the most fun nights of my life with an array of subs lined up for me to play with!
Mistress Amanda must have had a good report on me - as she got me to come in the next week to start my shifts as a new apprentice Mistress - though I was considered to already be up to SK standard on discipline ;) and just had to focus on learning all the other activities; bondage, cbt, crossdressing etc etc... though the most important thing of all is the one you never see a class on - how to structure and run a session!
I nearly fell over with shock when the receptionist gave me an envelope with my "party money" - it made the crazy concept really sink home for me - I can play and have fun and there are wonderful people who'll subsidise this for me.
Q. Do you have a bucket list of things you haven't done?
I would love to take a slave to an immersive FemDom retreat - I nearly went to the famous Other World Kingdom when it was still running but the timing never worked out. There isn't anything truly comparable but I think a fun FemDom vacation like Kink in the Caribbean would be amazing… Or the multi-day True Desires events organised by my friend Maitresse Renee in Dallas.
Q. Are there any myths about your industry you'd like to debunk?
I think that the most persistent myth is that Dominatrices are all young, heavily tattooed and very alternative in appearance - some of my friends are, but many like myself are more mature and have a quite conservative look in public. And just like we all look different we all have different interests and specialities - there is no such thing as a "regular" BDSM session.
Traditionally there was a vast gap between an Escort and a Dominatrix - however in the last few years access to information about BDSM has meant that more regular sex workers are incorporating Fetish into their vanilla practice. This has lead to the occasional bit of confusion for some clients - but 99% of people understand that a session with a Mistress or Domina does not include regular sex.
Q. Do you have a favourite piece of equipment or style of session?
It's hard to play favourites! A Mistress's dungeon is a mix of a shell she's built around herself and an exhibition of perversion that she's carefully curated. With so many pieces that I've personally desired, sourced and purchased it's hard name something in particular - though I do go through "crazes" where I use something all the time then forget about it for a few months.
Q. What's the weirdest thing that a client has asked you to do?
I don't really find anything weird - we all have our little erotic quirks and when someone comes up with something I haven't heard of before I usually just find it super interesting.
Q. How do you spend your down time?
I like spending time outdoors after being inside in the dungeon particularly after longer sessions - walking my dog, going to the beach or just hanging out in the garden.
I'm interested in a lot of different things and my lifestyle allows me to indulge myself with art, history, cinema, travel and so on. Currently I'm learning a language and it's a change being the student instead of the Headmistress - though my teacher doesn't seem as fond of the cane as I am!
Q. Do your clients ever become friends?
Absolutely. I have a lot of clients I have been seeing for more than 10 or even 15 years… The friendships are very particular and occur within the boundaries of the dungeon - we don't go to the cinema together or have that sort of regular, vanilla interactions however the intensity of connection that occurs during BDSM play certainly carries over into our pre and post session chats.
Q. If you could give the younger you some advice about your career what would you say?
I would tell her not to worry! Yes this can and will be your *real* career and the decisions you are making are the right ones!
Copyright © 2020 Adult Match Maker It is illegal to use any or all of this article without the expressed, written permission from Adult Match Maker and the author. If you wish to use it you must publish the article in its entirety and include the original author, plus links, so that it is clear where the content originated. Failure to do so will result in legal action being taken.