How many sexual partners have you had...honestly?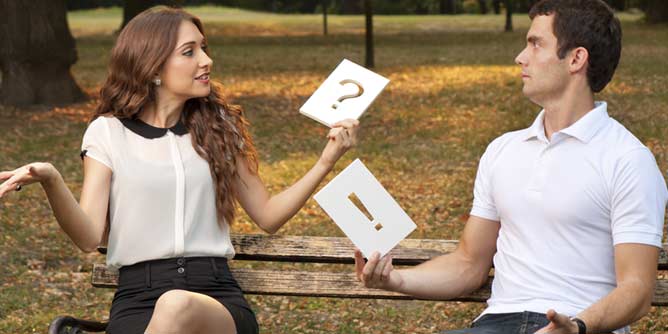 A YouTube clip turned up this week of a first date on which the girl is ridiculed by her date for thinking that an octopus has 12 legs, but he still wants to have sex with her. He then asks her how many men she has slept with. It gets awkward. Maybe she was so upset because she is bad at counting (8 = 12) not because that is a completely inappropriate thing to ask on a first date. I don't think he gets to add himself to the number, whatever it is.
Tracy Cox, a sex therapist, has been quoted as saying any female who is thinking of confessing, not to, "I guarantee that no matter what number you say it will be too many. Even if you have only had five" she sighs "it will be four too many". She has some valid points about how the circumstances are more telling than the numbers, and you can get a better idea of what she has to say from her articles. Once I start trawling the internet, I found examples of all sorts of different attitudes and "acceptable" numbers but the prevailing attitude seems to be, less is best, especially for women. It is just more than it used to be a few decades ago.
So I thought I should write about it and then my hypocrisy was exposed. I believe that the number of people you have slept with shouldn't define you, no matter what gender you identify with or what your sexuality. The reality is that as a straight, cis female I don't want to tell you how many men I have slept with because I do not want to be judged. I don't want the men I have slept with to think they were any less special because of the number of other men I have slept with and I don't want my current partner to be devastated by the amount of sexual experience I have had compared to him. He knows it is a big difference, but putting an actual number on it? My gay mates used to joke that the number of men I had slept with made me an honorary gay man. Even if I wanted to, I couldn't tell you the exact number although as a writer I have kept a journal of most of the men I have slept with. Some entries just read "hot blonde at Austral, great sex" so the sex was memorable even if his name isn't. And I recently read a Facebook post from a woman (whom I don't remember) about finding me in bed with her boyfriend 26 years ago. I don't remember any of it, but she does, and boy is she still angry about what that 18-year-old girl did (not the boyfriend). I don't even know if I knew he had a girlfriend, but I am positive I have always had a don't touch another person's partner rule, but maybe that came later when I was more mature, at like twenty. So I am pretty sure I have forgotten to record every single lover.
Either way, I have had a number of sexual experiences, with some particularly gorgeous, lovely men. Some were from using Adult Match Maker. And I know that I am well into the triple digits, which according to most, is a few more than is acceptable for a female.
Anyway, having almost always had more partners than the men I was sleeping with has meant I learnt pretty early on that it threatened most of them. It was always refreshing to come across men who were so completely comfortable in their sexuality that they were either not threatened or had a similar tally, either way, it wasn't an issue, and I didn't suddenly become tainted.
There is an assumption that people who sleep around are "diseased". I find the reverse is true because they understand about these things and get checked regularly, they are healthy.
I am not ashamed of the number of men I have slept with, and I want to feel like I could tell you without anyone judging. However, I am not ready to. Just know that it was the right amount. Sure there were some mistakes in there, but I learnt from them, mostly, well after the second or third time. Yes, I got exposed to STI's but that wasn't my punishment for having too much sex, just as catching a cold isn't my punishment for walking around outside too often. I had some great times, some good laughs, and yes, maybe a few tears, either way, it is the right number for me, whatever it actually is.
It is not the numbers, but the intent. If you are having an enjoyable time, respecting yourself and others, then the numbers don't mean a thing, either way.
I'm at a different life stage right now and I am happily participating in a monogamous relationship but part of why I am so content is that I have truly experienced a lot of what there is to experience, I am not curious about greener grass. My partner is an excellent lover, and I know this for a fact, I have done my research.
Copyright © 2020 Emma Sachsse It is illegal to use any or all of this article without the expressed, written permission from Adult Match Maker and the author. If you wish to use it you must publish the article in its entirety and include the original author, plus links, so that it is clear where the content originated. Failure to do so will result in legal action being taken.