Don't Be A Dick With Dick Pics!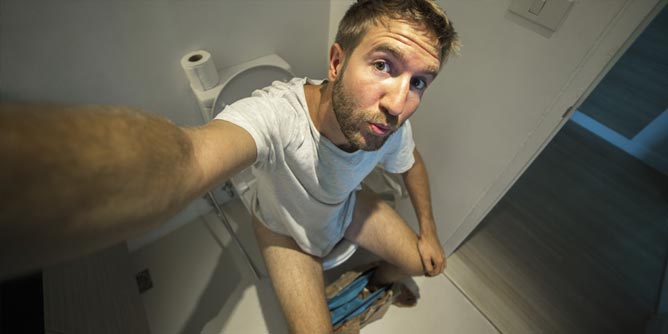 Unsolicited is NEVER okay
Dick pics. If you're a female on the internet, chances are you've been sent one, and if you're a female on a dating site, that chance probably triples. As a sex writer and somewhat public person, I couldn't tell you the number of times I have opened my inbox to be confronted by an image of some dude's genitals, usually accompanied by a misspelt "Hey Hunny" or some crap. No matter how often it happens, it still jars me for a minute. There's something really disconcerting about it. I often feel the same as when I get a "hey baby!" shout from a car, or an unwanted grope at a bar. As sex positive and as genital loving as I am, when someone sends a pic like that unsolicited it is an invasion of my personal boundaries, and completely lacks any consent on my part. I honestly don't understand why they send them. There's enough articles and blogs and videos out there talking about how gross and unwanted they are, and yet, even as I write this, I have two unopened dick pics in my inbox. It's an absolutely, 100% guaranteed way to never ever get my attention. And if I do ever reply, I just Google "diseased penis" and send back the most revolting one I can find.
Okay, gang, so in the interest of word count, and saving you all from a typical Eva rant, let's just say there was a very large paragraph here on how disrespectful and gross they are, with comparisons to monkeys throwing poo and other gross things animals do to try and get attention... But let's move on shall we. Bottom line is, unless it is specifically asked for, do not send someone a picture of your dick. Simple.
Dick Pics can be awesome!
Now please don't get me wrong in this piece. I actually really like penises. I think they can be lovely! I have asked people for them, and swapped explicit photographs of myself too. I have no problem with nudes, nudity, pornography, anything like that. But on my terms. With my consent. And that's the same as almost every other woman I asked.
"Oh I love a good dick pic. LOVE! But only if I've asked for it. The same pic just sent to me randomly makes me want to vomit." - Carly
"I really like going through the galleries and looking at people's nude pics. But for some reason if it's the first thing I see on their profile it turns me right off" - Jenna
"If I want it, I'll ask for it. And trust me, if you impress me with your words and your humour, I'm probably going to ask for it." - Leisha
Dating Sites and Dick Pics
But what about those dick pics that aren't aren't necessarily sent directly to us, but we still see without asking for it? Like on sites like Adult Match Maker, having your dick as your profile pic. For me personally it's never quite AS confronting as being singled out to have one sent to you, but it still doesn't make me want to jump onto your profile and have a look at the rest of your stuff. I put forward a question about it to a group of friends, quite often the reaction is the same.
"Personally it's the biggest turn off. I won't even look at their profile" - Dianne
"Definitely less likely to contact..." - Helen
"Dick pic equals instant ignore" - Natalie
On sites like Adult Match Maker I understand that one of the main purposes is to get laid. I get that. I was a member on here to get laid for a long time before it became my job to write, but I still don't see why having a picture of your genitals as a first contact will get you in faster. I mean, even on a hook-up, one night stand deal you still kind of have to have some chemistry of sorts. So many women, including myself, find sexual attraction goes hand in hand with personal attraction so even if you look like [insert current celebrity heartthrob here], if you're a dick head or rude or something, that attractiveness instantly plummets.
Take a Pic and Make it Good!
Adult Match Maker is unique in that they introduced an "Adult Mode" option, which basically means you can turn it off and you won't see any explicit pictures. But this also means if your profile pic is of your genitals all members with "Adult Mode" off will see nothing but a grey square, and that can actually be a useful indication for them not to go looking further.
But, in saying all of that, there are some women who like it and who are actively seeking out men with certain types of cock, or want to picture swap and that's perfectly cool too.
"Actually I like it. I wanna see what I'll be getting later. No point making all the small talk to find out later they have a crappy cock" - Helena
"It doesn't bother me one way or the other. At least if I can see it I can work out if I want to put it inside me" - Janie
"Love them. Honestly I do. But it has to be a nice picture. Ugly, or bad pics are such a turn off."
So how do you take a decent penis picture that will attract and not turn off? There are a few key things women put to me to help you guys take a decent pic of your junk that may get a bit more attention.
Focus! Make sure it is in focus.
Background! No toilets, messy floors, kids (yes I've seen kids in the background of nude pics before although they wouldn't be approved on AMM).
No undies! Seriously, the rumpled up jocks at your ankles just looks ugly and messy.
Angles baby! I always tell people who compliment my pics that I give great angle. It's true. How you position yourself (and your bits) in a pic is important.
Highlight the best bits! Have you got a nice smooth, round head? A thick shaft? A nice length? Try and focus on the best bit of your cock and take the pic from that angle.
Clean cocks! Yes, I have been sent some of the crustiest looking cock pics before and I just don't get it! Wipe off the dick cheese, boys. We really, really don't want to see that!
So all in all, to round it off, the consensus seems clear. Unsolicited dick pics are a no-no, dick profile pics are a so-so, but a decent, well angled, and asked for pic can be a great way to start a horny journey with someone. Get it right, and you may just get some!
Copyright © 2020 Eva Sless It is illegal to use any or all of this article without the expressed, written permission from Adult Match Maker and the author. If you wish to use it you must publish the article in its entirety and include the original author, plus links, so that it is clear where the content originated. Failure to do so will result in legal action being taken.