Why You Should Embrace Your Inner Slut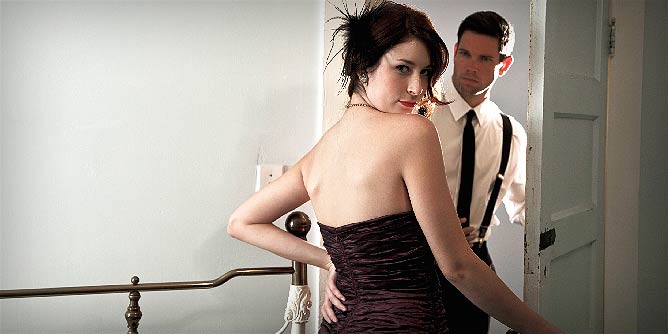 Slut, slut, slut, slut, slut… How do you feel about the word? Do you cringe when it's said, do you fear being labelled it or do you wave your flag proudly? We're in the 21st century and that word still holds quite a lot of charge for people, be it negative or positive.
Some (usually women) have such a negative association with the word being derogatory and meaning anyone branded a slut has no morals, no standards, no self-respect and whose behaviour is totally unacceptable. Really? Thankfully this is changing. In fact in Adult Match Maker's recent Sex Survey 40% of women said they fantasised about being a slut.
Others believe it is no such thing, that a slut is just a person who enjoys sex and lots of it which is not a bad thing. It doesn't mean they have no morals, no self-respect or a lack of standards. Just because someone will have sex with parts of the community that they wouldn't, and lots of it, does not mean they don't have standards. Morals and standards are actually subjective so really, it's a judgment that says more about the person using slut as an insult than about the person themselves.
In the recent sex survey done by Adult Match Maker, it showed women are far more adventurous and sexually active than the media might lead us to believe so why not let this whole slut thing be descriptive of someone who just enjoys having sex and celebrate the liberation of it! The movement has already started quite some time ago; let's just help it along a little, shall we?
Here are my reasons for you getting your slut on and finding the empowering aspects of the word rather than shying away from sexual experiences that will make you feel more alive:
Sluts allegedly love sex!
If you love sex or would like to be someone who does, decide to express your inner slut by enjoying more of it rather than hold back for fear of being branded a slut. If you're a swinger then you've already got a need for variety and pleasure, enjoy what the lifestyle has to offer in uninhibited fashion!
Sluts have the best clothes!
Sexy, raunchy, revealing and such a turn on. We all love looking attractive and getting the good attention! You don't have to go out in public wearing such adventurous clothing but you could definitely wear it at home for your partner and/or playmates. Be daring and accentuate your assets!
Slut means liberation!
Well it does to me. I used to worry about being branded a slut (that was my baggage/stuff) but when I decided not to worry about it, I let go in the moment with my partner and playmates and discovered more intense orgasms with a voice to go with it! Embracing my own inner slut meant freedom in enjoying more pleasure within myself!
Slut means adventure! If you aren't afraid of what others might think about you then you will say yes to trying new things whether it's anal, something tantric or kinky, or something else. By being open to trying new things you will find new and exciting ways to be turned on and pleasured and how to do it to your partners in return. You could very well earn a reputation for being the most amazing playmate making you someone who's in demand!
Slut means FUN!
Who are the people you most enjoy being around? The people who are the least judgmental, easiest to hang out with, who don't care what others think and who know how to enjoy themselves, right? Most of the people I know who don't care if they're labelled a slut or not, are some of the most fun people I know because they let go, enjoy the moment and have zero judgment on what I enjoy or want to do. Love my sluts.
Slut is just a word and unfortunately I see it time and time again where women (more so) hold back and restrict themselves from being every part of who they are or experiencing everything sex has to offer for fear of someone else branding them a slut. The more people who don't care what it means or doesn't mean and who are just enjoying sex, the lifestyle and life, the happier and more orgasmic we'll all be! So get your slut on and own it in your own way, and celebrate the same in others.
Copyright © 2023 Chantelle Austin It is illegal to use any or all of this article without the expressed, written permission from Adult Match Maker and the author. If you wish to use it you must publish the article in its entirety and include the original author, plus links, so that it is clear where the content originated. Failure to do so will result in legal action being taken.
The content posted on this blog is intended for informational purposes only and the opinions or views within each article are not intended to replace professional advice. If you require professional relationship or sexual health advice you should consult with an appropriately trained and qualified specialist.