10 Reasons Why Being a Bi-Female Rocks!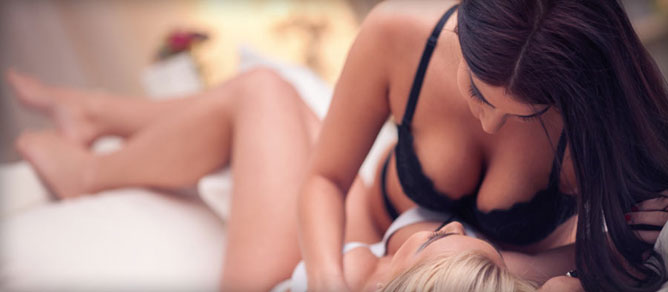 In the swinging lifestyle there are some distinct advantages to being female, but the advantages increase when you are bi or at least bi-curious as well.
You become a hot commodity! Couples want you to join them if you're single or can go play alone as many couples join the swinging lifestyle so that she can explore her bisexual desires, and there aren't too many men who don't get off on that to some degree. So you get a whole lot more choice and you are in demand!
Group scenarios are a whole lot more interesting when you are attracted to people of either gender because the options are almost endless. You can jump into a threesome scenario and be able to enjoy both partners, or if it's an all in orgy then there is a whole lot less no go zones (assuming the other women in the mix are also bi-something which is so much more fun!).
If there are no sexy men, there are often sexy women so either way you get to enjoy the company and pleasure skills of someone in the room. Bi-females are rarely left with no one to flirt and play with!
It's not unusual for you to be hit on by a guy in the room who is really not that attractive to you, if you wish he would leave you the hell alone then you can always tell him he's the wrong gender for you! Then when he sees you kissing a girl later, it's confirmed! That said, it might be a real turn on for him so better be careful how you play that one.
If you're single you'll be fantasy material – there are men out there who want a partner who is bisexual (or at least bi-flexible) so he can do the whole "2 women and me" scenario. Whether that is the reality is a whole other thing but still, they want you!
Women tend to teach other women how their bodies work so they can have an amazing sexual experience, and in that training and exploration we learn other ways our own bodies are stimulated so we can experience even more pleasure. If this were a course I'd be saying, "sign me up now!".
You get to enjoy the soft sensual and passionate experiences, which are more a feminine way to sexually connect. Men can be hard and rough during foreplay and sex which is great if you like it that way, or even just like to do that occasionally, but there is something so much more fluid and sensual about being with another feminine woman that most men just can't do.
You get to point out the sexy women or have girl crushes on female characters with men. You can even compare notes on the variety of sexy attributes different women have. Men love a woman who can appreciate the beauty and sexiness of other women because it means they don't have to bite their tongues! So you're easy to be around because they can just be themselves, and who doesn't want that?
You can give up on chasing men or women but not have to give up on the whole dating thing completely – you have choices! It might even be a very temporary thing where you are in the mood for a woman one night and once you've satisfied that hunger, head over for a bit of man love. Personally I love the variety so being bi works for me.
Bisexual people tend to be more open-minded and accepting so you'll find all kinds of people will easily be comfortable with you, which leads to more friendships, playmates and relationships if you're up for one… or two, no judgment there!
While there are parts of the world and everyday life that is less accepting of our bi nature, the swinging lifestyle is generally very accommodating and even supportive (particularly for women) of our exploration and involvement with other women.
For this reason, it's one of the best places to be able to let go and just enjoy who we are and enjoy whomever is giving us the most amazing, mind-blowing orgasm be they male or female. Ahhh, it totally sucks to be us… NOT!
Copyright © 2020 Chantelle Austin It is illegal to use any or all of this article without the expressed, written permission from Adult Match Maker and the author. If you wish to use it you must publish the article in its entirety and include the original author, plus links, so that it is clear where the content originated. Failure to do so will result in legal action being taken.