Read This Before You Lose Your Swingers Party Virginity!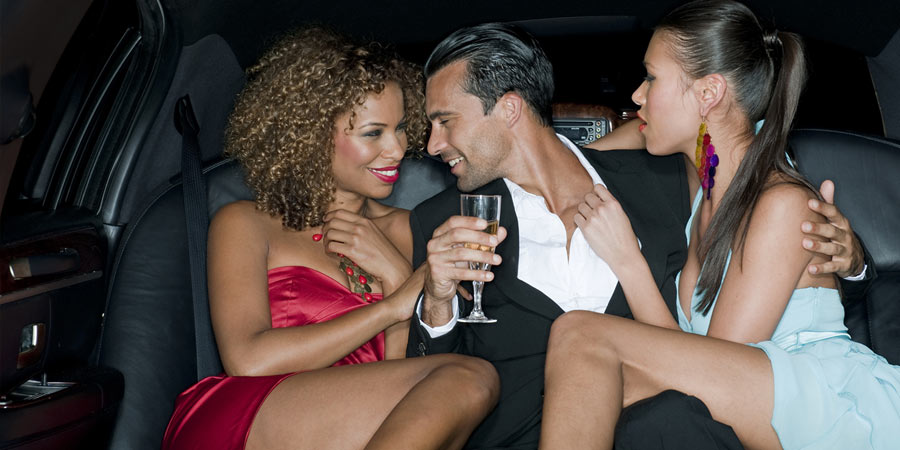 Ooh how exciting! You're headed to your first swinger's party, sex party or orgy and there's only a week left to wait! Because it can be a little daunting and stressful for newbies we've come up with things to think about in the week leading up to a party that can help not only ease your mind, but that can also get the blood pumping and the excitement brewing for an amazing night with some amazing people.
Get Excited!
Sometimes the foreplay to a party can be just as sexy as the event in itself. The anticipation. The planning. The fantasising. The nerves and butterflies. All of that can be not only a great way to help get you even more excited and ready to party, but also (as above) be a great way to work out the things you may not have thought about in terms of boundaries and expectations for the night.
Manscaping & Grooming
If you are someone who shaves or waxes their body hair it's a good idea to have it done a day or so before the party (shorter for shaving). For waxing this helps ease that redness down and make sure the skin is soft and not sore to be touched, and for shaving, you probably want to do it the night or the morning before so it's still smooth and not prickly, but has had time for the skin to settle down and any redness or rashy bits to fade. A good tip for shaving is to well exfoliate the area afterwards to soften the skin and follicles and prevent ingrown hairs. Another great grooming tip for shaving your bits is to use silicone lube or moisturiser to shave with. It doesn't lather up so you have a far better view of what you're doing, and it makes the skin in the area SO SOFT it's incredible to touch.
Staying the distance
To Viagra or not to Viagra, that is the question… Look, erection tablets whether medical or herbal are an inevitable part of the swingers scene. They just are. Either for stamina or performance or just cos you think you may need it, it's an individual choice and one that can have both good and bad results. The good? You're hard and ready to go when needed. You can last a long time. You may even be able to last several times… But the bad is that you may just be hard. No relief. No orgasm. Just frustration that you have this big, hard cock that won't let you come (be aware some people love this, some people don't care either way, and others don't have this issue at all, which is why we say "individual").
There are also the medical factors to think about with these tablets. Even the herbal ones. They can be dehydrating and cause headaches and nausea and light-headedness. They can have you hard for 3 days with no relief. They can just not work at all and you've wasted some money and are now stressed they're not working which in turn makes it even harder to perform… It's definitely up to the individual, but if you've never tried them before it's probably not the best idea to do it for the first time at a party.
What To Take With You
While many parties provide condoms and lube etc it is always a good idea to take your own stuff. Pack a little toiletry bag with a bunch of your favourite condoms and lube, and maybe some sex toys or accessories if that's how you play.
If you want to have a drink while you're there check the party guidelines and see if they allow BYO (most will as licensed sex on premises events are very rare) and what their rules on that are. Often no red wine is on the list for obvious reasons. It's probably not a great idea to take drugs to a party. While yes, people take drugs and they can be a lot of fun, they are also illegal and many party hosts have adamant rules about illegal activity in their venues. Take a bottle of water to keep up hydration and chuck in a bag of jelly beans or something too. Sexy times can be hard, sweaty work, so loss of hydration and blood sugar levels can happen.
We suggest you keep alcohol consumption to a minimum but if you plan on drinking plan on taking a cab or an Uber home because a DUI, accident or death etc is a really shitty ending to a brilliant night.
Food
While this may sound a bit silly, what should it matter the week before, it is actually great advice for a few reasons.
Certain foods can have a positive or negative affect on the way parts of you taste and can really make a difference to sex and play. Both men and women should avoid eating a lot of garlic or chilli in the week leading up to the event. Onions, broccoli and cabbage can also create slightly unpleasant genital odours, as can asparagus and even red meat and too much dairy or caffeine.
But on the other side of that are the foods that can help you smell and taste even nicer than usual including pineapple, strawberries and citrus… In fact almost any fruits will help semen and vaginal juices taste sweeter. For women eating a regular serving of yoghurt can also help keep your pH balances balanced and your bits nice and fresh to taste.
While not necessarily connected to smells etc, it's also a good idea not to stock up on too much stodgy and fatty foods in the lead up because they can make you feel bloated and sluggish and not particularly sexy at all.
For both taste and body comfort, it's also a great idea to drink loads of water. It helps keep energy up, skin fresh, bodies hydrated, and moods up.
Talk About & Respect Boundaries
This is huge. This is where you and your partner discuss rules, boundaries, expectations and fears. What do you want to happen at the party? Is it the same as what your partner wants? What would you LOVE to see them do, and what would make you feel uncomfortable? Do you have a veto word? A safe word? A plan of what to do if, for whatever reason, something happens that makes you or them uncomfortable? These are conversations every swinger should have with their swinging partner before every experience.
Rules will change and grow as you get more into the scene and more comfortable and aware of how it all works for you, but they always need to be talked about, debriefed upon, and worked with to make sure they are right for you and your partner. If you are a single person in the swinging scene it is important to not only express your own needs and wants etc with the people you play with, but also respect the boundaries given to you by others.
It goes without saying don't forget to double check you've booked and you know where and when you're going, and also make sure you know what the dress rules are as they can vary from club to club.
Taking responsibility for you and your partner's sexual health is the cool thing to do. What's not cool? Well that would be removing a condom without your sexual partner's permission or trying to talk them into or bully them into sex without a condom. When it comes to the swinging scene it's not on if it's not on. Either of these things will get you removed from the party and possibly blacklisted from future parties.
And it's important to add – be realistic! Attending a swingers party or a sex party doesn't guarantee sex except if you have a partner and, even then, the sex may not happen until you get home. But be respectful, read Chantelle Austin's tips to increase your chances of being invited to play and read our Guide to Swingers Club Rules which will help give you the best chance of making your first sexy party unforgettable!
Remember to respect your playmates' boundaries and don't let anyone pressure you into changing yours (yes you can change your mind, but on your terms, not because someone wants you to), Have fun, be safe, get consent, and get partying!
We'd love to hear about your newbie swinging party experiences in the comments!
Copyright © 2023 Eva Sless It is illegal to use any or all of this article without the expressed, written permission from Adult Match Maker and the author. If you wish to use it you must publish the article in its entirety and include the original author, plus links, so that it is clear where the content originated. Failure to do so will result in legal action being taken.
The content posted on this blog is intended for informational purposes only and the opinions or views within each article are not intended to replace professional advice. If you require professional relationship or sexual health advice you should consult with an appropriately trained and qualified specialist.