Eco-Friendly Sex Products Our Planet Will Love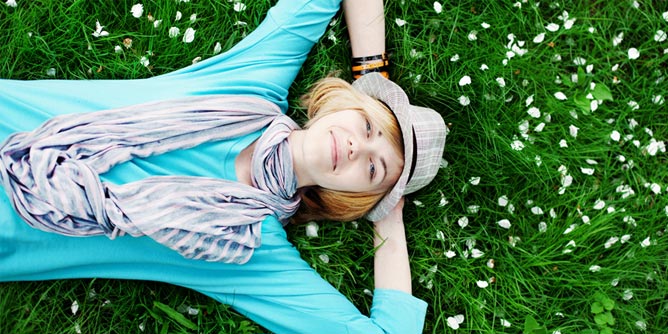 Sustainability. It's a pretty common buzzword these days, even in the world of sex and no, I'm not talking about "lasting longer" in the bedroom. I'm talking about environmental sustainability.
Look, without going all super woo and hippy-dippy on you all, there is no denying that the Earth is in a bit of a crap state environmentally. Whether you believe in man-made climate change or not there is hard evidence that shows the world is not as healthy as it once was and, as its primary residents, we have a duty to look after the planet that houses us and keeps us alive.
While it can be a little overwhelming to look at the grand scheme of things there are little things we can all do as individuals to make a difference and change our impact. Recycling, cutting down on plastics, conserving water and energy, and a whole bunch of other things we can do to help including the things we buy, and what they're made of, as well as how they are made.
Long gone are the days of having to search obscure health-food shops or out-of-the-way hobby farms for environmentally sustainable products, these days almost every major brand is jumping on the bandwagon which means it's not only easier to find products we can feel good about using, but it's also getting cheaper too, and one industry that's taking on the charge of looking after the planet is the sex and sexuality industries that make products for our down-under bits and sex lives.
Lube for Life
Lube is one of the most important accessories for all sex play. It should be front and centre along with consent and safe sex practices and they should also be not only good for your skin and body, but also good for the environment, considering how much of it we use. Well worry no longer! Almost every single brand of lubricant now comes with a low impact, low chemical, natural range, quite often also being vegan at the same time. And I'm not just talking thin, watery lubes that don't really go very far. These days they are thick and long-lasting and even come with added flavours or arousal components like warming and heating elements (plant-based from peppermint or capsicum). Whether you're wanting something lighter so it feels nicer on your skin and has less irritants, or you're on a mission to save the world and create a better environment for everyone, you can do it while also doing it!
Lubes we recommend: Sliquid Organics, Wicked, System Jo Organic Range, Sylk Water-Based Lubricant
Wrap It Up
Condoms, like lube, are something every sexually active person (who has sex with penises) should carry on them for those spur-of-the-moment moments that may take us by surprise. While condoms have come a long way from the vulcanised rubber of the past, a lot of latex productions can still be a bit crappy for the world around us, not to mention the growing rates of latex sensitivities that are making it tricky for a lot of people to enjoy safe sex. Latex free, and vegan condoms are now almost as popular and easy to find as the usual sort, and are slowly taking over to become the first choice for many. Strong, durable, and even ribbed or flavoured for extra pleasure, there's an environmentally friendly sheath out there for every penis!
Condoms we recommend: Skyn Latex Free, Glyde Vegan
Wipe It Up
Keeping clean and fresh after a bit of action doesn't have to be one of harsh, perfumed soaps and thick towelettes made of who knows what. While yes ideally using a wash cloth you can rinse out and re-use is the best way, that isn't always viable, so these days hemp and bamboo are the answers to all your quick wipe needs. Most chemists and supermarkets will have a good range of environmentally friendly, biodegradable wipes (look in the baby section), but please remember not to flush them down the loo.
Wipes we recommend: Naty by Nature baby wipes, GAIA bamboo baby wipes
Hemp, Almond, and Coconut Oils
These really are good for a lot of things. Massage, sex play, keeping your skin soft and moisturised… And you can also double up and sometimes use them in cooking too! I do need to mention, however, that these products are oils, and therefore are not compatible with latex condoms and a lot of a sex toy materials, and they'll stain your sheets too… But they are good for you, good for the environment, and taste pretty sweet most of the time too.
Oils we recommend: Only Organic Extra Virgin Coconut Oil, Organic Hemp Seed Oil by Hemp Products Australia
Getting Your Buzz On
Sex Toys are another product jumping into the sustainability fray with far more companies looking at silicones and other less impactful materials like plastics can be. Glass, wood, metal, all products that can be manufactured with less impact, and last a lot longer than the cheap plastic stuff of the past, and so many are now moving away from disposable batteries and implementing rechargeable systems instead. There are even companies (unfortunately not really active in Australia yet) that will take your old sex toys off your hands and recycle them properly creating new products and less impact as they go.
Eco Friendly Toys We Recommend: Icicles Glass (glass toys), Njoy Pure Wand (metal), Fun Factory & We-Vibe (silicone)
For The Bleeding Uteri
As icky or "unmentionable" as many people think, the fact is most people who have a uterus bleed. A lot. Like sometimes for a whole week every single month of their lives from the age of around 11 to somewhere in their 50s. That's a lot of blood. While the main methods of keeping it clean and hygienic have always been tampons and pads (which the Australian government has FINALLY removed the luxury tax from thank goodness) these products aren't necessarily all that good for the environment. Like disposable nappies, sanitary pads take up a hell of a lot of the world's landfill and can take hundreds of years to break down and biodegrade. It's changing though with a few new products, the first of these being menstrual cups. These are small, flexible plastic or silicone cups that are inserted into the vagina to collect the blood, then removed after a few hours (depending on how heavy or light the flow is), emptied, cleaned out and reinserted. While they can be a bit tricky to work out at first (trust me, the first time I tried my bathroom looked like a murder scene), and not everyone loves them, they have been a lifesaver for many women, especially those in homeless or vulnerable situations, but really for anyone who wants to reduce their impact on the environment.
You can also find hemp tampons, reusable material pads, and reusable sponges (either synthetic or sea sponges) that can also be a great way to have mess-free sex while on your period.
Period Products We Recommend: Moon Cup & Diva Cup, Tsuno Brand Bamboo Tampons and Pads, Large Natural Sea Sponges
A Bloody Great Offer!
Another product taking menstruation by storm are "Period Panties". These are underwear made of super special, almost magic, absorbent material that basically lets you free bleed without mess, staining, or leaking, and are washable to be worn again. They are hygienic, comfortable and look just like your real knickers. One company we absolutely love is Modibodi who have created a range of comfortable, leak-proof underwear in a range of amazing styles from your regular utility type undies to sexy lingerie, and even have a range of swimwear and maternity underwear! Whether you want to protect from period blood, discharge or light bladder leakage these guys have you covered! Modibodi uses high quality, tech-savvy fabrics (like Bamboo, Merino Perform Wool and Microfibre) and the latest in breathable, antimicrobial fibres with their patented Modifier Technology™ - a super slim (only 3mm) stain resistant lining for modern periods and leaks, and Modifier Air Technology™ - a moisture-wicking, odour-fighting lining for getting sweaty. It's time to ditch your tampons, liners, and pads and join the Modibodi Movement. And they are even offering our awesome Adult Match Maker members a 15% discount off their range! Follow the link, and use the code: modimatch [Offer expires 30 January 2019 and excludes sale items, Red, bundle packs and gift cards]
However we look at it, whoever's fault it is, it really doesn't hurt to do something small to help make a difference and make this a planet we are proud to leave for future generations… And hey, if you can have a little sexy fun while making the world a better place, I can't see it being a bad thing at all!
Copyright © 2020 Eva Sless It is illegal to use any or all of this article without the expressed, written permission from Adult Match Maker and the author. If you wish to use it you must publish the article in its entirety and include the original author, plus links, so that it is clear where the content originated. Failure to do so will result in legal action being taken.