7 Things Pansexuals are Sick of Hearing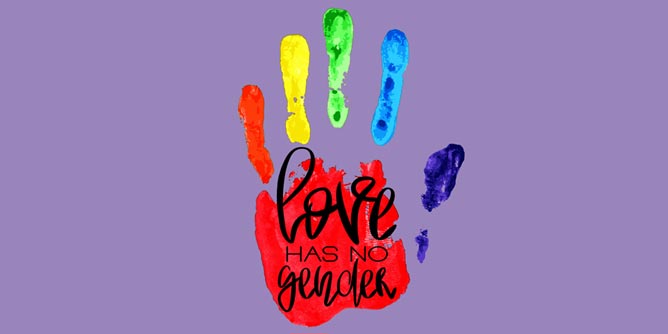 Although it's always been around, pansexuality is a relatively new term in the sexuality umbrella. Also referred to as omnisexuality it covers those people who find attraction sits outside of gender all together, and is all about the individual. Male, female, trans, gender fluid… It doesn't matter, pansexuality is about attraction to people, but not everyone understands that, which can often bring out the ignorant and offensive comments like the ones below.
So You Fuck Saucepans?
*Hyuck hyuck hyuck* This one is as dumb a joke as the "I'm hungry" "Hi, Hungry, I'm Dad" crap but a hundred times more offensive. I mean unless you're a fucking idiot you would know that, even if you don't quite understand the term, it probably has very little to do with cookware. Take the time to learn about things you don't understand rather than ridicule or make snide remarks. It reflects far more on you than anyone you're trying to insult.
Is That a Kinky Fetish Thing?
Not necessarily. I mean sure, some pansexual people might also be kinky but it's not a pre-requisite. Just like some straight people can be way into kink and other's not so, it's all about the individual. Pansexuality is about attraction which can cover all aspects of the romance spectrum from a simple crush to total immersion into a long term committed relationship.
You're Just Bisexual, Stop Making Up Words
No, it's actually very different to bisexuality because the word bi denotes only 2. That's what bi means. But there are more than just 2 genders, and there are so many fluid forms it takes, so while bisexuality does cover a couple of bases, pansexuality actually covers them all.
You'll Never Have a Committed Relationship
This is something pan and bi people hear a lot and it's offensive in the same ways. The idea that because you have attraction to more than one gender means that you'll cheat and never be satisfied with just one is ridiculous. I mean, by that logic everyone will always cheat because regardless of which gender you're attracted to, they aren't the only one in the world and so there's always that "grass is greener" possibility no matter what.
How Do You Even Know If You've Never Dated Anyone?
The same way most gay kids know they are gay, because people aren't actually idiots for the most part and know their own heads and their own attractions. And, you know what? What does it even matter anyway? Life is a learning experience and it's perfectly okay to play around and experiment with your likes and dislikes. And that goes for everything, whether it's food, careers, people… Try it all out! You never know what you might find yourself liking.
If You Don't Recognise Gender That Must Mean You're Trans
No, actually it just means you're slightly more enlightened than the average punter and realise that gender, like sexuality, is often not as clear cut as the binary would have us believe. Science and research shows us that gender and the good old XX and XY chromosomes are far more complex and complicated than the average Joe can comprehend, and that's okay! Just live and let live, and love and let love.
You're Just A Freak
The best way to respond to this is to laugh, wiggle your hips and start singing Super Freak by Rick James. Like honestly. People say these sort of things specifically to hurt and insult, and the best defence against that is to laugh at it. Yeah, mate, we're all fucking freaks here! Join the party or GTFO! We're living in the future, how sad you're still stuck in the past.
Basically it comes down to respect and civility. If someone identifies as something you don't quite understand it's totally okay to ask them to elaborate on what they mean by the terms they are using. Education is a life-long thing. Every day we learn new things and the way we can move forwards towards a future of acceptance and tolerance is by understanding that we don't understand everything, and that's okay! Be kind. That's basically all it takes.
Copyright © 2020 Eva Sless It is illegal to use any or all of this article without the expressed, written permission from Adult Match Maker and the author. If you wish to use it you must publish the article in its entirety and include the original author, plus links, so that it is clear where the content originated. Failure to do so will result in legal action being taken.