7 Things Bisexuals are Sick of Hearing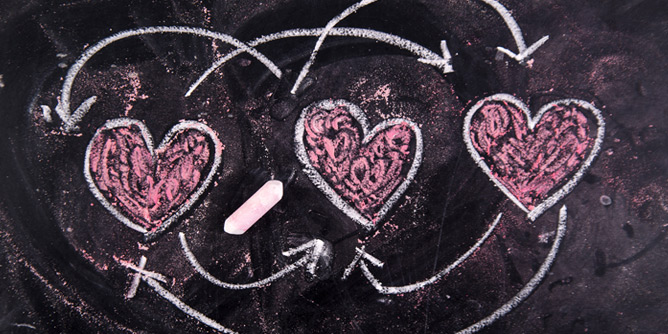 Being bisexual can be a heap of fun. There's twice as many people to check out, the dating pool is much larger, and - if you're into them - swingers events can be a melting pot of bodies and bits to enjoy. There are also quite a few misconceptions around being bisexual, the biggest being that it doesn't even exist (it does), and it can get really tiring having to defend and explain and justify your lifestyle to people who just don't get it. In fact, no-one should ever have to justify their lifestyle to another person. It's just none of their business. Here's a few of some of the more ridiculous, untrue, and just plain offensive things bisexual people are just sick of hearing, and that you should probably stop yourself from saying if it's ever come up around you.
If your partner is bisexual, they'll eventually cheat on you
This is just dumb. It's assuming that people who are bisexual have no idea of relationships, commitment, loyalty, and monogamy. It's a really offensive assumption to make and, when you really think about it, makes absolutely no sense. Being attracted to people outside your relationship happens to all sexualities and preferences. If your partner cheats on you it's because they cheated on you. Straight, gay, bisexual, whatever. There is absolutely no evidence whatsoever that shows bisexual people being more likely to cheat than any other.
Bisexuals are just greedy
Well, you know what, some of us are and some of us aren't. And that's in all sexualities. Being greedy for sex won't suddenly make you turn bisexual. If you're greedy for sex and you're straight then you'll just find people of the opposite sex to fulfil that. I mean, I am super greedy for chocolate, but I really cannot stand dark chocolate, so even on a mass craving day I won't eat it because I don't like it. It's the same with sex. If I'm not attracted to you, it doesn't matter how much I want sex, I still don't want it with you.
You're just doing it to impress boys
Bisexual girls get this a lot. The idea that you're only with another woman because you want to turn the boys on. Sorry boys, life actually doesn't revolve around your penis and although I am sure there are instances where this is the case, for the most part girls are with other girls because they want to be. They don't care about what your dick wants.
You're just too afraid to admit you're gay
This is one the guys get a lot. The idea that you're so ashamed of being gay you'll sleep with women too, just so you don't have to admit it. No. Just no. Although I am sure there are exceptions to this rule, almost every single gay man I have ever met gets very weird and almost disgusted at the idea of vagina. Especially at the idea of their penis being near one. It's not an anti women thing, it's an "I don't like vagina" thing and there's not a lot you can do to fake it just to maybe stop someone thinking you're gay.
You must have loads of threesomes and stuff
Again, some do, and some don't. Monogamy and polyamory and everything in between crosses all sexualities and all lifestyles. If you're a monogamous person, then you're a monogamous person. Being attracted to more than one gender won't change that. It's like assuming all non-monogamous people are bisexual or kinky. It's just not the case.
All women are naturally bi
This is a really common misconception about girls. I'm sure you've all heard the term "Spaghetti Girls". The idea that all girls are like spaghetti – straight until they get wet, but this is not true at all. Although bisexual girls are a lot more visual and represented in mainstream culture than bisexual guys, this has far more to do with the societal idea that guys with other guys is gross, but girl on girl stuff is hot. It's far more acceptable for women to talk about it and act on it if they want to. But again, girls are most likely to be with other girls because they want to be, not because it is a turn on for men.
You can't be bi if you've never even been with a person of the same sex as you
This is such a stupid thing to say. It's the same as telling kids and teenagers that come out as gay that they are just confused or not really sure because they haven't experienced sex yet. No one ever says this to a little boy or girl who wants to "marry" a person of the opposite gender. In fact as humans we just default everyone to heterosexual until they tell us differently, and that's just dumb. Yes we all learn and grow and discover our sexuality as we get older but we usually always have an idea of what side of the sexuality fence we sit on, even if we've never even held hands with anyone before.
Being mindful of other people's life experiences is really important as is accepting them and listening to them when they talk. It is okay to be curious about other lifestyles, and the best way we learn is to ask questions, but just remember to be respectful and non-judgemental about it, even if it is really different to the way you live.
Copyright © 2020 Eva Sless It is illegal to use any or all of this article without the expressed, written permission from Adult Match Maker and the author. If you wish to use it you must publish the article in its entirety and include the original author, plus links, so that it is clear where the content originated. Failure to do so will result in legal action being taken.