What you need to know about Pansexuality!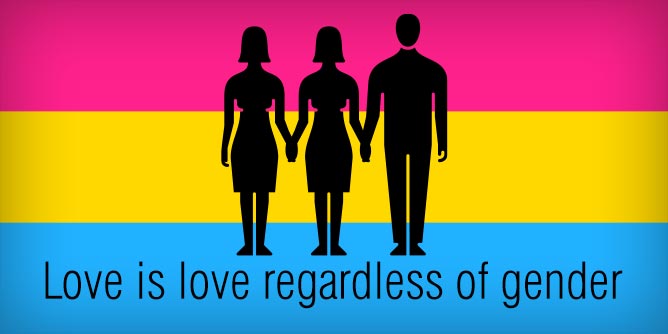 If you've heard the term "Pansexuality" recently and it left you scratching your head, you're not alone.
So Katy Perry kissed a girl and she liked it, Miranda Kerr said "Never say never" about the possibility of experimenting with women, Mel B confessed she kissed all the Spice Girls and Josh Hutcherson was quoted in OUT Magazine as not ruling out that he could be attracted to guys in the future and that "defining yourself as 100 percent anything is kind of near-sighted and close-minded".
For those of us on the front lines of the ongoing sexual revolution, announcements like these aren't any big surprise. The past few decades have shown a major, positive shift in the way we view sexuality and gender, and many of us are more comfortable talking about our unique wants and needs.
Of course, there's still a lot of work to be done for the LGBTI community, but these days, people are talking about additional steps for gender and sexuality equality - something that's a lot less about "types" and "categories".
Pansexuality is about being attracted to any and all types of people, regardless of sex, gender, or sexual orientation. Some would say it even goes beyond the particulars of gender and sex, encompassing attractions to people of all races, backgrounds, religious beliefs, and occupations.
Of course, that's not to say you can't have personality "types" as a pansexual, or that you love everyone, everywhere, all at once. It just means you're capable of being attracted to a wide variety of people.
Think of it this way: You can still be a lesbian if you're not attracted to Iggy Azalea. You can also be pansexual if you couldn't see yourself boinking her…but you could see yourself having sex with a woman. And a man. And a gender queer person, and someone who's intersex, or transgender, and so on.
"Pansexual" is also not to be confused with "polysexual", which indicates a capacity to be attracted to multiple genders, but not necessarily all of them.
Now that we've got this all straight (in theory, it's anything but straight), what does this mean in a big-picture sense?
Make no mistake about it, this isn't an insignificant shift. Instead, it's a victory in the efforts made by queer activists to bring attention to non-binary genders, and by extension, the non-binary attractions that come with the territory.
And, as a matter of course, it's given people a new vocabulary to describe themselves. Lots of people have been dealing in shades of grey their entire lives, but now that there are ways to talk about these things, people are seeing themselves (and each other) in a much more fluid light.
So fluid, in fact, that The Australian's Ruth Ostrow wrote a column last month titled "Hello, is anyone out there still straight?"
Ostrow explains "It's queer, straight, bi, older, younger, but also being open to all behaviours: you can love an S&M master just as easily as a Buddhist master. It's people," she explains.
Adult Match Maker's Under the Covers Sex Survey found that 68% of participants identified as heterosexual and 5% as unsure. But, approximately half of all participants who did not identify as bisexual had thought about having sex with someone of a different gender to their usual partner or partners. And over 70% of participants said they would consider having sex with someone of another gender if requested by a partner.
Perhaps American rapper Angel Haze sums it up best: "I'm not gay, I'm not straight, I'm not bisexual -I don't care," she says. "At the end of the day, I just want someone to connect with."
So where do you sit on the sexuality curve?
Copyright © 2020 Adult Match Maker It is illegal to use any or all of this article without the expressed, written permission from Adult Match Maker and the author. If you wish to use it you must publish the article in its entirety and include the original author, plus links, so that it is clear where the content originated. Failure to do so will result in legal action being taken.