9 Things That Could Be Killing Your Sex Drive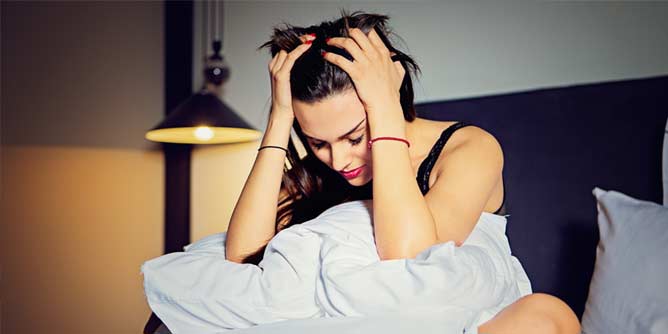 Spring has sprung which means it's time for brushing off that winter heaviness and finally seeing some sun again! It's a time for fresh starts and new beginnings which is evident all around us as nature is blossoming and the birds and bees are preparing to mate, and it's no surprise that every magazine and sex blog will be telling you that spring is the time when humans are at their horny peak so get rooting! Now while there is no actual scientific evidence to back that up there's nothing like the return of warm weather and the prospect of longer days and warmer nights to get your motor back up and running, but sometimes it might take a little more than just the promise of sun to jump start that fire.
Libidos rise and fall and that's perfectly normal, but sometimes, no matter what the weather is like or how much we want it to rise again, the fall keeps falling and begins to weigh on our minds that something might be wrong. While there can be a lot of medical reasons why this happens – and please never be afraid or ashamed to seek mental and medical help – it can also be attributed to certain things we're doing in our lives that may need a slight re-jig to get us back to the horny beings we know we used to be. Have a look through our list and see if any of these things could be the cause.
1. Over Tired
Not getting enough sleep can have detrimental effects on all aspects of your life including your sex drive. Getting a good night's sleep has been scientifically proven to lift your mood, change your mindset, and raise your libido. Some tips for getting a good night's sleep include things like eating dinner earlier in the evening so your body isn't working too hard to digest and process it while you sleep, not eating too many heavy or sweet things too late, having fresh clean bedding and a not-too-hot or too-cold room temperature can also help promote good rest. There are also experts that suggest leaving all electronic items out of the bedroom, like phones and TVs, can help facilitate healthy sleep habits.
2. Stress and Anxiety
When you're stressed and anxious about work, relationships, friends, or just life in general it begins to take over every part of your personality and lifestyle. Everything becomes tainted with the stress you're feeling and the last thing you feel like doing is getting close and intimate with anyone. Sometimes all it may take is a nice walk in the sunshine, or a chat on the phone to a good friend to help ease those things. But for stress and anxiety that needs a bit more intervention than just fresh air or a hug from a puppy there is absolutely no shame whatsoever in seeking outside professional help like the services of a therapist or counsellor. It is vitally important to look after your mental health, because it's the very foundation of who we are.
3. Not Moving Much
Being sedentary in your everyday life will spill over into other areas before you even realise it. I don't just mean sitting behind a desk at work (although if this is the case getting up and stretching and walking regularly throughout the day will help. Most office workers call it a "smoko" but you don't have to be a smoker to take one), but also just being a couch potato in general. Yes, it can be relaxing and recharging to spend a day on the couch binging Netflix and eating chips, but if that is your all day every day it's going to have an effect on your life. Get up! Go for a walk! Meet a friend. Join a dance troupe! Moving increases oxygen and blood-flow and helps clear the dust from our brains and bodies, and can also have a good re-start effect on our sex drives.
4. What Are You Eating?
While we're certainly not the sort of people that believe the answer to all life's problems hides in a kale salad we do understand that diet can have a huge impact on your energy, health, and motivation and it can be a good idea to take stock of the foods you're eating to see if they're having a detrimental effect on your libido and energy in general. Fatty foods, overly fried stuff, too many carbs, not enough vegetables and fruit etc can all lead to you feeling tired and sluggish and not up for anything but the couch. Check out our article on foods that can help boost your sex life for some inspiration towards you next meal.
5. Keep Up Those Fluids
Water is the liquid of life. It is free from your tap and ready to drink any time you like and is one of the healthiest and best ways to "detox" by helping your natural cleansing systems like your liver and kidneys function at their best. Keeping yourself hydrated is good for your skin, your hair, your insides and your brain and when you feel better you have more energy, and when you have more energy you have more time and desire for sex and sexual activities.
6. But Perhaps Slow Down On These Fluids
Coffee, alcohol, soft drinks… All of these can have the side effect of making you feel like crap. Sugary drinks like soft drinks and certain alcohols can leave you feeling dehydrated and sluggish, and adding caffeine into the mix can confuse your body into thinking it has energy when it doesn't and can result in burn-out and drops in mental health and happiness. While no-one is saying you should give it all up, changing habits and making sure you regularly swap your glass of wine for one of water can really change the way your body feels which is a great step in the right direction of getting your sex energy back up to where you want it.
7. Pills and Potions
While we absolutely understand medication is vital to many people to live happy healthy lives, quite often the specific medication you are on can have severe effects on your mental health and libido (even ones that are supposed to be for the good of your mental health) so it really is imperative to talk to your doctor and mention the side-effects your medications are giving you, even if you think they're not important. Losing your libido due to medication can absolutely be important to you living your best life and quite often your doctor will be able to help you make proper informed choices and changes to what medications you take, and how they will affect you. Please don't go playing around with your doses without speaking to your doctor, because that can be a recipe for disaster.
8. Changes In Weight
Have you recently lost or gained a lot of weight that you weren't really trying to? So many factors in our lives effect our weight, from stress and mental health to underlying medical problems you don't know you have, and that sudden drop or increase in weight can totally mess with you and upset the chemical balances in our brains and bodies. If you feel like this could be happening to you please go talk to your doctor, because rapid changes in weight are definitely not healthy and you really need to look after your body as it's the only one you have!
9. Distractions
Phones, computer games, TV, Snapchat, Facebook, Twitter… While it's great to have fun on social media or in the virtual world of video games or fandoms it is super important to remember the real life you have and the real people who are in it. If you're spending all your time talking to people halfway around the world and no time talking to your partner, then there's probably a reason your sex life is waning. Yes we all know what "Netflix and Chill" means, but in the day to day of relationships it usually means "Netflix and sit on the couch for three days and not talk to or touch each other cos you might miss a bit and have to go back". Turn the telly off. Leave your phones out of the bedroom. Connect. Talk. Enjoy the company of the person beside you and re-take back the libido that streaming services are taking.
Copyright © 2020 Eva Sless It is illegal to use any or all of this article without the expressed, written permission from Adult Match Maker and the author. If you wish to use it you must publish the article in its entirety and include the original author, plus links, so that it is clear where the content originated. Failure to do so will result in legal action being taken.