The Trouble with Big Dicks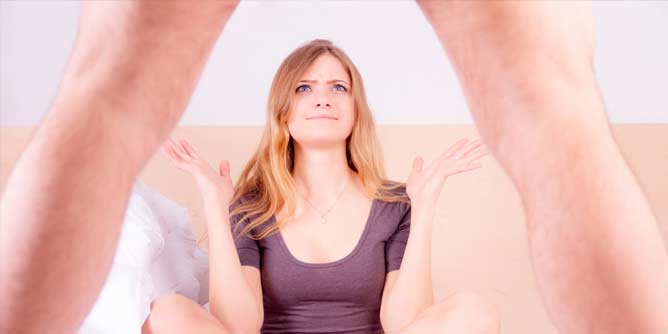 I don't know how many times I have to say this, but it seems like I probably have to say it one more time so here I go: For the most part, when it comes to being good in bed, your dick size actually doesn't matter. Like at all.
I say "for the most part" because of course there are exceptions, but overall, for the majority of people who are going to let you put your penis near their bits, they don't give a fuck how big or small or fat or thin it is, because sex and intimacy and connection and everything that goes into that big ol'bag of sexual play, is about far more things than the size of your dick.
I know. I get it. Society, porn, locker room talk, all the "my dad could beat up your dad" hyper masculine type shit has been drilled into your head since before you even understood it and has created this idea that to be a "man" and one that "gets the chicks" you have to be the one with the biggest cock, but I'm going to let you in on a little secret; nearly every man I have ever met with a cock over nine or ten inches finds it (no pun intended) hard to deal with.
Only Big Dicks brag about having big dicks
Like I say in the opening of my Big Dicks Unzipped article, to all those men who like to proclaim loudly, and in every message, that they're ten inches or above, yeah… calm down buddy and take a maths lesson. You're probably not and no-one is all that impressed anyway. The thing is most guys who DO have a larger size are very aware of all the things I am going to mention in this article and don't often go about bragging about it, and the girls (or guys) who DO want a guy with a big dick often find that bragging off-putting, and will most likely not fuck you because of it, or because when you turn up and you're NOT the eleven inch stud you claimed to be, well, they're probably not going to pity-fuck you just cos you're there. Seriously, shut up about your dick. Unless asked specifically for your measurements, don't even mention it. On AMM you have the option to add your endowment size so do it there. If anyone wants you to elaborate, they'll ask.
In their own words
I have a few friends who have penises larger than 10 inches. Yes I have seen them. One of whom we sat and measured because we were convinced it was bigger than the world's biggest (13.5 inches). It wasn't. It was just over 11 inches, but we discovered two things during that experiment.
Humans are not good at maths
Anything over 10 inches is actually fucking huge and makes my eyes water just thinking about it.
I messaged them all in the course of writing this article and asked them the pros and cons of having a cock that size. I am not even exaggerating when I say that there were very few pros and quite a list of cons.
The pros were mostly superficial:
"It makes the boys at the club jealous"
"It takes a really good dick pic"
"I look like a porn star when I'm naked"
The cons, however, took a different turn:
"I get a headache if I'm erect too long. I've even gotten dizzy before"
"I literally cannot ride a bike it hurts my cock"
"Almost every condom breaks"
"Dizziness after sex. Especially if it's been a long session"
"My ex girlfriend couldn't take it so we never had proper sex. She left me and I think it's because I couldn't satisfy her"
"I have literally seen girls wince in pain during sex which is horrible. It's never fun knowing you're hurting someone when all you want to do is pleasure them"
"I have been turned down for sex by so many women. Even escorts. I now have to pre-warn people"
I would like to make a quick point on that last comment about pre-warning. When I was a full time sex worker I couldn't tell you the number of times some dude would use his cock size as some sort of "incentive" to me taking the job or giving him a discount (nah mate, you get the "arrogance tax" so it'll cost you double) but the few times someone with an actual huge cock would message and tell me about it I could pretty much always tell they were telling the truth. After 20 years of reading messages from potential clients, you get the knack of working out who is genuine and who is not, and these guys weren't bragging. They weren't celebrating. They were concerned it would be a problem and genuinely worried they may not be suitable for a session as they had been turned down before.
Now while I can be a bit of a size queen, one of the biggest issues that faced me as a worker in these situations was condoms. As stated in other articles I've written, I've always been sceptical of men who tell me they don't wear condoms because they're "too tight" because I can literally fit my entire arm in one, and while I do understand it might change the feeling etc, if it's the choice between getting a disease or not having sex then I choose no sex every time… And, unfortunately for a couple of these guys, the number of (Extra Large) condoms that broke, split, and wouldn't even make it halfway down a shaft was crazy. So yeah, while there were heaps of fun things we could do, and did do, unfortunately with no glove, there's no love, and this can be a common theme with mega-big-dicked guys wanting a casual encounter.
Not Tonight, Dear, I have A Cervix-ache
When it comes to women, I posed the same question to my friends about their experiences with larger-than-average penises and some of the replies made me wince and close my legs a little.
"He was so large it took a considerable amount of foreplay and lubricant but we got the job done, however a few days later at a sexual health check, the nurse freaked out - got a doctor and he checked me out and asked if I had had sex with anyone 'well endowed recently' - I had blood blisters from the giant cock!"
"Having sex with an exceptionally well endowed man left me with severe abdominal pain that lasted for hours. It literally had me doubled over in pain."
"Doggy style was impossible as I felt it punching against my cervix, same with lifting my legs up or any position with deep penetration. But even good old missionary position hurt."
"An ex of mine was 11 inches. That last inch or so is really hard on the cervix, it felt like I was being stabbed."
"Almost every condom we used broke. Every time he'd thrust it hurt. It was one of the worst sexual encounters I've ever had. I felt so sorry for him too. It wasn't his fault!"
"The worst is the stabby cervix pain. I can handle thick, but not long."
"If we didn't use a bucket of lube it would feel like he was tearing my vagina with each thrust. It was not nice."
You've probably noticed a bit of a theme in those comments about painful cervix experiences with large dicks, and this is probably the most common complaint I have heard from women about fucking large dicks. As I am sure you're aware vaginas are pretty flexible and stretchy things, being able to expand up to about 200% from their regular size for giving birth, but this really only effects the width of the vagina, not the length. Yes, when aroused the vagina does elongate slightly… But that means it goes from around 3-4 inches deep to around 5-6 inches which, if you do the maths, shows why there can be problems with longer length penises, and throws back again to the research we did about women's ideal penis sizes.
The Measure Of Things
I think the most important point I want to get across when I write pieces like this is that men, you are worth FAR more than the size of your junk. Like it really, really doesn't matter at all in the great scheme of life and love and sex and relationships. As talked about in my article about radicalism hurting relationships, I truly do understand that the lessons men have been getting on sex and women over the past however many centuries are changing and it can be very confusing, and I know one of those lessons has always been "the bigger the cock the better the man" but it is simply not true.
You want know what big things women actually want?
Big heart. Big brains. Big smiles. Big senses of humour. Big dreams. Big aspirations. Big love.
The measure of how good you are in bed is less about how one particular body bit measures up, and far more about how attentive you are to your partner's needs. How intuitive you are to their wants and desires. How you make them feel when you're not in the bedroom.
So before you go sending me (or other girls) another message declaring how important and large your penis is and demanding the accolades for something which, to be fair, you actually have no control over, remember my words here and take a step back. Your penis, while I am sure you are very proud of it, is really not as important as you think it is. Yes sex is great. Yes some people do have penis size preferences. And yes, some people will actively seek out monster cocks, but if that is the only thing you have going for you, or at least think it is, then you may find yourself on the reject pile far more often than not.
Copyright © 2020 Eva Sless It is illegal to use any or all of this article without the expressed, written permission from Adult Match Maker and the author. If you wish to use it you must publish the article in its entirety and include the original author, plus links, so that it is clear where the content originated. Failure to do so will result in legal action being taken.