Relationships Thrive on Respect Not Radicalism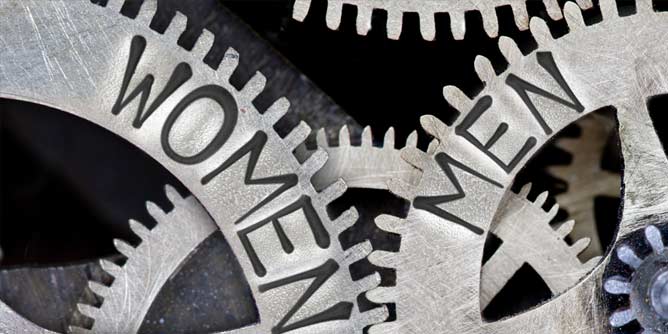 Dating, hooking up, relationships… They've always been hard. There is no magic formula that makes it work, even the most compatible couples still have to work at things to make it flow, and these days, what with the massive divides between men and women in the forms of Radical Feminism (RadFems) and Men's Rights Activists (MRAs), it is seeming to make things very tricky indeed for those of us left somewhere in the middle of it all, trying to navigate this new territory.
I know that within the comment thread of this article I will be met with angry men telling me I have no right to write about men and the issues that face them. Someone will bring out the tired trope of "If a man wrote this, women would be all over him." and I am assuming someone will call me a man-hater, because I've been here for a long time, and I've heard it all.
But the thing is, in that same way, I HAVE been here a long time. I have spent the last twenty years around men, especially sexual men. I have been a sex worker, an advice columnist and somewhat of a therapist for many people, of all genders. I study the effects of radical feminism and men's rights activists on the very genders they are trying to "protect" and I see the damage both sides do.
I have men write to me constantly asking for my opinions on this topic, and I have listened to, and read all the comments I get on every article I've written over the years and I think I have a pretty good idea of what I speak about.
So yes, while I do not have a penis, I have watched the world of sex and relationships change over twenty years and I've seen women becoming far more empowered by strength and self love. I've seen conversations of consent change rapidly and positively, I have seen women taking back their sex, their sexuality, and it has made me proud.
But, and this is what this piece is ultimately about, I have also seen the effect these movements have had on men, and unfortunately it is not as positive as it should be. In fact, it seems that many men are taking the empowerment of women to a strange and personal level, seeing it as a loss to them, rather than a gain to others, and the infiltration of radical extremists on both sides of the argument have not helped at all.
If you listen to the Radfems, all men are rapists and evil and want to overpower and condemn women to slavery and sex objects.
If you listen to the MRAs, all women are manipulative bitches, oppressing men and driving them to suicide with false rape accusations and the mysterious "friendzone"
The thing is, as with all extremist views, the truth is somewhere in the middle and moderate people's voices are getting lost in the screeching of others, but one thing I truly believe to be true is that while we are giving our young (and older) women these new lessons in self autonomy and consent and empowerment… We've kind of forgotten the men, and by that I mean young boys and men are still getting the same lessons and messages about sex, dating and women that they always have… But a lot of it isn't working any more because the world has changed, and attitudes to relationships, sex, and gender roles have changed.
This is not necessarily the fault of men at all, but of society as a whole. Suddenly the things your dad told you were the ways to be a gentleman, or get the girl, have become "sexist" or "sleazy".
Is it still okay to open a door or pull out her chair? Can I pay for dinner? Why can't I just approach a girl on the street or in a club to tell her I think she's hot? Isn't telling a woman to smile because she's beautiful when she smiles nice? Why am I suddenly a pig for doing it? What about the friendzone? I loved her so much and she didn't love me back and now I'm a bad guy for being upset? Can I look at an attractive woman? Can I smile at her? Are we allowed to have sex if she's drunk and says yes? Will I be a rapist the next morning? What are the new rules because no-one told me and now I can't work out how to date and it's scaring me!!
It's very real. I get asked those questions and more almost daily, and the hard thing is that it's not always easy to answer.
One of the big topics that comes into play is male privilege and entitlement. Ever since the dawn of history being a man, and being male, has been the default. This comes into everything we know, both consciously and subconsciously. Just our language alone shows this in things like "policeman, chairman, handyman" etc. It doesn't seem like an issue to most men because, to be blunt, it has never excluded you. You can say it doesn't matter… But if the defaults all suddenly changed you can be sure most men would have angry words to say about it. This is partly because the idea of feminine is connected to being weak, "You throw like a girl" etc.
Men have had the default setting to the world for so long that subconsciously most of them believe they are entitled to the woman they choose, regardless of if she chooses them back. This is evident in the thousands of messages I see from men to women that start off with a hello and end up with her being called a selfish fucking whore because, for whatever reason, she has rejected his advances. It is evident in the fact that sometimes the only way to stop a man from talking to you or coming on to you is to claim you already have a boyfriend, as if the respect for another man's "property" trumps the respect for a woman to just be left alone to read her book. It is evident in the many complaints I see from men about being thrown into the "friendzone" because a woman they've liked has only viewed them as a friend. The problem here is that while it's absolutely okay to be sad someone doesn't love you back (unrequited love is a horrible thing, we've all been there) it is definitely not okay to then blame them for not returning the feelings. A woman is not a vending machine you put kindness into and expect sex or love to fall out of. If the only reason you are being a friend to someone is with the hope they will fall in love with you, then that's not actually being a real friend.
It sucks, I know, every bad 80s and 90s movie we ever saw centred around the girl next door falling for the wrong guy but her best friend waiting right around the corner turns out to be her one true love… It's a lovely idea, and sometimes that's what happens… But it's not always the case, and real life is not a movie,
You are not entitled to love or sex. You're just not. No-one is. It's really awesome when it happens to us, but forcing it is just unfair to all involved.
To women the advice I give is simple. While I do not believe you should pander to strangers or have to be polite in the face of someone who is making you uncomfortable, I believe it is important to speak gently and calmly to the men in your world. The good guys you know and love and trust. So many times guys say something that doesn't sit quite right (be it sexist or slut-shamey) but really don't understand WHY it's wrong. Like I said above, the world is changing and education is important. Women can be leaders in this, even if we just take it one bloke in our life at a time. Be kind. Be armed with information, and please, NEVER use your children as weapons or bargaining chips. It's just not fucking cricket.
One of the best pieces of advice I can give to men, and I know so many of you will not like it, is to just stop. Shut up. Breathe. Listen. Read.
Understand that you, as men, have the biggest, loudest, strongest voices. You have majority as leaders and politicians and CEOs. You are the default, and because of that, it is time to sit back. For every single one of you out there that thinks you're a good guy, a lover of equality, a champion for women and their rights… This is where you come in. This is where you say to the other men around you "Shhh. Let her speak". Listen to what the women in your lives are saying about how men treat them. Don't get angry at their plight. Don't take it personally and leap into the fray with the fact that it's "Not All Men". That point is completely moot. She knows it already. But what it does do is denies her right to express herself. It denies her feelings of discomfort in the world that you run, and that you want to share with her. It denies her everything she's reaching out to say and makes it all about you.
It's not about you. And that's the most important thing. It's about everyone's right to feel safe, loved and secure.
Go into the world of dating in politeness, kindness and mindfulness. Without expectation or demand. Don't be the sort of guy who takes a girl out for coffee and then sends her a bill for the drink if she decides not to see you again. Don't be the sort of guy who expects a woman to smile at him because you like her smile. Maybe her dog just died. It's not your place to police women on their facial expressions, or their clothes, or anything. Yes, it is okay to approach a woman to ask her out or give her a compliment… But not if you're expecting anything in return. If she tells you no thank you, if she turns her back and pretends not to hear you, if she looks you right in the face and tells you to fuck off, just smile and walk away. You have no idea how many men have told her that today. How many of them tried to touch her when they did it. How many of them snarled at her that she was a whore and made her fear her physical safety. Yes, you're a nice guy… You didn't mean anything malicious… But remember it's not about Not All Men, it's about Yes All Women, and we've all been there. Every woman. The compliment that turned into a threat, the offer of a drink that turned into the expectation of sex, the compliment on your outfit that allowed them to grope you… All women have experienced this and you need to understand that just because YOU didn't, someone else probably has and it's put her on edge.
Basically what I'm trying to say is yes, the world has changed. Women are not demurely waiting for their Prince Charming to whisk them away. They are looking for a partnership. A person they can rely on to respect them and respect their wishes and boundaries. A person they can share with. Understand your place of default privilege in this world, and make space for women. It's not about giving up your space at all… But it is about making sure the space is equal, not just one you're "letting us rent" til we've shut up enough to let you have it back.
I promise you, the more you do this, the more you listen to women's voices, especially when it comes to their expectations of love and relationships and sex, the more you take it on board and act like the guy you've always thought you were, the more your luck in the dating world will change.
Understanding, respect, truth and honesty. This is where love, relationships and mind blowing sex live.
I would like to add that since writing this the #MeToo movement took off around the world highlighting the very real issue of assault and abuse that women face. It not only seemed to be posted on every social media platform by almost every woman I know, but many many men as well speaking out about their experiences. This shows that this idea of entitlement to the bodies of strangers is universal and frightening and something we all, as humans, need to stand up against and work hard towards changing. Be that person. Be the person who stands up to your friends in the face of "locker room talk" or "slut shaming". Be the change we need. Everyone. All of us. We're all in it together and we can't make it better without you.
Copyright © 2020 Eva Sless It is illegal to use any or all of this article without the expressed, written permission from Adult Match Maker and the author. If you wish to use it you must publish the article in its entirety and include the original author, plus links, so that it is clear where the content originated. Failure to do so will result in legal action being taken.