7 Things Women with Big Boobs are Sick of Hearing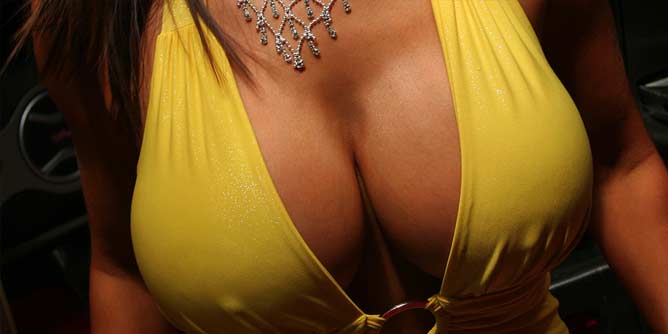 Being a woman with big boobs myself I can say I both love and hate them at the same time. This isn't any kind of body-image thing either, it's purely practical and sometimes they can just be super shit. Like sure they look good in a corset, and they are soft and lovely to touch and they give my silhouette an awesome shape… But then they get sweaty and itchy in the heat and they make t-shirt designs look dumb and stretched and I seriously couldn't tell you the last time I rested comfortably on my belly… And, probably the biggest peeve I have about them, is how much everyone wants to have some kind of opinion on them like it's their business to discuss my body and it's my duty to have to listen to it and answer their dumb questions.
Here's a big heads up, it's not, and I don't and neither does anyone else with big boobs.
Here are the top seven things I, and other busty women, hate hearing… So just stop it.
1. Are they real?
Look, unless you are my doctor and I am suffering from something which the answer to that question is pertinent to save my life… Just don't. Why is it any of your business? Why does it even matter? Why do you want to know? Although, I should admit, if you're the sort of superficial person that cares about those sort of things then it's good I find out earlier in the piece before I let you touch me in any intimate way. But seriously, keep that question out of your mouth. It's rude and invasive and, again, none of your business.
2. What Size Are They?
Are you a bra salesperson? Are you fitting me for a suit? No? Then it's none of your business. Most guys I know who ask that question have no idea what they're even asking anyway. I once told a guy I was a "size P8 4" and his eyes lit up like Christmas as if what I'd said wasn't actual fucking gibberish. Seriously, dudes. I understand everyone has preferences etc (and here at AMM we have options to add details like that in our personal profiles) but apart from very specific circumstances like that, its just not your place to ask those sorts of things.
3. Gee, Aren't They Uncomfortable?
Well actually, mate, yes. They are. In 40 Degree heat, with sweat pimples underneath them and the weight of them pushing down on your shoulders til your back aches and your knees hurt, and that painful jolting pull when you walk a bit faster or god forbid try and run, and then let's also not forget the personal discomfort I am feeling because you've asked me a question about my breasts when you have no right to because they are my breasts not yours and not a topic for conversation unless I bring them up myself so just shut up… Breathe… Yes. Yes they are.
4. Bet She's "Up For It"
Ah yes… The old high school mentality that if a girl has boobs she must be a slut and she must love them being grabbed and manhandled roughly. Like okay, I can understand uninformed teenagers with bad sex education and school-yard whispers thinking this sort of shit, but that some grown men and women seem to think that body shape and the size of the lumps of fat and tissue on a woman's chest have some kind of correlation to how horny or "promiscuous" she is or how she wants them played with… It boggles my mind. Every single boob is as unique and the person who owns them and just because they're big doesn't mean they enjoy being kneaded like bakers dough. Really the only way you're going to know how she likes to be touched is by asking (No, not on the bus, dude). The thing about big boobs is, yep, they're big. So they and their cleavage often feature quite heavily in our outfits, but that's just, you know, physics and volume and stuff… It's actually got nothing to do with our libidos or what we enjoy sexually.
5. I Wish Mine Were That Big/ You Got My Share!
No, stop it. You probably don't wish yours were that big because if they were you would wish they were smaller…. the grass is always greener… And please stop with the bullshit pseudo guilt trip over something I have no control over like the size of my boobs! Seriously. Stop wishing for something you haven't got, and stop (even if jokingly) blaming the women who do! This goes for all things too - I wish I was as tall as you, I wish my hair was curly/straight/coloured like yours, I wish I had your…. No. Stop. Please stop comparing yourself to other women by pointing out what you think you lack. You do not lack. You are excellent the way you are. You really, really are…. And, if you do ever decide to change your shape (or your hair or anything) do it for you and you only, not for someone else or what you think someone else might like.
6. My Eyes Are Up Here
Seriously, we can see you looking. You think you're being subtle and discreet… You're not. We see it. We notice it. We feel it… And a lot of us fucking hate it. Part of the problem is this weird societal idea that boobs are purely for sex and the enjoyment of others in a sexy way and therefore any time a boob is anywhere on the radar people turn into mindless weirdos with no self control… But here's the thing… Control it. It's gross and sleazy to stare and can even be a form of harassment, especially if asked to stop and you don't.
Also, just a reminder in case you weren't aware, the main purpose of breasts is for the nourishment of babies and not for your grabby hands and staring eyes so have a little bit of respect and stop treating them, and women, like they're some sort of personal fun-bag for you to enjoy. They're not. They're attached to a human and you're just being gross.
7. Can I Touch Them?
What? No. Fuck off! I don't care if you're male or female or non-binary (and I have been asked this by all different people and ages and genders) no you cannot. Like sure, being asked "can I touch them" when we're together in an intimate setting is a lot different… That's called informed consent and I expect it every time I am intimate with someone (and you should too), but I'm talking about being asked in random places by random people. I've been asked in shops, in clubs, at parties, and it is always inappropriate and always rude. Yes, it's definitely not as bad as someone just grabbing them without asking, and that's happened too many times to count, but it's still not a question to ask someone. Seriously. Just don't.
Copyright © 2020 Eva Sless It is illegal to use any or all of this article without the expressed, written permission from Adult Match Maker and the author. If you wish to use it you must publish the article in its entirety and include the original author, plus links, so that it is clear where the content originated. Failure to do so will result in legal action being taken.