Senior Sex! We're still Sexy! We're still Sexual!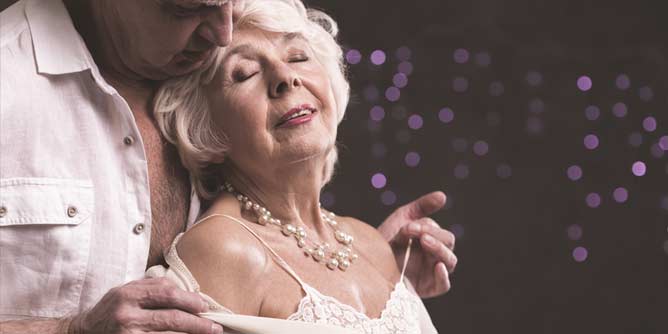 If you listen to marketing and media (hell, even if you don't want to, it's hard to ignore), sex and all the sexy goodness that comes with it is for the young and the beautiful and everyone else is just ew icky!
The thing is, though, apart from being completely wrong - sex is for everyone - the whole "young" thing is totally misleading too!
I mean, when I was a teenager, the idea of 30 year olds having sex was ew! When I was in my 20s anyone over the age of 40 was old… Now I'm in my 40's I realise my teenage daughter thinks I'm old and icky and shouldn't be having sex, and god knows what she thinks of her Grandparents (I'm pretty sure she doesn't think of her grandparents doing it… But you know what I mean.)
As mentioned in our At what age do you have the best sex of your life? article, sex is a journey of exploration and self discovery, and every age we are brings up new and exciting things to discover about ourselves and our bodies, just because we are getting older doesn't mean our sex lives have to suffer, even if there are certain things we need to keep in mind.
Body Stuff
When we get older our bodies change. They just do. We can't stop it (no matter what those sellers of anti-ageing potions try to tell you) and we shouldn't have to want to. I'm of the school of belief that you should embrace yourself warts n all (Well, maybe not HPV warts… there's a vaccine, you know) and love the body and skin you're in… But, yes, I will admit there are certain things that come with ageing that can be detrimental to our sex-lives… But they don't have to mean the end of it!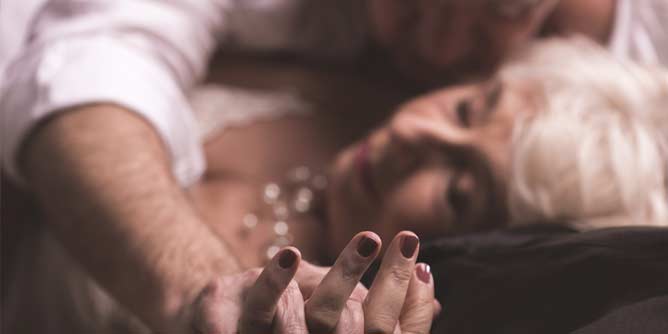 The Dryness Within
For women, as we get older and our bodies begin to change through menopause, our entire reproductive system starts to shut down. In some ways this can be a bit of a blessing (yay, no more periods and cramps!) but in many ways it can be hard to deal with and a complete overhaul of the body we have known for so many years. Hot flashes, mood swings, rapid spikes and drops in libido are just some of the things that happen, and the physical side effects of these things can make sex a less than fun activity. Probably the number one complaint and issue I hear from women about sex through and after menopause is the lack of natural lubrication and the ensuing discomfort and pain that that can cause, and not just during sex. While lubrication is important for comfortable sex, sometimes, for women going through hormonal upheaval, just using regular lube can be slightly ineffective, and can often further irritate the already dry and sensitive vaginal skin. This can be helped, though, with the aid of a vaginal moisturiser. One company I know makes a specific product (System Jo Renew) that is a daily moisturiser for your vagina. It is NOT a lube, but a formula made with the intense moisturising properties of cucumber, aloe and bisabolol which help rejuvenate cell growth and replace moisture in the skin. Used daily it can help with the everyday discomfort that vaginal dryness can create and, during sex, matched with a good water-based lubricant (System Jo Agape is an excellent pairing) can make all the slippery difference in the world!
The Hard Truth
For men reaching a certain age the most common issue I get asked about is erections. As men get older sometimes the soldier doesn't stand to attention for as long or as rigid as he once did, and this can greatly effect the self esteem and sex lives of men. My first suggestion when this starts to happen is go and see your doctor and get any medical worries out of the way first. Erectile issues can sometimes be a symptom of far more urgent problems like prostate cancer and even things like heart disease, so please make sure you see a doctor. If it turns out to be nothing too serious, just an issue with blood-flow and age, there are a number of things you can try to help fix it or compensate.
Yes there's the pills which can definitely help, but before you go pumping your body full of chemicals see if something like a penis ring (a tight rubber ring at the base of your cock that stops the blood from flowing back down) can help. If the issue is getting erect rather than staying erect, often a penis pump and penis ring combination can be all you need to get back to your former glory.
A few men I know also use hollow strap ons. These are like a strap-on for guys to wear. The attachment is a hollow cock you slip your own into so you can still have penetrative sex with your partner even if yours doesn't quite last the distance.
The Old Grey Mare, She Ain't What She Used To Be
Something that effects both men and women with age is the loss of our agility, flexibility and mobility. We get stiff and creaky and cramped in body areas we didn't know could cramp and creak and it can make "getting a leg over" an almost gymnastic feat… That's okay. It doesn't mean sex has to stop… It just means we need to find more comfortable positions to do it in. Pillows and cushions can become your best friend, and sex toys and accessories can also help in those moments where we're not quite ready to stop, but the joints in our bodies are not in a happy place.
Regular exercise and movement can definitely help in keeping our bodies in shape, and never be afraid to talk to your doctor about how to keep your sex life alive and kicking though later years.
The Fountain of Youth
I truly believe the more we connect to other people via touch and love, the happier and healthier we are in our overall lives. The more connected we are with our partners, the more life is a wonderful place to be, and the more orgasms and sexy tingles we get, the younger our bodies feel and look and act. So forget your oil of Olay and your expensive youth-spa treatments… Get you some senior sex with your sexy senior partner and put the spring back in your step.
(Advice… Please don't spring too fast… Remember your knees.)
Copyright © 2020 Eva Sless It is illegal to use any or all of this article without the expressed, written permission from Adult Match Maker and the author. If you wish to use it you must publish the article in its entirety and include the original author, plus links, so that it is clear where the content originated. Failure to do so will result in legal action being taken.