How Do You Finger a Woman?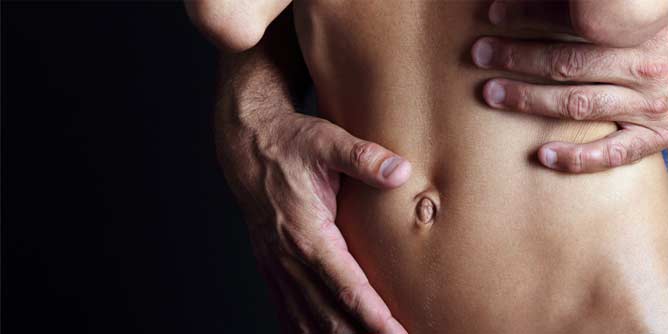 It's funny how some words can make people cringe. I'm not talking about specific slurs or derogatory comments etc, I mean just normal words that have a weird effect on some people.
Like, for example, the word moist. Personally I don't mind it. It doesn't create cringey ew-ness in my head like it does many of my friends, it just makes me think of cake… But it is definitely a word that people do not like. For me that word is "panties". I hate it. It conjures up creepy images in my head that I won't articulate here, but yeah. Gross. And another word that does similar to me is the word "fingering".
Unlike "moist", or "panties", there isn't really a substitute word to use (digitally pleasuring is just… no) and so in all my years of being a sexual person and a sex educator I have to suck it up, ignore the ickiness in my head, and use it.
And so, in saying that, this brings me to my latest piece, and something I get asked a lot, "how do you best finger a woman?".
I think, perhaps, my ickiness towards the word has a bit to do with some of my first ever forays into the act. Horny teenage boys with poking, stabby little fingers that had no idea what they were doing, nor did they really care, and the subsequent non orgasms eventually lead to me giving up on teenage boys and doing it myself, and hoping one day maybe they'd learn…
Alas... It brings me great sadness to report, as someone who was a sex worker for quite a number of years, it really is a major disappointment to find that so many men, while they may have grown older and hairier since high school, are still very unaware of how to properly stimulate a woman's genitals with their fingers. And this is a common complaint from all the women in my life, not just the sex workers.
So, for all you chicks in here who are nodding your heads and crossing your legs in memory of the last bad fingering they got (and yes, yes,, I know not all men. Go on, write in the comments about how amazing you are at digitally pleasuring your lady… I mean, it's all about you after all) here are my top tips for guys on how to finger a girl properly and pleasurably.
1. Trim and clean
Sounds obvious doesn't it? But the number of ragged fingernails and rough cuticles and dirty palms I've seen is just revolting. Seriously guys, wash your bloody hands! You don't need to go all manicurist salon perfect, but for fuck's sake, it's not hard to make sure you don't have jagged bits of skin or nail jutting out of you like sandpaper with spikes. Like how can you even think that's okay? You're about to go into some of the most delicate and sensitive areas of a body… With fucking grease under your nails and half a thumbnail hanging off? I don't think so, buddy.
2. Warm Her Up First
Yes, boys, congratulations, you found the hole. All vaginas have one. But just roughly poking your finger up there like you're trying to retrieve a Tic Tac from a hose is not only ineffective, it is uncomfortable and unpleasant, especially if you haven't properly warmed her up first and got her excited and wet. Honestly, just prodding at the vag and expecting it to open up and get slippery is a waste of everyone's time. Slow down. Take a breath. Read on…
3. The Vagina is more than a Hole
Labia, vulva, clitoris, vagina… Say it with me, boys. These are all the gorgeous and glorious bits that make up the genitals of a woman, and all of them have nerves and pleasurable bits and can be stimulated and played with and heightened to incredible climaxes for her. Each bit will respond to different stimulation, and has its own likes and dislikes. Just because she may enjoy her vulva being stroked, doesn't necessarily mean her clitoris will respond the same way. Take your time to really explore and learn what it likes. Listen to her sounds, watch her movements. And, you know… You could always ask her!
4. The Art of Tease
Slowly stroking her thighs, the crease between them where thigh becomes genitals. Over the underwear, little sneaky taps and squeezes of the vulva… Everywhere but the hot spots… Kiss her neck if she likes that, her shoulders. Stroke your hand along the curves of her body… Whisper to her you can't wait to feel how wet she's getting… But not yet… Not just yet… Feel her hips rise off the bed to meet you, listen to her breathing, watch her face… These are all signs she is getting to the perfect stage to slip those fingers inside and around. Ask her "do you want it yet?" and if she says yes… Tease a little while longer. The anticipation of your touch can be far more arousing than touching her to get her horny, and far more rewarding in the long run.
5. Look, Listen, Learn
Communication, above everything else, is the one thing that makes sex great, and this is something all parties involved must do. Checking in on your partner to make sure they're still enjoying themselves is important, as is telling your partner how much you're enjoying it. This can be done in so many ways. Saying "yes" is a major one. Moving your body and making moans and noises is another. It's always good to ask if you're on the right track and it is also okay (hell it can be goddammed horny as fuck) to ask them to show you how to touch them.
Watching your partner touch themselves in exactly the way they like to be touched is the best lesson you can receive in "their body" and you can become an expert in no time!
6. Lube is your Friend
While yes, many women produce good, viscous lubrication when we're aroused, not all of us do, and even those of us who are blessed with the wet can find during times of a lot of play that there's just not enough to spread around everywhere so this is where lube can come in super handy (pardon the pun). You don't need too much, but enough to cover the area and make it nice and slippery for your fingers to slide over. Pulling against the soft and delicate skin because it isn't wet enough can be super uncomfortable and even painful for some women. Also just the act of making her a bit more slippery, and therefore the experience more pleasurable, can cause her to self lubricate even more. Just a basic water-based lube will do, or you could jazz it up and get ones that have stimulating ingredients added to them (ask in your local adult shop). These work with usually either a menthol or capsicum base to cool or warm the area, and some are herbal based that react with the blood vessels and allow more blood to flow to the area, making it more sensitive and aroused.
7. Don't Stop!!
Okay, this here is the kicker. When she starts to breathe shallower, when her moans get louder, when she starts to move her hips… Do. Not. Stop. Don't change it up. Don't add an extra swirl. Don't. Change. A. Thing. Seriously! This is the number one complaint I get from women all the time. That you hear her start to come so you change, or go faster, or decide to tease… This is NOT the time. Seriously!! Unless she specifically says "go faster!"or something to that effect just keep doing what you are doing. I cannot stress this enough! One of the worst things in this world is losing an orgasm you were so close to getting, and sometimes it can be almost impossible to bring it back. So unless the arrangement is edging (which is awesome and another great way to arouse her) DO. NOT. STOP!
So remember, boys (and ladies who like ladies), fingering can be so good and sexy and amazing, but it really needs to be done right or she'll just give up and do it herself. Learn to listen and watch and be aware of her body and what makes her tick. Even on a one night stand or hook-up situation it's important to know what you're doing and getting it right. In the long run you'll have a very satisfied lady and a reputation for being a man with golden fingers… And what bloke doesn't want that?
Copyright © 2020 Eva Sless It is illegal to use any or all of this article without the expressed, written permission from Adult Match Maker and the author. If you wish to use it you must publish the article in its entirety and include the original author, plus links, so that it is clear where the content originated. Failure to do so will result in legal action being taken.