Get your lover's motor running!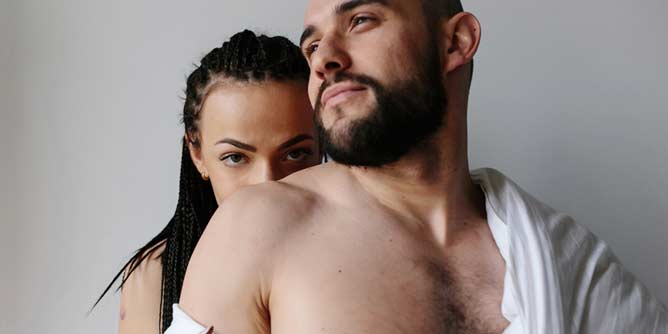 Over the years of social conditioning and shitty sexist humour, foreplay has sort of built a reputation as being optional and a chore for poor men who just want to get their end in. But, as sex is far far more than just putting a penis in a vagina, and some of the sexiest, best, most awesome things about sex play don't even involve putting a penis in a vagina, I find the idea of "foreplay" a bit of a misnomer. It doesn't come "before" sex. It "is" sex, and if you're the kind of person who doesn't appreciate the subtleties and reasons for arousal and foreplay, your partners are probably going to have a bad time.
So with that in mind, here are some great ideas and tricks to get your heart pumping, your breath quickening, and all those delicious juices flowing.
For Her
It's absolutely necessary for a woman to be aroused for her to have enjoyable and comfortable sex. Arousal helps the clitoris grow and tingle and helps the vagina lubricate and expand which, if you've ever gone down a water slide without any water flowing, should explain the discomfort a woman will experience if her vagina is not lubricated well. To get her super wet and aching for more, here's our top five tips.
Sexy Texts
Before you even get in the bedroom, before you even get home, warm her up with some sexy, delicious text messages. Nothing crass or too over the top, at least to start. But stuff you know she likes to hear, stuff you've been thinking about, stuff you'd like to do. Get her mind racing with sexy thoughts and her body will follow.
Kissing
Seen Monty Python's Meaning of Life? The sex education scene was always (and still is) a fast favourite. When Cleese's character asks the students what to do to warm up a woman before sex, one of them suggests "rubbing the clitoris". The response has always been one of my favourite lines, and educational points ever: "What's wrong with a kiss, boy? Why not start her off with a nice kiss? You don't have to leap straight for the clitoris like a bull at a gate!" It's absolutely true. A long deep passionate kissing session is one of the best ways to start arousal.
Sensual Massage
Get the oils out and pamper her to an all over, luxurious rubbing of skin against skin. Start on the back and shoulders and slowly make your way down. Pay special attention to her butt and thighs. Tease her with almost-but-not-quite strokes to her intimate areas. Whisper to her your appreciation of her shape, her skin, her sexiness.
Undress Her Slowly
Savour the moment of reveal, by slowly taking off her clothes and exposing her beautiful skin. As a shoulder is revealed, kiss it lightly, trace your fingers along the shape of her neck. It's all in the deliberate, yet soft, determination of your hands. Take your time. Make it sensual and breathless. And, whatever you do, make sure leave her knickers til the very last moment.
Showers and Baths
Hot, steamy water, soapy, slippery hands, closeness of bodies... Oh yes. A shower is a great way to get you both warmed up and ready for more action. Same with a bath. Fill the tub with hot, bubbly water, drop in some essential oil, and light some candles. Take turns soaping each other's bodies and savouring the feel of shin and water.
For Him
Even though guys don't really need to prepare their bodies like women do (I'm talking about lubricating the vagina, not any sort of grooming aesthetic stuff) it's still important (not to mention awesome) to be aroused and turned on and horny, even more so than just having an erection. Here are some ways to steam up your man!
Build Up The Tension
Just like above in the tips for her, sending him sexy texts throughout the day can really get his motor running. As men are often also more visual creatures than women (not always), sending him sneaky pics of you throughout the day can be great too. It doesn't have to be pornographic or anything. Just a hint of your breast and bra, a glimpse of thigh. Little subtle show and tells that hint at more later.
Dress Up To Dress Down
Wear something super sexy and slinky and hot. Something you know he will love, and then sit him down in a chair or on the bed and slowly strip for him. You don't have to be professional or dance or do anything too complicated... Just let him watch you remove your sexy lingerie, hold his gaze as you slip out of your things, tease him and show him with your movements and your eyes how much you want him.
Dirty Talk
You don't have to be crass or sound like one of those phone sex lines, but talking dirty to your guy can really turn him on. Tell him how beautiful his cock is, how wet you are, how much you want him to lick your pussy. Whisper in his ear what you'd really like him to do, or what you'd like to do to him. If you've not done it before, it can be a bit awkward to start, but it does get easier the more you do it, and it can be really, really hot.
Blindfold Touch
When one sense in cut off, our other senses kick in and become stronger. Blindfolding your man, and then massaging and stroking him all over is a great way to get him harder than rock. Run your fingertips over his back, his chest, his legs. Tease him with the way your hand starts to move downwards... But don't quite touch his most intimate spots. The anticipation of your touch on his cock will drive him wild.
Hot and Cold BJ
Giving head is a great way to turn him on. Make it a sensual one where the end result isn't for him to come, but for the both of you to enjoy and savour every moment. Putting an ice cube or a cold mouthful of water in your mouth will add so much to the sensations on his cock he will be squirming and begging for more. Try something carbonated for a fizzy version, it's very tingly! The same goes with something warmer in your mouth like hot chocolate or coffee. Just remember that it can get a bit messy, so if you're using something that could possibly stain bedsheets like hot chocolate, maybe pop a towel down. This can also be incorporated into the blindfold play to really blow his mind.