Top 5 Sex Positions for Big Beautiful Bodies
Sex these days is full of acronyms and I know if you're not around the "scene" as much as I am, these terms can get a bit confusing. I know the first time I saw BBW it was in relation to a sex worker and I kind of assumed it had something to do with her having black and white photographs on her website... Yeah, so that's not what it is at all.
I've since found out BBW is a term to refer to girls of a larger size. It stands for Big Beautiful Woman, and personally I absolutely love the term.
As someone who was a BBW for half of her life, I know the attitudes that surround it and sex. In mainstream media and film etc fat chicks are rarely viewed as sexy or desirable (they're usually the "funny"one). There's all that horrible "no fat chicks" stuff and tasteless jokes about beached whales and rolling in flour and all sorts of crap, but the actual fact is men are very often attracted to women with meat on their bones and wobbles in their thighs.
Regardless of what society tells us we are supposed to want, most men (and women) know that larger women are just as gorgeous, and sexy and deserving of intimacy and a good hard fucking as everyone.
I also know, as a former BBW, that sometimes tummies and boobs and wobbles can get in the way of closeness, but that doesn't mean there aren't ways around it!
Here are our top five positions for awesomely orgasmic sex for those of us with slightly more to love.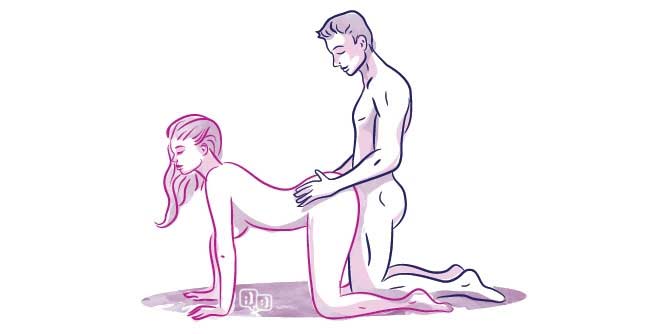 Doggy
As much as I'm not really a fan of the name, doggy style is probably one of the most popular sex positions for everyone of all sizes, shapes, desires, and tastes. It gives such a great view for him of her curved back and round arse, and allows for deep penetration and both parties to be able to control the rhythm. It can be slow and sensual, or kinked up with hair pulling and butt slapping. For a girl who may be slightly self conscious of her tummy, this is a great position for her as it allows her to concentrate on the sensations of sex, rather than get bogged down in distracting self doubt (although I do have to say, newsflash, he really doesn't care about your belly, he thinks you're absolutely gorgeous the way you are).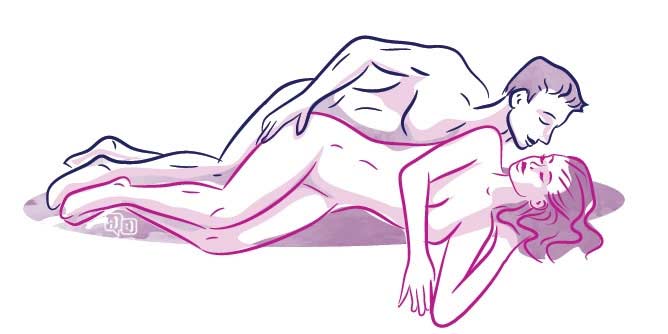 Spooning
Like doggy, this is a position that comes in from behind, allowing for deep penetration and the warm intimacy of arms wrapped around and bodies super close. There's the opportunity for breast play, neck kisses, clitoral fun and whispered words. It really is a gorgeously intimate position for couples and one that has no size limit.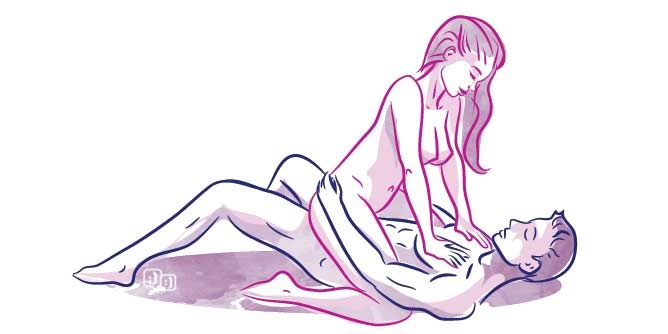 Girl On Top
Seriously. I know you think you'll squash him. I know you think he'll come out like flat Stanley afterwards, or he will never want to see you again but really, for so many men (and I've talked to many many men about this) this is actually not gonna happen. Firstly he actually wants your weight on him. He likes it. Secondly, you're often far less heavy than you think you are (this is just basic psychology) and thirdly with the use of strong legs, or a headboard, or arm leverage, you are actually not putting your entire weight on him anyway and are in far more control to move to your own rhythm. Sitting on top in reverse can help with the arm leverage thing, and really if you're worried, work out a signal like three pinches on my thigh for "omg get off I can't breathe" (newsflash I never ever had to use that, and I was close to 100 kilos at my heaviest). Honestly, this position, once you realise how good and not suffocating it is, can do more for your self esteem than a hundred gym visits.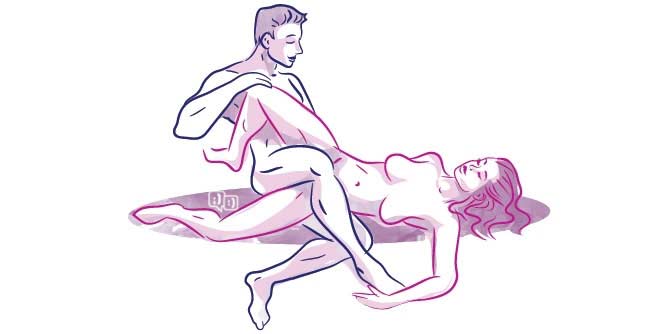 Scissoring
Yes, just like the fake lesbians do in porn, scissoring can be a really fun and sexy way to fuck without having to get any bellies or boobs in the way. Lie top to tail and scissor your legs together. Once penetrated you can roll and twist and curl your legs together creating all sorts of different depths and sensations to penetration. Her clitoris is free for her to stimulate, and because you're both in a reposed and relaxed position it can be a great one for lengthy sessions.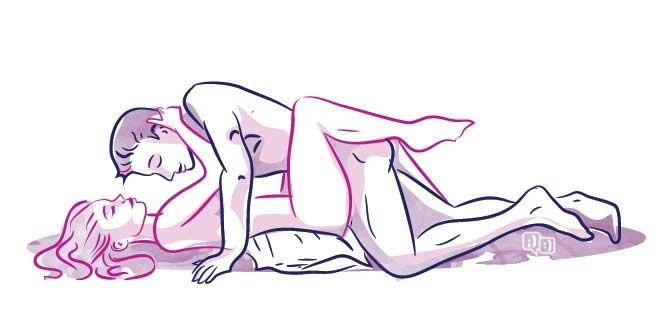 Pillows and Padding and Cushions Oh My!
With the right padding, and the right height and angles, almost any sex position is possible no matter what your size or shape. Slip a thick pillow under her butt to raise her hips off the bed and not only will her belly flatten and give her a boost, but her beautiful pussy will be raised and waiting for you. This can work especially well if her hips are right on the edge of the bed and he stands in front. Pillows under the belly can help raise the butt, and support her body during behind positions, especially if they're long sessions, and it's always so much fun working out what works and what doesn't and other ways to experiment with your pleasure.
Never forget that no matter your size, no matter your shape, no matter who you are. You are desirable and sexy and absolutely deserving of orgasmic bliss, and anyone who says otherwise is probably just jealous of your amazingness.
Happy fucking, my friends!
Copyright © 2020 Eva Sless It is illegal to use any or all of this article without the expressed, written permission from Adult Match Maker and the author. If you wish to use it you must publish the article in its entirety and include the original author, plus links, so that it is clear where the content originated. Failure to do so will result in legal action being taken.