Top 5 Sex Positions for Deeper Penetration
One of the best things about sex, apart from the fact that it feels fantastic and can be really great for your health, is how varied it can be. Every single person in this world is different, and responds differently to things, and sex is just the same. What works for you with one person, may be a complete non-event or turn off for someone else, and something you always felt a bit "meh" about could be the key to multiple orgasms with someone else.
There are so many amazing sex positions to explore and try out, in fact, just the Kamasutra alone has so many positions in it you could try a new one every day for a year and not complete the set!
Today we are going to focus on sex positions for deeper penetration. These are great positions for a few reasons. Firstly, many women enjoy that super-deep buried-in-her-pussy sex. It can be amazing for vaginal orgasms, cervical stimulation and for that full-up feeling, and secondly, it can make his cock feel bigger, and longer and more powerful... And what guy doesn't want that?
Some of these positions require a small amount of flexibility and stamina, but don't worry, for all of us who are less flexible than we used to be, there are also some plain ol' regular ones too that won't make you feel like you have to be a contortionist or porn star mover.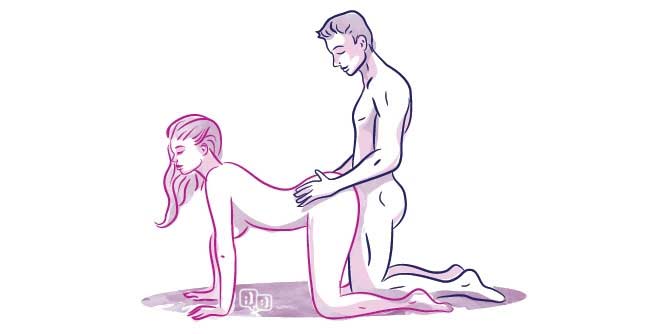 Doggy Style
Good ol' doggy style. It's one of the most common positions beside missionary and is often touted as a favourite by both men and women. It's a great view for him of her arse and back, and of himself moving in and out, and for her it's nice and deep and she can move into a good rhythm with him and she can also use a finger or toy to stimulate her clitoris as the same time. Doggy style is also great for a bit of butt spanking and hair pulling, and, to make it even deeper, if she puts a pillow under her belly and lies down so just her butt is in the air, he can lie on top and really fill her up.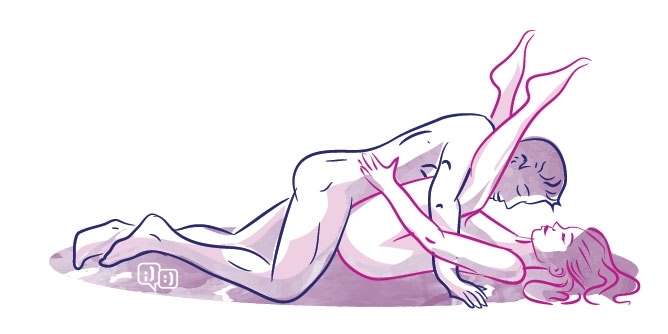 The Anvil
Leg up positions can be done in a few different ways, some requiring far more stamina and flexibility than others, but there's sure to be a variation that works for you. You can also have one or both legs raised, and they're fun to experiment and play around with to find the best for you both.
The Anvil starts off in missionary position and the man enters the vagina while her legs are resting upon his shoulders. Instead of resting on his elbows he supports himself on his hands and in this position he can do a back and forth movement where his pubic bone rubs against her clitoris. Combined with the incredibly deep penetration you can achieve this is definitely one to tick off the list.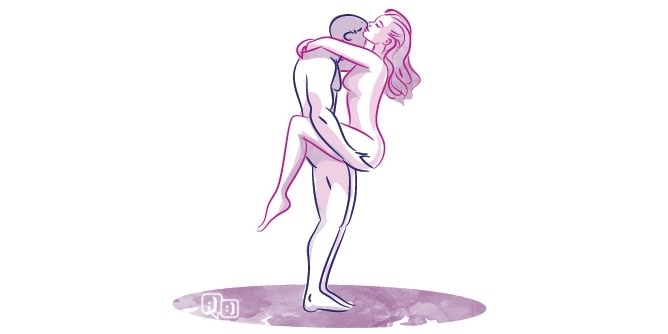 Hanging Garden
Okay, so this one really does require strength and stamina, but can be one of the best ways to get really deep. He lifts her up and she wraps her legs around his waist – having her back against a wall can help take some of the weight (no, we're not calling her fat, I'm just saying a human body is heavy to lift and hold) – and pulls her down onto his cock, lifting and pulling. He controls most of the movement and rhythm in this position and she holds on and tries not to fall.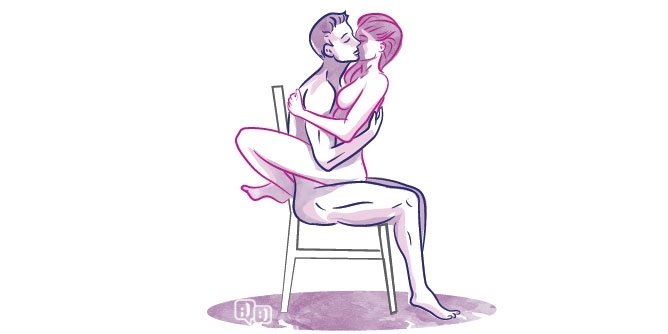 Face Off
For those of us who read the last position and chuckled softly and wept for knees past and stamina lost, there is another way to get this sort of penetration without backs being put at risk and the fear of falling in a messy heap.
She gets him to sit on a high backed chair or the edge of the bed, wraps her arms around him and then climbs on and wraps her legs around him. There's plenty of room for creativity in this position. She can ride up and down by pressing her knees and legs and she's totally in control of the movement and rhythm while he gets back to sit and enjoy. He can assist by grabbing her buttocks to help lift and bounce or leave his hands free to stimulate her upper body erogenous zones.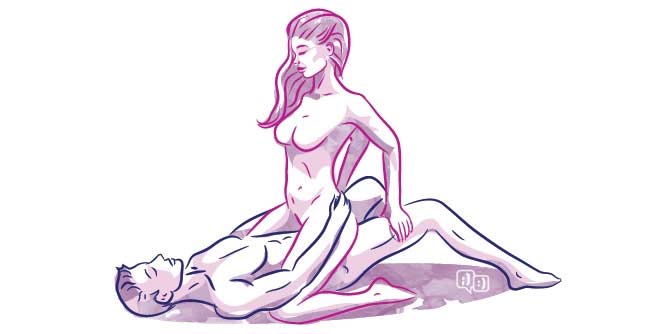 Ride em Cowgirl
Whether sitting or lying down, facing front ways or back, nearly every position you try with her on top will create a deeper feeling for you both. The great thing about women on top positions is that she gets to control the movement and the deepness of the penetration. It can be great for him because he gets to lie/sit back and enjoy the show and great for her because she gets to take charge of her sensations and the speed and rhythm, and because of that it can be a fantastic position for teasing him and drawing out his orgasm.
It's always really important to remember that sex is supposed to be fun and enjoyable. Experimenting with positions is heaps of fun and can be a great way to spice things up, but please always remember to be safe and look after your body. Contorting it and heavy lifting, especially for the inexperienced or the not-as-fit-as-they-used-to-be can be dangerous and physically demanding, and the last thing you want to do is end up in pain (or worse, the emergency room) rather than in delicious afterglow and post sex contentedness.
Copyright © 2023 Eva Sless It is illegal to use any or all of this article without the expressed, written permission from Adult Match Maker and the author. If you wish to use it you must publish the article in its entirety and include the original author, plus links, so that it is clear where the content originated. Failure to do so will result in legal action being taken.
The content posted on this blog is intended for informational purposes only and the opinions or views within each article are not intended to replace professional advice. If you require professional relationship or sexual health advice you should consult with an appropriately trained and qualified specialist.