WTF is Compersion and do you practice it?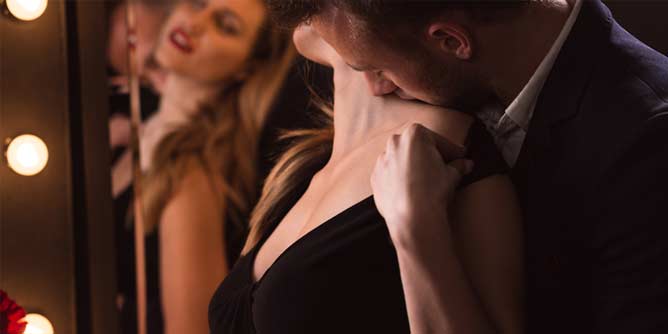 As a writer, I love words. Words and phrases can have the most amazing impact on our lives. Some words can hurt us more than physical injury, others can excite us and make us feel a rush, others can render us sentimental puddles of tears and memories. I love discovering words and their meanings, especially within the bounds of sex and sexuality (whipple tickle anyone?), and so it surprised me that it was only a few years ago I learnt of the word "compersion".
It's not a word that is often used and, even as I type it, Word has put a convenient little red squiggle under it and suggested perhaps I mean "compression"... But I don't.
I mean compersion and it's a thing I'd been thinking about for a long time, before I even knew it had a name.
I remember the first time the thought entered my head and the incredible rush it gave me. I remember wondering if I was some sort of freak or pervert. I wondered if it was something other people thought of. And I wondered what would happen if I voiced that thought.
And what was the thought? I hear you ask...
Well, it occurred to me while a boyfriend and I were fucking in a room that had a large mirror in it. As I watched us in the throes of it I started to think of how sexy it would be to be sitting in a chair across the room watching him do this to someone else.
This, this excitement and pleasure and desire to see your partner with someone else, this is called compersion. It is basically the opposite of jealousy and it can be an amazingly sexy rush.
"[It's the same for us both] she takes pleasure in seeing me have fun. She knows there's no love involved." - Charlie
"When I see him with other girls I love it! I'm a proud voyeur, so watching gets me off." - Michelle
"Watching her enjoying herself like that... The way she watches me watching her... Seriously the horniest thing ever."- Matthew
This was a different thought and rush to the threesome fantasy I enjoyed (and had indulged in with past partners) because this wasn't about me. I wasn't wanting to be involved at all. I just wanted to watch. The very thought of it turned me on to the point of it causing me to come, and it became a regular fantasy thought after that.
I never mentioned it to that boyfriend. He was the sort of guy who got weirded out and jealous of sex toys and the idea that I had ever had sex with anyone other than him, so bringing up that particular fantasy was something that was never gonna happen.
Fast forward a few years to my next boyfriend... Whoa. What a difference my life was. I was working as a receptionist in a brothel, reviewing sex toys for magazines and had learnt a hell of a lot about the world of sex, sexuality, pleasure, and fetish, and had discovered that not only was I not a freak for wanting to see it, but that so many people I knew in my world were into it, and it was pretty "vanilla" in terms of freaky sex thoughts.
In fact there are so many different versions and twists on it within many of the varied sexual lifestyles that are out there. They're all slightly different and not everyone who is in to one is into another. It's interesting that findings from Adult Match Maker's "Under the Covers" survey revealed that 49% of men & 39% of women are turned on by vouyerism.
Like cuckolding for example. That is the practice of men getting turned on by being dominated by their female partners by being made to watch and endure the humiliation of another man pleasuring their wife or partner. It is quite common in submissive men who indulge in the BDSM lifestyle, but not too common in the overall umbrella of compersion.
"my Wife is in charge. i follow. i cannot pleasure her like the other men do, It is all i can do but try and learn something. i am grateful She allows me that and it gives me all the pleasure in the world knowing She is happy and well fucked" - Stanley
Other people, usually referred to as "polyamorous" create life long connections and relationships with others within their primary relationships, often cohabiting and raising families together and the compersion there is often far more involved and meaningful than just a sexual rush (although there is that too).
"We share a life and love with two others and it is never anything but enjoyment and pleasure. Sure we have our ups and downs as all relationships do, but jealousy and especially sexual jealousy just doesn't exist in our life." - Penny
"I think the most wonderful thing you can do is allow your loves the freedom to love. If anything that makes our love stronger." - Harry (one of Penny's partners)
The most common form of compersion is one that Adult Match Maker members are pretty famous for. Yep, you guessed it... Swinging!
Swinging is the act of sharing or swapping partners for a night, or event, or moment, but still keeping a single focus and relationship with one person. There are a bunch of variations within the swinging lifestyle, but the most common similarity between them is that, at the end of the fun, you and your partner are each other's one and only... Til the next play session.
The rush and horniness that can come from watching your partner with another person can be fuel to the fire of your passion for weeks afterwards!
"It is amazing how horny and into each other we are the week after a party. We are both so heightened and excitable. It's better than Viagra, I tell you!" - Kevin
"I can be at my desk at work and an image of him and some chick he was with on the weekend will pop into my head and it's all I can do not to run to the bathroom and rub one out!" - Lucy
"It's just sexy. I don't know how else to describe it. I love watching him fuck other girls. I love watching them love it. I don't know. It's just hot!"- Jill
"She is the best fucking lay I have ever had. It would be a disservice to the world to not share that with people!"- Robert
I think the most important thing I have learnt over the years of sex, sex work, sex writing, and sex research is that there are no right and wrong ways to live your life and indulge in your sexual fantasies. As long as all people involved are consenting adults I just can't see why "society" even needs to have a say in what anyone does.
Yes, I do have to point out that it doesn't always work out the way we imagine and fantasise either, and that is something that needs to be talked about... But we'll leave that for another piece. Today is all about celebrating the awesome sexiness that is your partner looking hot when they're fucking that other person, because, let's face it... They are!
Copyright © 2020 Eva Sless It is illegal to use any or all of this article without the expressed, written permission from Adult Match Maker and the author. If you wish to use it you must publish the article in its entirety and include the original author, plus links, so that it is clear where the content originated. Failure to do so will result in legal action being taken.