If the van's a rockin' don't come knockin'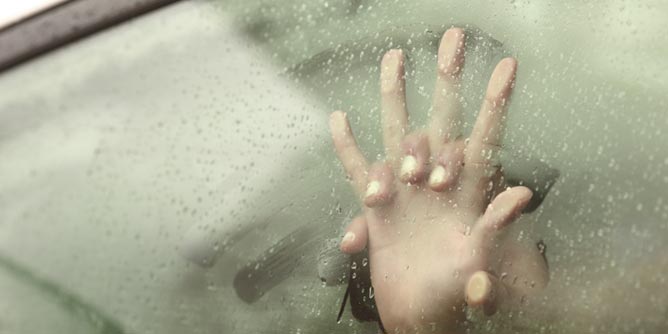 Who remembers the infamous "shaggin' wagon" and the phrase "If the van's a rockin' don't come knockin"? Even if you haven't done it in the back of a Holden Sandman we're guessing there are very few Aussies who haven't been "parking". It's practically an Australian rite of passage.
And don't forget Meat Loaf's "Paradise by the Dashboard Light" was the anthem for a generation of horny teenagers. When I was 18 squishiness and flexibility wasn't an issue as raging hormones pretty much determined my sexual impulses. Keeping in mind that it's probably illegal in every state of Australia, the appeal is obvious. You're horny, you still live with your parents, or you're sneaking around behind your partner's back – a car provides a serviceable, if not small, space to indulge in some PV action. And of course there's always the chance you'll get busted. But that's part of the appeal. Or is that just me?
If you scroll to the bottom of this post you'll see we've created a poll for your feedback and we're interested to see if we get the same result as a small US study which found that sex in a parked car is still a popular pass time. Now we're not talking about dogging, we're talking about having sex in your car because a. You have no other options or b. The idea of sex in your car turns you on.
The University of South Dakota polled 195 male & 511 female university students with a series of 26 questions and found that 61% of men and 58% of women reported engaging in some form of sexual contact in a parked car. Ironically the research came about because psychologist Dr. Cindy Struckman-Johnson PhD is a sex researcher who also studies traffic safety and after a study about texting while driving literally took a detour all roads led to this study.
Previous studies found that sex in parked cars began to decline in the 1970s because of "rising gas prices, the shrinking size of cars, the closing of drive-in theatres, an increase in anti-parking regulations, and advancing urban sprawl," the study's authors wrote. But the research team discovered that sex in a parked car remains a "fundamental coming-of-age phenomenon" today.
Survey respondents reported having sex in a car for the first time around age 17 and 14% even lost their virginity while on four wheels. 48% of respondents only lasted 15 minutes (impressive for 17 year olds) and 5.5% managed to have sex for more than an hour (we're a bit sceptical about that stat too). The back seat was the most popular location for 63% of respondents and 86% of men reported having an orgasm versus 48% of women. And less than 10% of respondents got caught!
In a press release Struckman-Johnson said that parked-car sex is still "a behaviour that's tied to serious dating, which some people think is dying out." Despite Millennials being portrayed as a "hookup generation" 57% of respondents reported that their 4 on the floor antics were with a serious romantic partner.
"Sex and cars have gone together since the car was invented. I don't think society realizes how important the car is," Struckman-Johnson said. "I think [parked-car sex] was judged to be irrelevant, like an old-fashioned behaviour. But really the car is a refuge for young people ... who want to engage in a serious, romantic sexual interlude. I think we've underestimated its importance."
So now it's time to get your input for our Australian poll and we can't wait to see the results.
Copyright © 2018 Adult Match Maker It is illegal to use any or all of this article without the expressed, written permission from Adult Match Maker and the author. If you wish to use it you must publish the article in its entirety and include the original author, plus links, so that it is clear where the content originated. Failure to do so will result in legal action being taken.