Do you dare to hair down there?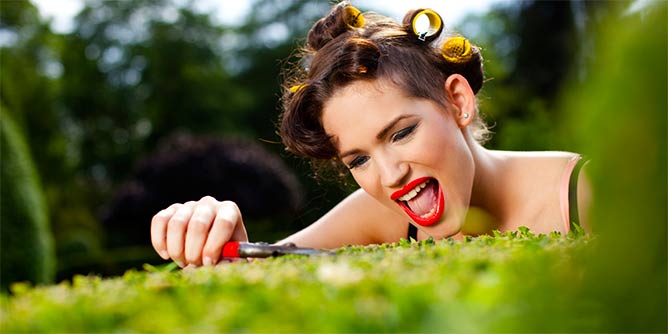 It is an occupational hazard that I often end up shocking the people I am talking to especially if they don't know me well or have just walked into a sex talk with Emma and weren't expecting it. Heads up, if you walk up to my group at lunchtime we will more than likely be talking about sex. We might be discussing consent, what a sex party is like, how to write a good dating profile or techniques for giving head.
However, apparently the most shocking thing for everyone was when I stated that I had pubic hair. My colleagues found this to be my most outrageous comment yet. "Inconceivable" they cried. A woman can't have hair down there! Well, they can. And they do.
I remember when, twenty years or so ago an older, more experienced lover suggested I try shaving my pubic hair. Not all of it, just the undercarriage, as it were. It was shocking and scary and felt amazing when he went down on me again. When I described it to people suggesting they try it I said "you know how when you have just shaved your legs everything feels like silk? Well, imagine a tongue…" Needless to say a few of my more daring girlfriends tried it.
I enjoyed being so risqué, so out there, it was unusual and it wowed the men I slept with. Then it became a bit more mainstream. I got more extreme with the amount I removed at times. Occasionally I would even remove the lot! Shocking! And uncomfortable as it grew back and frankly I thought it looked ugly and like I was a prepubescent girl. Not for me.
And then it became the norm for everyone to wax the lot. All the time. There was a time before this. Historical documents refer to Carrie on Sex in The City accidentally getting one (Season 3, episode 14, 200) and thinking it was too much. "My insides are on my outside" Carrie says. Then they trick Charlotte into getting one too. Maybe that is how it started, one girl getting one, it hurting and then tricking another friend into it as a joke. One of my colleagues has been getting her vulva completely waxed from the age of thirteen. No one else even saw it until she was 16. That was an approximate $1,440 and three years of unnecessary pain and regrowth she did not need to endure. Let alone the rest of her life, a further $20,000 at least if she stops at say 60 and the price doesn't go up.
I personally prefer to shave and to be honest I like to change things up depending on my mood, my preferences that week, my partner's preferences (if they fit with mine). For me, hair down there is for fun and style and shapes and non-conforming. Not for me to pay someone $40 to remove at all times no matter what. At least for a while there was the argument that if men didn't do it why should I? Now, however, male pubic hair is also going the way of women's and disappearing completely. Note, some judicious trimming and grooming has always been a good idea gentlemen.
For a while now the medical articles have been coming out about how we actually need pubic hair. How it is actually healthy for us to have some hair down there and that removing it may make us more susceptible to infections like genital warts and molluscum contagiosum. Removing your pubic hair can also increase the likelihood of boils and abscesses.
Look we know that removing it all at all times without thought is commercialism gone wild. We understand that the continued policing of beauty standards is wrong but I don't see how we convince a bunch of prepubescent girls that that hair that is now growing there isn't gross when the whole world is telling them it is unnatural and young boys have never seen a bush. Of course, they are going to be repulsed by something they find strange and unfamiliar. We have hijacked pubic hair and removed the choice for young people about what they think is sexy for them. That is what bothers me the most. Choice should be just that choice. I never felt I had a true choice about shaving my legs when I was young, it is what all women did. So I started shaving at 13 when there really wasn't any hair yet and no one was looking anyway. Sound familiar? It hasn't been considered feminine to have leg hair for quite some time now, since about the 50's or 60's. To this day, no matter how much I want to get my feminist on I can't bring myself to sport leg hair in public. It saddens me that young girls feel the same way about their pubic hair even though they should feel safe to be individuals and not to conform. By teaching that pubic hair for young men and women is "dirty" and "disgusting" aren't we perpetuating the idea that your genitals are dirty and disgusting and must be sterilised and uniform in appearance to acceptable? Let's celebrate diversity and choice in our expression of our sexuality instead. Dare to hair. Or not. It is up to you. Just put some thought into it.
Copyright © 2020 Emma Sachsse It is illegal to use any or all of this article without the expressed, written permission from Adult Match Maker and the author. If you wish to use it you must publish the article in its entirety and include the original author, plus links, so that it is clear where the content originated. Failure to do so will result in legal action being taken.