10 Reasons Why Sex with a Toy Boy is So Hot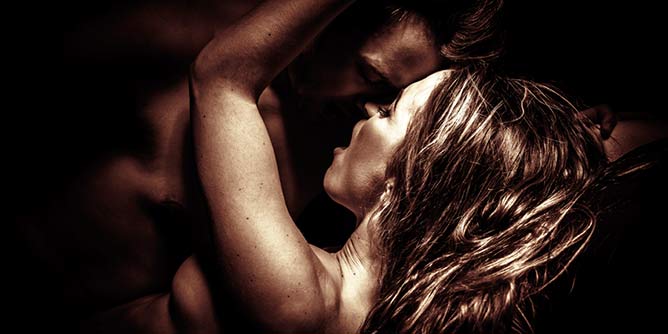 "A girl can wait for the right man to come along but in the meantime that doesn't mean she can't have a wonderful time with all the wrong ones."
We've already touched on why we love the sexual energy and experience of a mature, older woman - now we're turning the tables and taking a good, hard look at some of the sexiest playmates anyone could ask for - toy boys!
According to the Urban Dictionary a toy boy is a "the much younger male partner to an older or middle-aged woman".
We're sorry but this doesn't cut it. We think you're more the " younger lover who adores mature women" or a "passionate younger muse to remind us to spend more time in bed and less at work".
A survey by Prevention Magazine found that a third of Aussie women over 40 admitted they had dated (or bedded) a younger man and we know why. So here's just a taste of why we are so very fond of taking a toy boy to bed - again, and again, and again.
#1 You're exciting
Maybe you've come out of a long-term, boring relationship or you've been busy building your career. Regardless of the reason you now have a hot, willing young man in your bed, or on the beach, or up against a wall. If you make it out of the bedroom you'll find your toy boy is a risk taker (younger men usually are) so prepare for your heart to be in your throat outside of the bedroom too. You'll feel alive and your heart will pump. It's like a sexual roller coaster and you won't want to get off.
#2 You're great for the meantime
Toy boys aren't at the stage of their life where they're looking to settle down. Sure, if they find the right girl it will happen but they're loving life, they're loving sex (with you) and they're not expecting you to make long term plans which include them.
There's no need to introduce him to friends, or your parents - unless you want to - your toy boy relishes alone time with you and, in fact, he probably prefers it. Toy boys are good for the meantime, and that's exactly where they stay.
#3 You aim to please - and you do
We're not implying that an older partner will always be the most experienced one or that a toy boy will be relatively innocent - it's simply that toy boys, in general, are tremendously keen to learn and to please and are generally dedicated to the task. When you have a toy boy between your sheets you have a willing student like no other.
#4 Your stamina
You stay up half the night, wake up for another round of hot sex in the morning, head off to play sport or work the whole day, then still have the energy to come to bed as if you'd done nothing but lay in a hammock all day.
You're more of an energiser bunny than the guys we've dated previously and as long as we send you home every couple of days so we can refuel we're more than happy to be along for the ride.
#5 You're not clingy or demanding
We talked about it in our article In Praise of the Mature Woman but it's worth mentioning again. We're not looking for a boyfriend who is attached to our hip and toy boys aren't expecting anything permanent. So it's the perfect match.
Sex on tap with an adoring younger man who isn't going to sulk when you've made plans with your girlfriends or when you have to travel for work. He can scurry back to his mates, his Fleshlight or the sports channel when you're otherwise occupied and you know he's only a phone call away when you beckon.
#6 You boost our confidence
You love having a sexy confident woman in your arms and in your bed - and you tell us - repeatedly. It's refreshing to have someone younger appreciate our maturity, our outlook on life, our confidence. You're not threatened by us - you're proud of us - and that makes us feel like a goddess, a highly sexual woman who has found someone to match her desires.
Another benefit of your confidence boosting attitude is you make us feel younger and having a toy boy at our beck and call is way more fun than botox.
#7 You're uncomplicated
Any kind of relationship with a toy boy has a good chance of being uncomplicated. Both partners know exactly where they stand, as toy boys are great at making their intentions and feelings clear straight off the bat.
#8 You're playful
You're not dragging your past relationships into our casual relationship so you allow us to escape reality for a brief moment and add a playful or silly side which we might not get from a partner the same age. We love waking up with you and spending the day watching Netflix in bed, or eating jelly shots in bed at 1am or toast at 11am, or doing a nudie dash for a midnight swim.
#9 You won't break our heart
Ladies we're all guilty of going to bed with someone and after 3 dates we think we're in love. It's the way we're made! But there's something about going to bed with a toy boy that's different.
Your eyes meet across the room with a handsome young man who is obviously trying to flirt outrageously or can't keep his eyes off you. After a moment of hesitation - if any - you engage in conversation and most probably decide fairly quickly whose place you're going back to.
At this point you're not thinking past ripping his shirt off and having his hands all over your body. Breakfast - relationship - marriage - kids - they're just not on the agenda and you both know it.
#10 You have technology smarts
If we can teach you a thing or two in the bedroom, you can probably teach us a thing or two about our smart TV or controlling all of our electronics through our iPad. And believe me, that almost gets us as wet as remembering what you can do with your tongue - for hours.
There are so many reasons to love toy boys. With the sex-positive approach to a younger lover, you'll very quickly discover all of these reasons for yourself - that's if you haven't already!
Copyright © 2020 Adult Match Maker It is illegal to use any or all of this article without the expressed, written permission from Adult Match Maker and the author. If you wish to use it you must publish the article in its entirety and include the original author, plus links, so that it is clear where the content originated. Failure to do so will result in legal action being taken.