Why You Need to Indulge in a Summer Sex Fling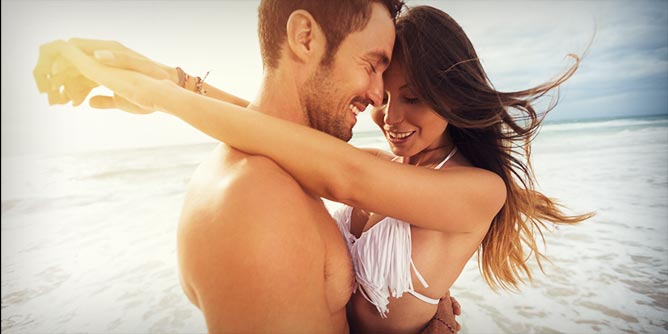 It's arguably the sexiest time of year - you're on holidays, it's perfect beach/cocktail weather and it's hot baby, really, really hot.
And if you're feeling friskier than Sex and the City's Samantha Jones - who famously declared: "I'm a trisexual: I'll try anything once" - a summer sex fling could be in order.
If you can find the right partner, a one-night stand can be a guaranteed confidence booster. Or, if you're even luckier, an extended sex fling over the summer holidays will give you more glow than J-Lo!
I once enjoyed a hot, three-week casual sex fling with a handsome, witty and very charming Irishman - forever to be known as "hot Irish" among my inner friendship circle. It was my summer holiday, I was in my late 20s and single by choice - I was far too busy and fulfilled in my career to pursue a relationship at that particular time -but I was sexually starving.
Enter Hot Irish, a backpacker and builder by trade in his mid 20s, who offered no-strings-attached casual sex and friendship, who was booked to board a plane home in under a month. Perfect!
I'd met him at one of my favourite bars - he was fit, funny and sexy as hell and our bedroom romps were explosive from the get-go. He did have a sweet, but peculiar penchant for yelling: "You're so fine!" at the point of orgasm, but just as this was really starting to prove untenable - driving my then poor, long-suffering flatmate crazy - it was time for him to leave.
Our passionate, three-week summer sex fling was akin to me having used a fabulous human bedroom toy and then put it back on the shelf. The result? I was a much happier, shinier version of myself after all those amazing, health-boosting orgasms. Now, I was really ready to go back to work.
"I love a good sex fling - I've had a few of them before," says Dr Nikki Goldstein, herself a sexy, young singleton and leading Australian sexologist and sex and relationships commentator.
Dr Nikki has also just penned her first book: #singlebutdating: 10 Steps to a More Dateable You, where she arms women with the tools they need to not only survive in the #singlebutdating world, but to revel in it. Isn't that refreshing?
She too is a big believer in the enormous healing and transformative power of a good sex fling. "I feel like sex flings can be really good for you. There's a certain level of validation that comes with them," Dr Nikki says.
"It can be a dangerous sport, but the benefits outweigh the negatives. Often when you're single and dating, it's really hard - you're going through rejection and your self-esteem takes a knock.
"Not that I'm suggesting we should be having sex for validation, but the by-product of a sex fling is that we do start to get a pep back in our step - someone is sexually desiring us. And you've also got the release of these positive sex hormones and endorphins which are going to make us feel much better.
"So, I actually think when you're having a sex fling - you're more appealing in the dating market. You're a happier, more positive person to be around due to all the mental and physical benefits!"
Interestingly, Dr Nikki also believes a sex fling can also ensure you make better, smarter relationship choices by arming us to use our brains over our sex organs.
"This is advice I've given and people have always given me - if you're dating someone and you really like them, but you're trying to hold off on physical intimacy because you want to get to know them and all that - if you're off having sex with someone else, sometimes it keeps you a little bit more clear-minded.
"If you're having sex with someone where there's an established safe emotional boundary - like friends with benefits, for example - but you're still technically single but dating, you might actually be less likely to just go to bed with someone unsuitable on a one-night stand because your sexual needs are being taken care of."
So, ladies and gents - to sum up - sex flings are very, very good for us. They make us healthier, happier and sexier and they boost our capacity to get to know a new partner on a deeper, intellectual level rather than just ripping their clothes off at the first opportunity (er, not that that also doesn't have its place).
Dr Nikki's only words of warning are to not allow yourself to get too emotionally attached to your sex-fling partner. "You have to be honest with yourself about where that boundary is," she says, "When those emotions pop up when you're having casual sex with someone, don't deny it. You might have to go 'This is not the right situation for me.'
"Often, women will get attached, but it doesn't mean it's love. You're just having lots of sex with someone! Sometimes, this knowledge may allow you to relax into a sex fling and not make it more than it is."
Copyright © 2020 Nicole Carrington-Sima It is illegal to use any or all of this article without the expressed, written permission from Adult Match Maker and the author. If you wish to use it you must publish the article in its entirety and include the original author, plus links, so that it is clear where the content originated. Failure to do so will result in legal action being taken.