Why should she have all the fun: the 4 best sex toys for guys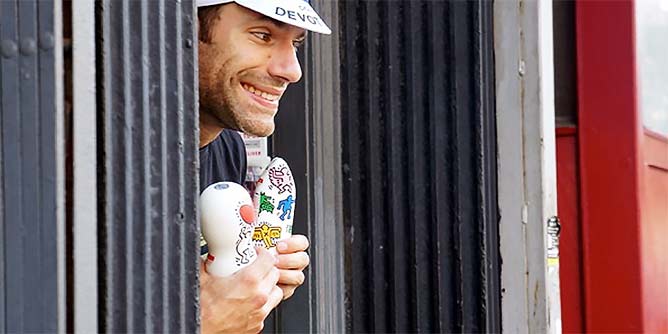 In an era where vibrators for women have heralded a new era in female pleasure, male sex toys remain a dirty little secret.
Well fuck that! Boys have their toys when it comes to cars and tools and everything else, so why not sex toys as well? Here are some of the best sex toys designed for men and why they should be on your bedside table.
Fleshlight
In case you haven't heard of it, Fleshlight is the #1 selling male masturbation toy on the planet. The super-high quality material is designed to - and actually does - replicate the sensation of penetrative sex. The only negative press we've read is that they can be too realistic - really, that's a negative! They are definitely created for maximum sensation - the soft, pliable sleeve is designed with internal ridges and bumps and there's a whole range to choose from.
You get to choose your preferred colour, orifice (yes you can choose, cheeks, mouth, pussy or butt), and then the sensation you prefer. It's like a customised pussy for your individual pleasure. Making the transition from hand to Fleshlight can feel a little strange, but it's one step closer to having real sex.
As the name suggests, they're designed to look like flashlights in case you do want to keep it hidden, and there are added extras you can look out for such as shower mounts so you can stick it to the wall in the shower for added sexy time during your morning routine.
But wait, there's more. Ever wondered what it would be like to have sex with some of the planet's sexiest pornstars? Introducing Fleshlight Girls collection! Each custom-moulded Fleshlight Girls masturbation sleeve is an exact mould of each star's most intimate parts.
And then there's their latest innovation - the Fleshlight LaunchPAD. Attach it to your tablet and prepare for some visual stimulation whilst you use your Fleshlight. You basically get to have sex with your tablet's content. You're welcome!
Tenga
You've got to love the ingenuity of the Japanese, and especially in their creation of the Tenga products. Designed for solo use these quirky sex toys for dudes are designed in the shape of an egg but are most definitely not what you find in your standard egg carton. Simply pop the egg open, remove the soft sleeve from the casing, take the lube out and enjoy.
Tenga are smooth on the outside but inside they have patterned nodules and nubs in different sizes, shapes and textures which simulate well, you know, different kinds of sensations and sex. So instead of just stroking, let your imagination come alive and try twisting, squeezing and pulling to your heart's content for sensations beyond your wildest dreams!
And make sure you check out the other products in the Tenga range.
P-spot stimulators
Prostate stimulation can be one of the most intensely pleasurable sexual feelings a man can experience, with health benefits that continue long after play.
It can be a bit tricky to massage your own prostate so toys designed specifically to target this male erogenous zone are the way to go. And in recent years the range of P-Spot (prostate or male g-spot) toys coming onto the market has increased so you can choose the one which hits the spot, so to speak. You can choose from stimulators in silicone, glass or metal through to vibes with vibrating and pulsing options which will leave you begging for more. There are options for nervous newbies and size queens (of the anal variety). And of course they're designed to avoid those "missing items" we mentioned in our recent article. Always remember to use LOTS of good quality lube and go slowly - it's better to feel your way than rush things the first few times.
More about the benefits of this one - regular prostate massage reduces the risk of prostate cancer, symptoms of erectile dysfunction and nighttime urination as well as increasing seminal fluid and circulation.
Cock ring
It's basically exactly what it sounds like, but it does a lot more than sit there and just look pretty.
A cock ring attaches around either the base of your penis or around the penis and scrotum together. It traps blood inside the penis, keeping your erection so hard you could just about use it to hammer nails. They can keep you from orgasming for longer, and you can experiment with more than one ring for different levels of pleasure. Plus, some even vibrate to add to her pleasure.
Jacqueline Hellyer explains more about cock rings in her YouTube Sexpose
So let's get rid of this taboo subject! Why wouldn't you want to ramp up your sex life, boost your orgasms and get adventurous? You've got nothing to lose and a whole lot of new ways to orgasm to gain. Your only regret will be that you didn't try them sooner.
Copyright © 2020 Adult Match Maker It is illegal to use any or all of this article without the expressed, written permission from Adult Match Maker and the author. If you wish to use it you must publish the article in its entirety and include the original author, plus links, so that it is clear where the content originated. Failure to do so will result in legal action being taken.