Ouch! These are the most common sex injuries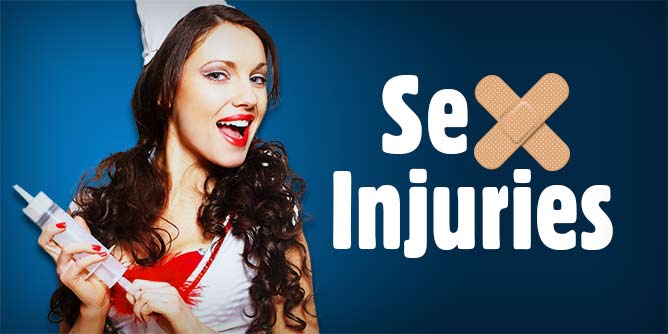 We've all woken up with the odd bruise or scratch from a particularly energetic bout of sex, but for many people, sex injuries can go a little or a lot further than a slight head knock against the headboard.
Missing items
It's all fun and games until the vibrator gets stuck!
In the US sex toy injuries have doubled since 2007 and there was a noticeable spike in 2011/12 believed to be due to the popularity of Fifty Shades of Grey. A study found that vibrators were involved in 74% of injuries, 13% involved dildos, 2% rings, and 11% other.
Missing isn't really the right term. It's more that they're just stuck and you can't get them out.
The problem is more likely with anal play (which account for 78% of "missing" items), as items can just keep going in. Be sure to only use toys that are designed for the anus - you'll notice they have stoppers so they can't "go missing" so you won't find yourself in the emergency room.
Fractured penis
Guys this isn't a joke! This is actually a real thing, and it's probably more common than we'd like to think. It happens when the erect penis is put under so much pressure that the penile corpora buckles - and it can even make a popping sound. And yes, it's as painful as it sounds.
A dedicated team of Brazilian researchers looked into the most common causes and found that the reverse cowgirl position was the number one reason behind it. While we're not going to tell you to stop enjoying the reverse cowgirl, it's a good reminder to be very careful.
Vaginal tears & torn frenulum
Both of these injuries are usually the result of too much friction and not enough lubrication.
Vaginas are tough - but they're not invincible. Vaginal tears or bruising can occur during rough sex or when your body hasn't started to generate enough lubrication before penetration.
The frenulum connects the foreskin to the glans or head of the penis. Lack of lubrication during sex or masturbation can cause it to tear. This can be quite distressing as it typically causes heavy bleeding and, as it's made up of erogenous tissue and is highly sensitive, can result in significant pain.
Fractures, sprains and dislocations
Sex in the shower! What's not to love? The only issue is that slippery surfaces combined with sexual gymnastics can be a dangerous combination.
And lube ... it's great right! Yes, until it ends up on floorboards or tiles and you find yourself flying through the air as soon as your feet touch the floor. We've even heard of a broken ankle when someone fell off the bed whilst indulging in a threesome. Way to go!
Even changing positions in the heat of the moment can be the catalyst for an injury with emergency rooms dealing with broken noses, dislocated fingers and countless embarrassed faces.
Pulled muscles
As much fun as kinky sexual positions might look on paper or in porn, be sure to limber up before you go releasing your inner acrobat. Torn ligaments and pulled muscles aren't uncommon when it comes to bedroom antics, and it's often because that's the only time you're putting your body through sustained periods of movement that aren't quite the norm.
And with our bodies flooded with endorphins at the point of time the injury occurs it's often not until the cool down period or even the next morning we realise the extent of the injury.
Sex can be a sport that's as dangerous as it is fun. You can leave the helmets, knee pads, and mouth guards in the closet, but remember safe sex is about more than just condoms!
Copyright © 2020 Adult Match Maker It is illegal to use any or all of this article without the expressed, written permission from Adult Match Maker and the author. If you wish to use it you must publish the article in its entirety and include the original author, plus links, so that it is clear where the content originated. Failure to do so will result in legal action being taken.