Everything you're bursting to know about Golden Showers!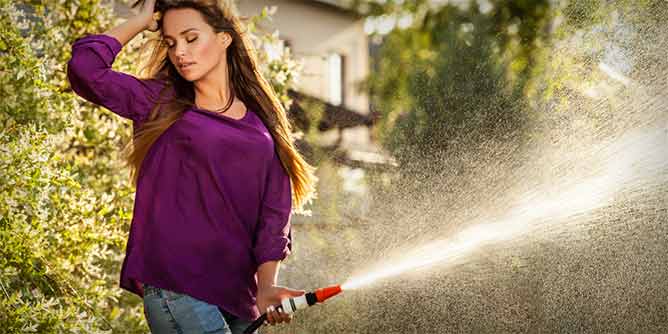 Fetishes fascinate me. They always have. As a "sexpert" I've had the opportunity over the last almost fifteen years to examine, explore and experience other people's fetishes. Sometimes in the name of research, sometimes in the name of fun, but most often a little of the two combined.
In this time I have discovered something about myself. I think I have a fetish. It's a bit of an odd one I think. It's not about anything particularly specific. My fetish is other people's fetishes. Like I said at the start, they absolutely fascinate me. I love finding out what it is that makes someone tick.
What little quirk or kink they need to get to that sexual bliss of satisfaction. And being able to find that place with someone, to give them that ultimate experience, well that turns me on incredibly.
I've had knives run over my body. Been covered in hot wax. I've trampled stiletto heels over a naked man. I've tied and been tied up. Spanked. Had my toes sucked. Been wrapped in plastic wrap so tight I could only just breathe and nothing else. I've dressed men in sexy lingerie. I've been called Mummy. I've knelt, eyes down and called someone Sir. I've worn strap-ons and latex. I've done a lot of things that step away from what we're told is "normal" sex and I've enjoyed every moment. Some I have gone back and played again for my own satisfaction, and others I have put in the "experiences" box, but all of them, for the moment they were happening, was a moment of extreme sexual satisfaction.
There are, however, a few fetishes that I come across that I've never thought about trying. Some of them are either a bit too painful (getting hooked is something I don't think I could try) or they seem (to me) a little bit, well to be blunt, gross. Scat and vomit and blood just don't do it for me. At all. The smell. The hygiene... The smell. No. Without taking away from the fact that some people find it all an extreme turn on, I cannot actually imagine myself being able to even consider those as something I could involve myself in. But then there's the fetish that, as I researched this piece, I realised was far more popular than I had first thought. That so many people I know are into that I only found out about because I wrote a Facebook post asking for opinions on it for this article. That the more I read and talk and learn about, I'm slowly moving from that "gross" pile into a more "hmmm, well maybe I could try that with the right person" pile...
I'm talking about golden showers or "watersports" as they are most often called in polite society.
The act of urinating for sexual pleasure.
I've always kind of got it in a way. I mean, I thought I did. We've all been at the place where you're so busting for a pee that it hurts. When dancing up and down on one foot is the only thing stopping you from releasing a flood onto the supermarket floor and, for some reason, it's never quite as bad as when you're trying to get the key in the lock. And then, when you do finally make it to the toilet, the relief is sublime. It's so good. So satisfying. I could totally understand how some people would relate that feeling to one of sexual release and relief. I never thought of it that way myself, but I totally understood why and how some people would. But as I researched and spoke to more and more people I found it's actually more than that. Like all fetishes it most often stems from something far more primal and deep that just the relief of letting go.
"It's the taboo of it. It's so dirty and bad that it's sexy as fuck. Like being told you can't have a biscuit but you have one anyway. Sneaky biscuits are always better. It's kind of like that" - Jane
"I remember being very little and playing with myself as I went to the toilet. There was something in that feeling that just grew and grew as I got older and now just the thought of peeing makes me horny" - Sarah
"I like the humiliation of it. The fact that she can do anything she likes to me. Being in that submissive place is a place of bliss. It's like being spanked or any kind of sub act. It's my pleasure to be her toy. It's the ultimate arousal" - John
"I love it as part of 'age play'. Whether I'm being the Big or the little doesn't matter. Peeing is such a natural act and one that releases us in similar ways that orgasming does. Sometimes a really good, satisfying pee is better than an orgasm." - Kate
"I love the warmth of it. All over me. It's comforting and satisfying. Having her kneel above me and release that flow... It's like dirty, sexy grade A satisfaction. I'm hers and she's mine and I guess it's a bit like marking territory." - David
Another thing I found out that I'd never really thought about before is that getting started on your golden shower journey is not as easy as you'd think.
I mean first, because of the taboo and the common thought that pee is not sexy, bringing it up with a partner is not often easy. If you thought "hey baby I want you to tie me up and spank me" was a difficult conversation to have, try "hey baby, I want you to pee all over me and then I want to do it to you".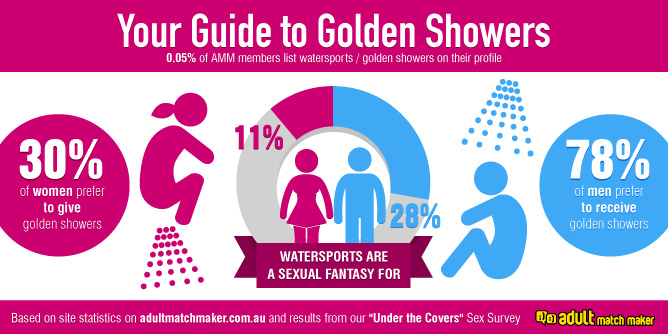 When Adult Match Maker conducted their Under the Covers Sex Survey they found that watersports rated pretty high when it came to sexual fantasies with 28% of Aussie blokes and 11% of Aussie women admitting it was on their fantasy list. But when it comes to our online dating profiles we're a little more conservative with only 0.05% of Adult Match Maker members listing watersports (prefer to give, prefer to receive, give or receive, would like to try) on their profiles. C'mon, we didn't know you were the shy types!
We, as humans, have been overwhelmed with preconceived idea of what is sexy and what is not, so breaking down those barriers and stepping into new territory can be a scary and unknown place. This is where trust and open communication becomes imperative. There are many ways to bring up new ideas into your bedroom play in a non-confronting way. Probably the best is to be watching or reading something that involves your fantasies with your partner. Mention that you've always been curious, gauge their reactions, see where the conversation takes you.
On the other side of that, if your partner brings up something that you may find slightly confronting or not your thing, remember that sometimes it isn't actually about you. That in a relationship or sexual partnership part of the satisfaction you receive from the experience is the knowledge that your partner is satisfied. Think about it like that. That this is your gift to them because you care about their sexual gratification just as much as your own.
Another thing that can halt your journey is something I never even thought of until talking to people about this. Pee anxiety. You know, like those times when you're in a public loo and someone sits in the stall next to you and no matter how busting you were when you walked in you just can't go? Well that happens in watersports a lot too. It can be ultra frustrating to both the pee-er and the pee-ee. The inability to go is not just the stage fright, it's also how our bodies work. Being aroused in both male and females means the urethra closes off (which is why it's so hard for men to pee when they have an erection) so it can be rather a balancing act in getting the two at the right spot. The key to this, I am told, is to relax and try not to think about it so much, and to be super well hydrated. Like heaps. To the point of bursting. Especially at the start of your foray into it. You can slowly train your body to obey your commands, but it does take quite a bit of practise, so be patient.
Ultimately, as with anything new, take it slowly. You don't have to go dousing your partner's face in urine the first time you try. Let the situation flow (pardon the pun) in a natural way. Be prepared and have loads of towels or plastic sheeting around, or try it in the shower as part of a steamy wet sex session. Remember that even though urine is sterile, it's only sterile if the person is healthy. It can still carry infections and STIs so be aware of the health risks as you would in any sex situation. And overall, have fun! Sex and sexual situations are supposed to be fun and satisfying, so get out there, explore, discover and experiment. You never know, you might just find you like it!
Copyright © 2020 Eva Sless It is illegal to use any or all of this article without the expressed, written permission from Adult Match Maker and the author. If you wish to use it you must publish the article in its entirety and include the original author, plus links, so that it is clear where the content originated. Failure to do so will result in legal action being taken.