Nice Guys vs. Bad Boys: Who really finishes last?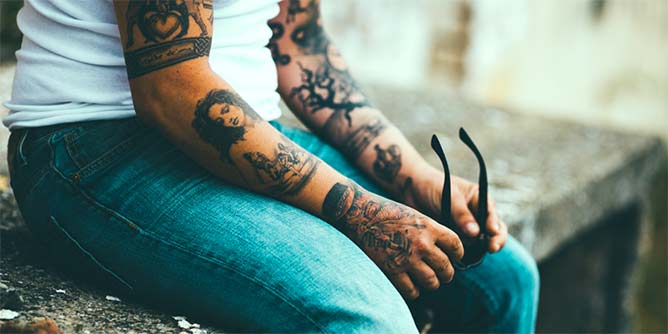 "Bad boys, bad boys, what you gunna do when they come for you?"
You know who you are, and you know that the women really will come for you.
Are you a bad boy?
It can be tough to put a finger on exactly what it is that makes a bad boy. The definition seems to change from one man to the next, and from one woman's opinion to the next, too.
Could it be the hair, the casual tattoos, the badass clothes, or the motorbike? Those are certainly the clichés, but what really makes a bad boy seems to be a magnetic mix of the right attitude, that silver tongue, and the slight air of mystery that surrounds him.
When researchers at the University of Durham asked 128 female undergrads to answer questions about how attractive they found a man's personality to be, the results showed that the women were far more attracted to the 'bad boy' group than the standard control group used in the study. The 'bad boys' were those with a "dirty dozen" personality traits that included manipulation, a desire for attention, a lack of remorse, cynicism, and other unfavourable characteristics.
So why the hell would women be attracted to a guy that, to be honest, sounds like a total dick?
The Durham University study had a couple of suggestions.
Possible answer one: The women could be attracted to how 'manly' these guys appear to be. This is a deep-founded desire for good reproduction, where the bad boys of the world show more confidence, stubbornness, and risk-taking tendencies - making them that much more masculine and, therefore, appealing for mating.
Possible answer two: The researchers likened the situation to those of used-car salesmen. While you know that they might not be the most genuine human on the planet, there's no denying they know how to sell themselves and be as charming as they need to be to seal the deal. The researchers called this theory 'sexual conflict', and suggested that bad boys are simply better at selling themselves.
Can a nice guy be a bad boy?
But here's the good news - just because someone appears to be something of a bad boy, it doesn't necessarily mean he's going to mess a woman around. It's entirely possible (and arguably even more attractive) for a bad boy to be a good man overall. Just because a guy respects and cares for women doesn't mean he can't enjoy all the benefits of being a bad boy, too.
And by benefits, we mean wild hot sex. Lots of it.
A decent man with a bad boy image and plenty of sex positivity is just about guaranteed to have women coming for you … so do you know what you'll do when they come for you?
Copyright © 2020 Adult Match Maker It is illegal to use any or all of this article without the expressed, written permission from Adult Match Maker and the author. If you wish to use it you must publish the article in its entirety and include the original author, plus links, so that it is clear where the content originated. Failure to do so will result in legal action being taken.