How to help her love blow jobs as much as you do!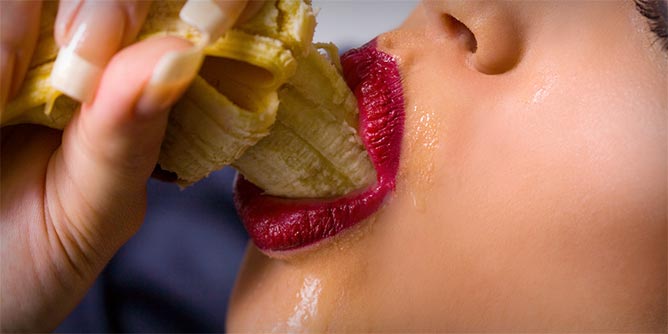 If there were a few simple boxes you could tick to suddenly make your partner give up all her usual hobbies and take up sucking you off instead, there would be a lot more guys walking around with goofy grins on their faces.
Sadly, it's a little more complicated than that. Here are some of the more common concerns and how you can potentially resolve them.
Hygiene
This is generally top of the list on a blow job flow chart. Nothing will dampen her enthusiasm more than if she's heading towards your crotch and gets a heady whiff of sweaty balls or has to pull aside dirty underwear with urine stains.
Why not take foreplay to the bathroom and suggest showering together? Not only will it guarantee that she knows you're squeaky clean, it could turn into some wet'n'wild fun and you might not even make it to the bedroom!
The taste
First things first here, take the pressure off and let her know that unless she's comfortable with it, she doesn't have to finish you off in her mouth. A BJ can be part of foreplay or you can opt to ejaculate somewhere else on her body. And if she doesn't want you to come in her mouth - don't! Trying to "sneak one in" is immature and doesn't encourage her to trust that you won't do it again. So be respectful of her limits and give her plenty of warning when you're on the path of no return so you can shift to Plan B.
Diet can have a major impact on the taste of your come. Former porn actress, Annie Sprinkle claimed that vegetarians taste best and that eating fruit or drinking fruit juice a couple of hours before sex improves the taste. There's plenty of evidence that meat, nicotine, alcohol, coffee and asparagus make semen less palatable. One couple even conducted their own taste tests and published the results.
While there is no conclusive scientific evidence, fruit juices such as pineapple or cranberry may help as they make the body's pH more acidic, counteracting the alkalinity of semen that contributes to its "bleachy" quality.
Of course flavoured condoms are an option too - there are edible lubricants and body paints which can all help disguise the taste plus add some fun. Our favourite adult store, Max Black, recommends Candiland Sensuals Massage Gels which come in a variety of flavours and are safe to ingest.
Unintentional tooth floss
We touched on this in our article The Bush is Back.
Phillips conducted a global survey in 2010 and the Australian results found that one in four women find ungroomed pubic hair on men a big turn off. 23% of Australian women would like a bit of a trim, 20% like it neatly groomed and trimmed short, and 5% want it completely bare.
So while most women won't care if you're a bit hairy down there, no one likes a pubic hair that gets stuck between the teeth. You don't have to go for the full Brazilian, but a little manscaping is to be encouraged.
Porn is porn
Porn stars might be able to give head for hours but we should remind you that it's not realistic! Don't try to fuck her face, thrust your hips towards her or hold her head in position so she can't move or breathe. In other words, let her be in control.
And let's not get started on deep throating! If she starts to gag then pull back and let her continue at her own pace.
Make sure she understands that swirling her tongue around the tip of your penis and running her tongue down the shaft is every bit as pleasurable for you. You want her to enjoy this experience and until she's more confident, keep the porn star moves on the screen where they belong.
Logistics
Giving a blowjob takes a fair amount of physical stamina. Specifically, keeping her jaw in that position for any length of time can become challenging, if not quite painful. If she pulls away for a moment to relax her jaw to ease the tension, be patient and let her continue in her own time.
If you feel her tensing (and wondering if you're ever going to come) then take the hint and perhaps take her hand in yours and move it towards your penis. Show by example how hard and fast you prefer. If she understands that sucking you off doesn't have to be the goal for every BJ she'll relax more as it removes some of the pressure.
Sometimes women aren't sure they can get you from flaccid to throbbing so try to be a little bit erect before starting.
And if you feel yourself losing your erection (and it does happen) we suggest switching it up, ie offer to go down on her, swap positions, tell her you'd love to watch her pleasure herself. Basically anything to distract from the moment so she doesn't feel she's done something to cause it.
Talk it up
Women who enjoy giving BJs get pleasure from giving pleasure. So make sure she knows that you're REALLY enjoying her lips around your penis. Keep the compliments flowing or perhaps some subtle dirty talk about how much you're enjoying what she's doing, how good she looks while doing it, and how incredible it's making you feel. When you lose the ability to speak, grunts and moans are perfectly good as well. There's nothing a lady likes more than hearing that she's pleasing her partner although a word of warning don't compare her to previous lovers, ie. "you do that so much better than XYZ did". This is a fast track to zero blowjobs, possibly zero sex, and probably a stint on the couch as well.
Your positive feedback will build your partner's confidence. Let's face it, high school Sex Ed classes don't typically take you through the logistics of a blow job. Many women aren't confident that they're doing it right. After all they don't have a penis, just like we don't have a clit and we all know how confusing that little button can be. What they don't realise is the fact that they're naked (or partly naked) and in our bed and willing to have sex with us is a turn on in itself, the BJ is just the whipped cream on the cake.
Mind your manners
Women who enjoy giving BJs tend to be sexually satisfied themselves. So think of it like being out for a drink with friends - they shout a round, it's only polite that you reciprocate. And who doesn't want a horny and grateful woman in their bed!
A genuine "thank you" might sound corny but it only takes a second and it's cheaper than flowers - and she'll know you haven't taken her efforts for granted.
Basically, it's going to take lots of encouragement and some open conversations about what it is that she doesn't like, and how you can help navigate your way around that so you both get to enjoy yourselves in bed.
So there you have it, gentlemen. We hope some or all of the above help her to love blow jobs as much as you do!
Copyright © 2020 Adult Match Maker It is illegal to use any or all of this article without the expressed, written permission from Adult Match Maker and the author. If you wish to use it you must publish the article in its entirety and include the original author, plus links, so that it is clear where the content originated. Failure to do so will result in legal action being taken.