6 Things Sex Positive People are Sick of Hearing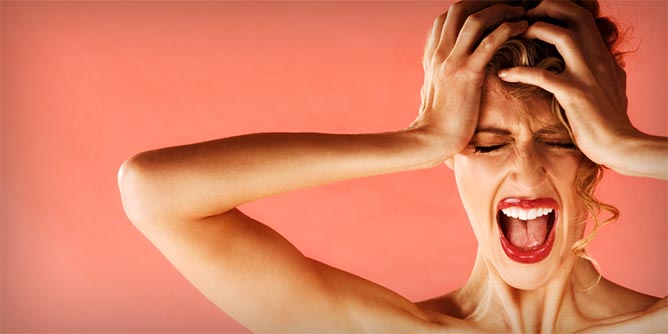 Sex positive people are often about as well understood as your average algebra equation.
Let's start off with what it means to be sex positive. Here's a hint: The fact that you're reading this probably indicates you're sex positive.
It means you believe sex is a thoroughly enjoyable, pleasurable and healthy activity. It means you believe in consent and safe sex, and it means that it doesn't matter what kind of sex you're into (kinky, vanilla, swinging, exhibitionist - whatever), or how many partners you have, so long as you're safe and happy about it!
Some people don't quite understand this social movement, and it's often those same people who are quite curious about sex positive people and what they think, in their minds, it means they get up to. So here are a few questions we're pretty sure we've all been asked.
Does that mean you just sleep around a lot?
"Sleeping around" has quite negative connotations, which is the total opposite of what sex positivity is all about. Also, "a lot" can be quite subjective - does it relate to the number of times we have sex or our magic "number" (which they're probably assuming is triple digits).
We all have our dry spells - even sex positive people. Sex positivity is a way of thinking more than it is a way of living, so it's not about being promiscuous. We're probably having just as much sex as everyone else!
Does being sex positive mean you can cheat?
Definitely not. If you are sex positive and in a relationship, you may be open to less traditional sex (such as inviting another couple or a third person to the bedroom), or you might even have an open relationship. But it goes without saying that you would be totally honest with your partner about expectations and desires, and if you choose to be monogamous or fluid bonded with one partner then that doesn't mean you're not sex positive. You can choose to be celibate and still be sex positive.
Do you have lots of kinky sex?
Everyone has their own likes and dislikes. Being sex positive means you're probably open to trying new and kinky things such as bondage or voyeurism, but this is just as much down to the individual as it is for anyone else.
How do you find other sex positive people?
It's a mindset, not a sexual preference! Obviously if you're on Adult Match Maker we hope that the majority of people in our sexy community live by the mantra "sex positivity is good".
With new partners you should have an honest discussion to make sure you're on the same page and listening to their language will usually reveal any sticking points. But let's face it, if you meet someone at a bisexual kinky play party (for example), one of their best friends is trans, or they're on the organising committee for Slut Walk, you'd be pretty safe assuming they're sex positive.
Is there such a thing as sex negative?
Yes, there most definitely is! They're usually just known as prudes, and are basically against sexual activity (aka, anything fun). They see sex as a bad thing, not discussed in polite company, and with a few exceptions against anything other than vanilla sex between a man and wife. Masturbation is a no, threesomes are a no, and BDSM is definitely a no.
To be honest, if you're sex negative and are still reading this, you're doing pretty damn well!
Don't you get more STDs?
We wouldn't be surprised if sex positive people had fewer STDs. It's hard to track, but the fact that safe sex is such a large part of this social movement may mean that there are more cases of infections in those who aren't as committed to using protection. Sex positive people love sex, so there's no point in ruining it with a case of Chlamydia!
Everyone has things they get tired of hearing. Who hasn't been that person who gets asked over and over when they're going to meet someone nice/walk down the aisle/hear the pitter patter of tiny feet? For sex positive people, this just adds a whole new array of repetitive questions and comments. For the most part however, any polite and non-judgemental question will be met with a well-thought out and insightful response.
Copyright © 2020 Adult Match Maker It is illegal to use any or all of this article without the expressed, written permission from Adult Match Maker and the author. If you wish to use it you must publish the article in its entirety and include the original author, plus links, so that it is clear where the content originated. Failure to do so will result in legal action being taken.