Let's Bust Some Myths about Sex After 50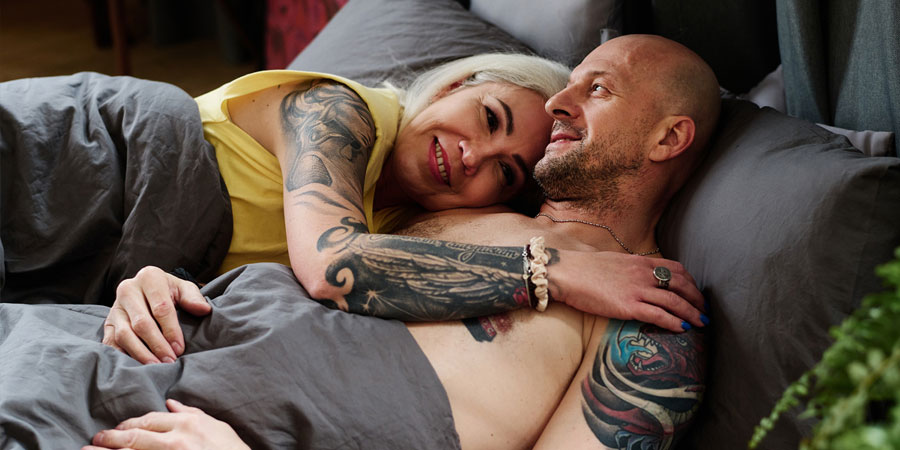 There's a pervading myth that once you hit a certain age sex and all things related to it become unimportant, unnecessary, and unwanted but that's simply not true. Our sexpert breaks down the most common myths surrounding sex over fifty.
Getting older is a bit of a trip. Everything you thought you knew in your twenties and thirties has changed or evolved. Your priorities have shifted and your personality has grown, and for so many of us we begin entering a new age of sex and sexuality.
It's a time when many people find themselves suddenly single after decades of partnership. It's a time when (women especially) begin shedding the shackles of parenthood, housekeeping, and looking after every other person but themselves. It's a time when men are rethinking their health, and often becoming far more aware of body image (balding, dad bods, erectile issues). It's a new time and a new place in the journey of life, and one that is rife with the lies you told yourself about "old people" and sex when you were young.
Yes, lies. Well at least a bunch of misinformation and urban myth. So let's tackle some of the more common myths about sex after fifty, so you can stop worrying, and start getting your over-fifty playtime on.
Menopause makes women hate sex
When it comes to the medical field, and more specifically the research and resources put into women's reproductive health, there are serious deficiencies. For centuries no one really cared about what happened to women's bits after their boobs sagged and their baby-making capabilities dried up, and so the very real hormonal, physical, and mental side effects of menopause were put down to hysteria and nagging and it's really no wonder women didn't want to fuck their husbands anymore. But the thing is, while yes the changes in your body (and the world's attitudes to older women) can make arousal, libido, and desire lessen, the actual want for intimacy and sexual pleasure is still very much a priority for many women of a certain age. And with the newer and more specific medical areas focusing on women's health, especially hormonal and reproductive health, there are now many, many more very happy, sexy, horny and satisfied women entering their next phase in sexy times.
Old men can't get it up
Look first, fifty is not old, and secondly this is mostly bullshit. I mean yes, because of the changes in hormones and general physical wear and tear, some people might start to find their erections changing over time. They might take a bit longer to get as hard as they once did, or might not last as long - or end up lasting longer - and maybe you're out of breath a little quicker than you remember, and what happened to your knees?? But overall, if there aren't any underlying medical issues (please start getting your prostate regularly checked if you're not already, it can be done now with a non-invasive blood test) most men find that sex over fifty, while maybe a little slower and less acrobatic, is just as fun and enjoyable as it always was.
Old people don't find old people sexy
You can tell a young person came up with that because it's just dumb. Life, time, aging, all that stuff is relative. For example, when I was a teenager I was so madly in love with Edward Furlong from T2 I couldn't even deal... Recently I found an old poster while moving house and omg HE IS A CHILD and I felt a little uncomfortable in the memory. Similarly when I was around that same age Sean Connery in Indiana Jones was old and wrinkly and ewww... but when I watch it now... Mmm why hello, you silver fox, come discover my holy chasm! But in all seriousness, if you, as a fifty year old, are still attracted to the same people you were attracted to in your teens, you might want to reassess a few things.
Can't get pregnant, don't need a condom
False false omg so false. Did you know one of the fastest growing demographics to be infected with STIs are senior citizens in nursing homes? Now I know at fifty you're still a few years away from the old folks home, but you are still very, very capable of getting and spreading STIs. Especially those newly single, haven't-been-on-a-date-since-the-nineties-and-forgot-how-to-casual-sex people. The world is a bit different now. More aware. More, dare I say it, woke.
Sex isn't just for the young, beautiful, and flexible, it's for anyone who wants to have it (with consenting parties of course) and it's the responsibility of all involved to take care of their own sexual health, as well as protecting the health of those they sleep with. So put it on before you get it on.
Less sex means less love
As I've mentioned a number of times in this piece, getting older changes you, and for many people, especially those in long term relationships, that absolutely can include sex and the frequency in which you partake, but that's not necessarily a bad thing.
It doesn't mean you and your partner have run your course, or that they don't find you attractive or arousing any more. Yes, massive sexual incompatibilities can be a problem in relationships and there are steps you can take to address those, but just slowing down on the physical sex a bit doesn't have any correlation to feelings and emotions and in fact can often show a very strong bond between people who find intimacy and connection in myriad ways other than the physical.
Yes, life is different when you get older, but moving and growing with it is part of the beauty and wonder that surrounds our existence. Don't try and dig your heels in to a time and age you've outgrown, all that will do is stunt you. Evolve and thrive in your new chapter. You deserve it after all these years.
Copyright © 2023 Eva Sless It is illegal to use any or all of this article without the expressed, written permission from Adult Match Maker and the author. If you wish to use it you must publish the article in its entirety and include the original author, plus links, so that it is clear where the content originated. Failure to do so will result in legal action being taken.
The content posted on this blog is intended for informational purposes only and the opinions or views within each article are not intended to replace professional advice. If you require professional relationship or sexual health advice you should consult with an appropriately trained and qualified specialist.