Why do you want to be a cuckold?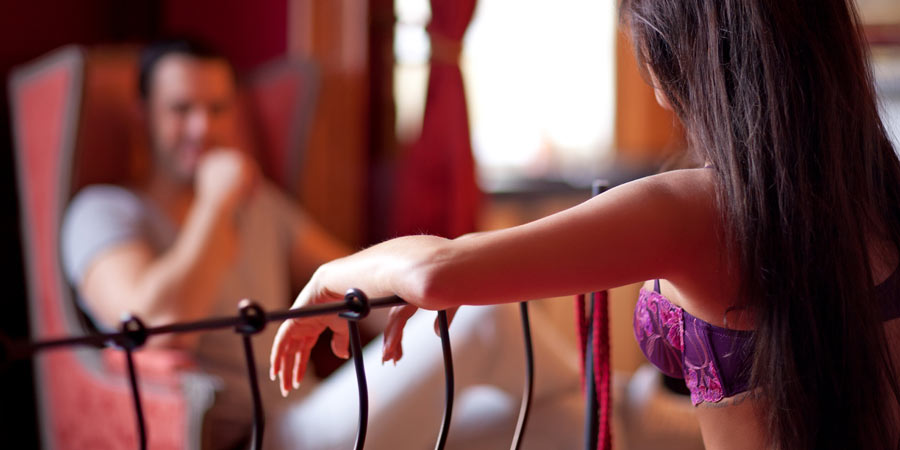 While the term cuckolding dates back to around the 13th Century, for most people in today's world it's a pretty new and strange concept, and one that's surrounded by all the usual taboo and misinformation that sex, especially kinky, out-of-the-box sex, is.
Originally it referred to men who had adulterous wives who would run around behind their backs, but these days, while it's still sort of the same definition, there is far more consent (even if it's consensually non-consensual) involved by every person involved in the play.
Generally a cuckold is a submissive male whose wife (the hotwife or cuckoldress) gets her sexual pleasure and satisfaction from another man (the bull). Quite often there is a humiliation aspect to the kink, with the cuck having to watch or be told later of his wife's exploits with another man. There are some D/s relationships involving the man directing his submissive wife and then there's the recently coined term Vixen & Stag where the man proudly shares his wife and is not viewed as submissive but equal.
So what is it all about? I mean sure the hotwife and the bull get their rocks off... But what's in it for the cuckold?
Ego Boost
You may think that being on the submissive end of a humiliation session where you don't even get your bits touched or acknowledged wouldn't come under the heading of "ego boost" but for many people who experience compersion (the opposite of jealousy) it is just that. The pride and pleasure they receive from watching their partner enjoying themselves is immense. If you also, on top of that, have a bit of a humiliation or submissive side, then adding that into the compersion mix can be mind-blowingly erotic, and sit in the fantasy pocket of your brain for many years to come.
Voyeuristic Intention
Watching, listening, wanting, aching... Voyeurism is a huge kink or turn on for many people, even for some of us who don't really realise it's voyeurism (like watching porn or getting a fizzy tummy seeing a couple kiss in public) and for those who really do get off on watching other people cuckolding can be a great way to indulge that. The majority (but not all) of cuckolding fetishes rely on the cuckold actually being there, in the room, watching his wife get fucked by someone else. Often he is not allowed to touch, talk, or even be seen, but they both know he's there watching... and he knows they know he's there, and that submissive voyeurism can be a very powerful mindset indeed.
Tantalising Taboo
Oh how sexy is taboo. How deliciously debauched and naughty is the idea of being a little bit nasty. A little bit dirty. A little bit bad. For many men the general consensus by society on "how to be a real man" is thrust so heavily upon them that it hurts. While there is nothing inherently wrong with masculinity itself, there are often some very toxic elements to how it is performed or expected to be performed, and that can be incredibly damaging to all of us, regardless of gender. Being able to completely let that go and become the very opposite of what society expects of you can be not only completely freeing and liberating, it can also be sexy as fuck. Many, many cuckolds, while being incredibly important and "manly" in their business and/or social roles, prefer to let go and throw all of that out of the window when it comes to their sex lives and utterly immerse themselves in submission and humiliation.
Safe Space
Kinks and fetishes can be a pretty scary and confusing thing to people, and I mean to the people who have them. Knowing the things that arouse you and turn you on are mostly looked at as weird, freaky, or downright terrifying to others can be a really hard thing to deal with, especially when wanting to form long-term, strong relationships with people. Having someone indulge those things for you, and explore those kinks with you, can be life-affirming and life-saving, and for so many men, having a fetish that leans towards the opposite end of the "masculinity scale" can be an incredibly tough barrier towards accepting and loving themselves, which is something we should all be able to do.
While sure, it's not for everyone, cuckolding really can be an amazingly powerful and liberating experience for many men and should be treated with the same respect as any kink or fetish. Just because it might not be your thing, doesn't mean it's wrong or bad, it just means it's not your thing. And for those of you who do love it, we hope your fantasies and kinks are always indulged... even if you are a worthless, small-dicked cuck (wink wink).
Copyright © 2023 Eva Sless It is illegal to use any or all of this article without the expressed, written permission from Adult Match Maker and the author. If you wish to use it you must publish the article in its entirety and include the original author, plus links, so that it is clear where the content originated. Failure to do so will result in legal action being taken.
The content posted on this blog is intended for informational purposes only and the opinions or views within each article are not intended to replace professional advice. If you require professional relationship or sexual health advice you should consult with an appropriately trained and qualified specialist.