Stepping off the sex escalator is the key to great sex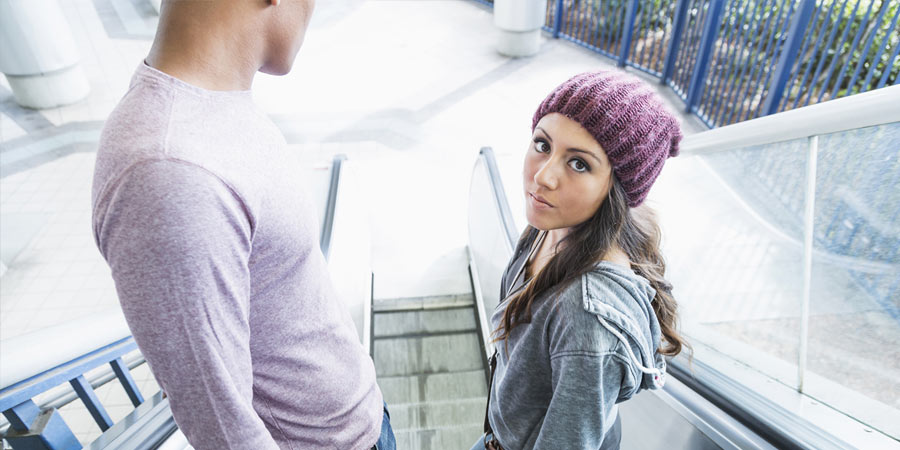 Ever feel as though your sex life might be a little… predictable?
It's happened to me. I sometimes find myself on a date with someone who seems perfect: smart, funny, stylish, and confident. But once we get home and our clothes come off, everything changes. The sex is mechanical and lacks excitement. It's over all too soon. As I roll over and go to sleep, I think 'was that even worth it?'
When sex is unremarkable, we often blame ourselves. But if you feel uninspired in the bedroom, you could be trapped on the 'sex escalator' – the unspoken script that dictates most of our sexual interactions. To achieve mind-blowing sex, it's essential to find another way.
For most folks, there's a strict order to seduction and sex. It's the script of almost every movie sex scene – or porno - we've watched in the past. If someone asks you out, you're supposed to go on a date with them. If someone asks you to come home with them, you're supposed to have sex. And when we do have sex, it follows the same pattern every time: making out, oral sex, intercourse, orgasm.
Sex feels safer when we stick to the script. When we only do exactly what's expected, there's less risk of offending or surprising our partners. But there are LOTS of disadvantages to being on the escalator:
Predictable sex makes us switch off. Have you ever driven to work in the morning, then realised you can't remember a single detail of the journey? Taking the same route every time means we stop paying attention to where we're going. Sex is no different – when we think we know what's going to happen next, we tune out and forget to make an effort.
We don't get to ask for what we want. When we stick to the script, we feel as though we can't request what we really need. You might long for a back massage or some slow, sexy mutual masturbation, but feel awkward bringing it up… So you keep on doing the same old sex moves, even though you could be having much more fun.
We feel pressured to go too fast. The sex escalator pulls us along, without respect to how far or fast we really want to go. You might start making out with someone and feel as though you're obligated to invite them home… or you might prefer to spend hours on foreplay but feel pressured to move straight to the sex. All this rushing means we're not taking the time to savour the sexual experiences we enjoy. And when we feel pressured to do things we don't want, that makes for some really shit sex.
How to Get Off the Escalator
Now that we know the sex escalator is a problem, how to get off? It might seem like a big ask – after all, sex can be nerve-wracking, and doing anything out of the ordinary might leave you feeling super anxious. The good news is that breaking up the routine is easy, if you have a few ideas prepared beforehand.
Here are my tried-and-true techniques for escaping the escalator and making sex great again:
Let yourself off the hook, and your partners too. Part of the reason we tend to do the same stuff over and over is because we're so afraid of looking awkward. Trying new things comes with a risk – what if it doesn't work out? What if I try something and my partner doesn't like it? But the truth is, sex isn't supposed to be perfect. We all like different things, and all look silly sometimes. The sooner we accept this and chill the fuck out, the sooner we can get on with doing the things we really want, rather than feeling uptight.
Slow down. My number-one tip for great sex is to take a deep breath and slow everything down. When we feel nervous it's easy to rush anxiously from one sexual activity to the next, without taking the time to enjoy anything. But when you go slowly, you can focus on every touch, kiss, and sensation. Your partners will notice the difference too – a slow, mindful touch is always almost more enjoyable than a fast, grabby one.
Don't be afraid to ask. Talking about sex sometimes feels awkward – but unless we ask, we just don't know. Everyone is different in what they enjoy… and you never know, your partner might be into something you'll both enjoy. I like to ask, "How does that feel?" If I'm feeling adventurous, I might say, "How could this be even better?" Good sex is all about teamwork, and to work together you both need to communicate.
Good sex isn't about being perfect; it just requires willingness to do things a little differently. Why not step off the sex escalator? If your experience is anything like mine, you'll never want to return to doing sex the same old way again.
Copyright © 2023 Georgie Wolf It is illegal to use any or all of this article without the expressed, written permission from Adult Match Maker and the author. If you wish to use it you must publish the article in its entirety and include the original author, plus links, so that it is clear where the content originated. Failure to do so will result in legal action being taken.
The content posted on this blog is intended for informational purposes only and the opinions or views within each article are not intended to replace professional advice. If you require professional relationship or sexual health advice you should consult with an appropriately trained and qualified specialist.