5 Perfect Gifts for Valentine's Day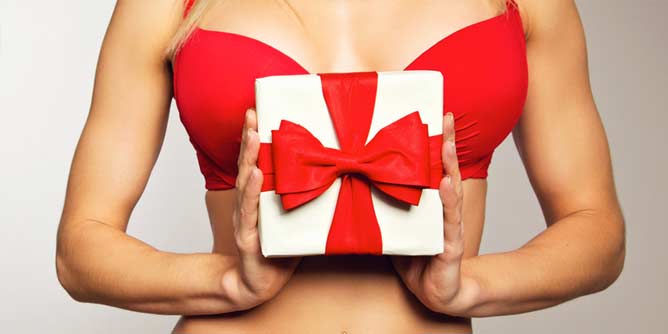 Valentine's Day, the day for lovers, is fast approaching and we know many of our members love to make the day super special and super sexy for their partners. This year, instead of crappy servo flowers or an overpriced watch they may never wear, we thought we'd compile a list of some of the sexiest toys, games and accessories for couples to gift each other and share to make this Valentine's Day the sexiest one yet!
The We-Vibe
There is a reason the We-Vibe is one of the world's highest selling sex toys. Coming in a few different styles this is a "C-shaped" sex toy that has the thicker end inserted into the vagina and the thinner end resting against the clitoris. During PIV (penis in vagina) sex both the penis and G-spot are stimulated, as well as the clitoris. They are powerful and have long-lasting batteries, and several versions even hook up to an app that allows you to customise the features to exactly your desire, including creating your own rhythms and pulses and can be used as a remote control over any distance… Even if your lover happens to be in another country!
Remote Control Eggs, Bullets and Plugs
These funky little remote control toys are the perfect addition to a naughty Valentine's dinner. Slip the toy inside you and pass the remote control over to your partner and let them decide when to push the button! Ordering wine? Walking to the cinema. Running into friends… See if you can keep a straight face (and body) while your partner teases you with the simple push of a button from up to ten metres away! Male, female, hetero or gay couples, it doesn't matter. Get the sneaky, sexy buzz happening and build yourselves up for when you finally make it to somewhere a little more private.
Bondage Kits
Most adult shops will stock a few different ranges of these and they all vary in price, items, and quality so chat to the staff and check out the items inside before you buy to make sure it suits you and your partner's needs. Basically these kits will have everything you need to start your journey into the world of kink and BDSM. They won't be too confronting for a beginner, and will include things like rope, basic floggers, a gag, possibly a butt plug, blindfolds, hand-cuffs… Little things that can make a huge difference in the way you play and take your relationship and sex life to a whole new level.
Cards and Dice Games
These are always fun. Roll the dice or read the card and complete the action it tells you. Some of these can be far more explicit than others, and there are always ways to change it up, or mix it up to make it suit your exact needs. You can find anything from simple sexy dice to elaborate board games that require a few hours to play and everything in between. I mean, you probably don't even need to go out and buy anything… Just get out the Monopoly board and make it so for every hotel you land on you have to remove an item of clothing. Or for every Snap you get in a game of cards you get to direct your partner to so something to you… Your boring old games cupboard could be a treasure trove of sexy fun!
Strap-Ons!
We love Strap-ons. We love them for pegging. We love them for girl/girl fun. We just freaking love them. Share the inner love this Valentines day and strap yourself in for the ride of your life (yes… we also love writing cliches). These days adult shops really understand the popularity and fun strap-ons bring for all genders and couples and have got incredible ranges from uber phallic "this is obviously a dick" sorts to far less fleshy and veiny attachments that can be way more appealing for people not necessarily interested in penises (like lesbians or straight men into pegging) Or, for an even more customised version, check out our DIY guide to creating the perfect strap on for you and your needs.
Have you ever received a sexy Valentine's gift that knocked your socks off? We'd love to hear about them in the comments to put on our wish-lists for next year!
Copyright © 2020 Adult Match Maker It is illegal to use any or all of this article without the expressed, written permission from Adult Match Maker and the author. If you wish to use it you must publish the article in its entirety and include the original author, plus links, so that it is clear where the content originated. Failure to do so will result in legal action being taken.