How to Pick Up Women When You're a Woman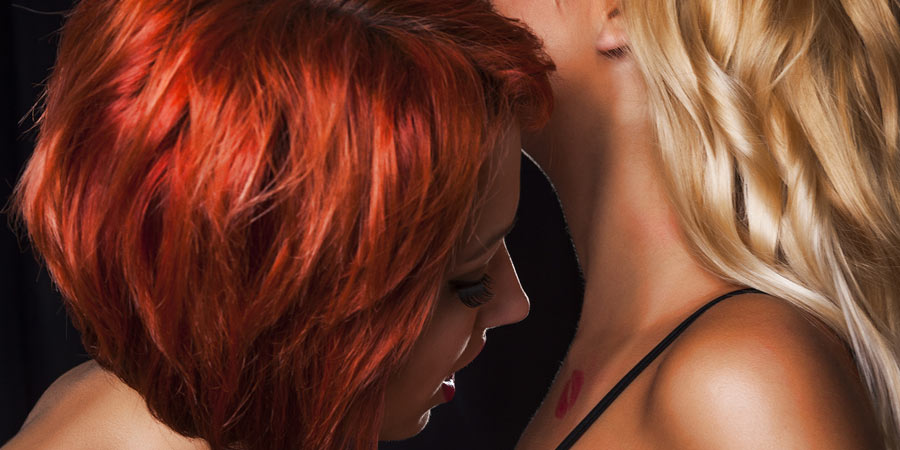 Helloooo ladiessss,
It's me. Your gay wingwoman… your girl-on-girl fairy godmother… your lesbionic leader… your pussy whisperer… you get the drift…
Maybe you're reading this article because you're (bi)curious about dipping your toes (or fingers) into the girl-on-girl pond? Maybe you're comfortably bisexual but it's been a while since you took a break from the peen? Maybe you have an erotic itch that can only be scratched by another woman? Or maybe you're as camp as a row of tents and you need a refresher course in picking up because you've been in a girl drought? Whatever your story, you're here because you want to have hot sex with women. And who can blame you? From the sexy curves of a woman's body to the inevitable "oh my god she's so soft" discovery that comes with your first 50 girl pashes (spoiler: it never gets old) - women are insanely hot and girl on girl action rocks.
But if you've never had sex with a woman or even chatted up a chick, you're probably feeling a bit intimidated. How do you go from flirting with a stranger to fucking her? How do you even flirt with women? If only I had a dollar for every time a bi-curious woman asked me that…
While I'm far from a lesbo Casanova, I am a full-time gay who's had her fair share of queer adventures and learning curves when it comes to fucking and dating women. Here are a few of my tips to picking up women… when you're a woman.
Make eye contact with her
So you've spotted a babe across the bar and you want to get naked with her. What happens next? Two words… eye contact. That's right. I'm not talking about staring at a hot stranger across the room for five minutes straight, or non-consensually eye fucking someone. That's creepy and borderline serial killer behaviour. A mere flit of eye contact can tell you a lot of what you're wanting to know. Casually look in her direction. If she meets your eyes and smiles back, let your gaze linger a little longer when they meet again. After some mutual eye contact action, if you can feel the tension building, toss some liquid courage back and approach her.
Show her that you're confident
It probably sounds like a cliché but at least half the battle with picking up is confidence. Being confident and comfortable in your own skin is an extremely attractive trait. You can't expect anyone to believe you're a hot catch if you don't believe your own game. Everyone gets nervous, but you've got more chance of getting lucky if you're putting yourself out there. Take the initiative and if all else fails, fake it 'til you make it. Don't confuse confidence with arrogance though. Cockiness is boring.
How to approach her
Any woman who's ever hit on women will tell you that the most difficult thing about it is trying to figure out if someone is flirting with you or just being friendly. My approach is to just take the lead. When you feel like you've got an in, muster up that confidence and give her a compliment before introducing yourself. You want her to know that you've noticed her and that you've gone out of your way to talk to her. When you're talking to each other, maintain eye contact, laugh at her jokes, listen intently and follow it up with a question so that she knows you're listening and interested. Be genuine though - don't act interested if you aren't. As you probably know, most women have a finely tuned bullshit radar.
Don't get too drunk
Seriously, a little social lubrication to fight off that girl-on-girl nervousness is okay but don't let it get too far. No one likes to be hit on by a sloppy drunk. You will not make a good impression by slurring your words and spilling your cider on her.
Play it cool
Resist the urge to act like an excited puppy dog with its tongue hanging out - don't metaphorically slobber all over her! You might be excited but don't run into the situation like a bull in a vagina shop. Don't be pushy or aggressively forward. But on the flip side, don't act so chill that you come across as shy and disinterested. Just play it cool and enjoy getting to know her. Don't go on about ex-lovers. Keep it sexy. Keep a little distance. Keep a little mystery.
Pay attention to her body language
If you've gotten this far and by now her entire body and attention is directed towards you, and she's smiling and flirting back – up the ante. However if at this point, she doesn't seem interested or is radiating ice cold vibes, move on. Don't let it affect you. Think of it as practice. Thank you, next!
Don't take rejection personally
It's going to happen. You will get rejected by beautiful women. But don't take it personally, especially because you're likely to be rejecting people too. If it's not right, it's not right. Life's too short to dwell but there are plenty of other babes out there waiting to get frisky with a chick like you.
If you'd rather start the conversation online, why not take a browse around Adult Match Maker for other like-minded women? You never know who you might meet…
Copyright © 2020 Amie Wee It is illegal to use any or all of this article without the expressed, written permission from Adult Match Maker and the author. If you wish to use it you must publish the article in its entirety and include the original author, plus links, so that it is clear where the content originated. Failure to do so will result in legal action being taken.