Are you a grower or a shower?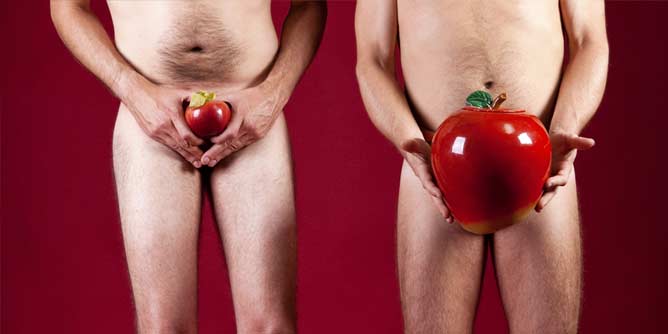 Dear Amie: I'm a 'grower' not a 'shower'. Does that matter to the ladies?
Okay look. When it comes down to it, men can be pretty precious and paranoid about their schlong dimensions. I mean, I can hardly blame them. Mainstream porn drills it into us that you have to be an ever-ready thrusting Mandingo with a rock-hard donkey dick for a cock. The mere thought of that coming towards me made my cervix involuntarily pack a suitcase and leave home.
When it comes down to it, there are two types of guys. Showers and growers. Showers tend to have dicks that don't get much bigger when they're hard, whereas growers start off relatively small when flaccid and redeem themselves when erect. Sometimes the difference can be huge. Growers can start off with a 2.5inch penis and grow it to 9inches - Inspector Gadget style – when excited.
There's a myth amongst men that being a grower is a bad thing, which honestly puzzles me.
Whether you're a shower or a grower has nothing to do with how shit hot you are in the sack. Plus, as a grower, your cock's not impressively big when you don't need it and more than adequate when you do. Being a grower is the way to go, if you ask me. Not only do you have the element of surprise on hand at all time, can you imagine how awkward it would be to be a shower and have to house a giant dick in your pants at all times? Imagine trying to go for a jog and have that thing flapping around your trackies. Or maybe don't imagine that. I don't know.
With that being said, I can definitely sympathise how a grower could feel anxious about his size when about to get busy with a woman – especially if he's not erect due to nerves or alcohol. But know that being a grower is more normal than being a shower. According to an international Men's Health survey, 79 percent of men are growers while only 21 percent are showers. If you're a grower, you are perfectly average.
There's also a myth that showers have larger penises than growers. That's simply not true. According to Dr. Shteynshlyuger, a urologist in the United States, "It just means the shower's penis doesn't stretch as much as the grower."
The thing is, most women will not care if you are a shower or a grower, it's the motion of the ocean that we care more about. If you do catch a flash of disappointment in a woman's eyes upon soft reveal, once she sees that you are up to the task, it'll be a different story. If you are really that paranoid though, up your foreplay game (you should probably prioritise this anyway). Get busy with your hands and tongue during the period between exposure and erection and she won't even know or care about the size of your package.
Happy fucking!
Copyright © 2020 Amie Wee It is illegal to use any or all of this article without the expressed, written permission from Adult Match Maker and the author. If you wish to use it you must publish the article in its entirety and include the original author, plus links, so that it is clear where the content originated. Failure to do so will result in legal action being taken.